AUSTRALIA should be seen as a 'mecca' by South American beef producers seeking genetic improvement, a visiting Paraguan beef industry leader and cattle vet said during a Queensland visit this week.
Dr Dario Baumgarten is a director of the Rural Association of Paraguay, and chairs the association's International Relations Commission.
He was making his first return visit to Australia since attending the Beef 2018 event in Rockhampton in May last year – this time to complete some genetics business.
"We were very impressed with the style and quality cattle we saw and the breeding policies used in Australia during our visit here last year," Dr Baumgarten said.
"Our region of Paraguay is much the same latitude as Rockhampton, along the tropic of Capricorn, and we face much the same production challenges, with heat, dry periods, and parasite challenge," he said.
Dr Baumgarten said there were a lot of similarities between the Paraguayan and Australia's semi-tropical beef industries that made closer genetic ties attractive.
The drier western parts of the country, called the Gran Chaco, was only lightly populated, and much less developed than the eastern portion. Northwestern parts of the country received around 400mm of rainfall a year, climbing to 1200-2000mm/year in wetter parts of the east. However it was not uncommon to go four, five or six months without rain.
"The reason why we are looking for genetics in Australia is the selection process and development of tropically-adapted breeds that has taken place here. The selection pressure that is applied in Australia for fertility, growth and other production traits can potentially have a big impact in Paraguay," he said.
His business has already imported Belmont Red semen from Australia, and is now discussing embryo importation, possibly under some form of collaboration, with Australian breeders. He sees prospects to establish a 'genetics centre' in Paraguay, to service commercial herds not only in his own country, but across other parts of South America.
Common import protocol for genetic material
Discussions were currently taking place among the various Mercosur countries in South America over the development of a common import protocol to apply to genetic imports, including semen and embryos.
"We hope that may be in place within the next three to six months," Dr Baumgarten said. "Potentially, it could make it easier to get Australian bovine genetic material into different parts of South America."
With a population of only seven million people, Paraguay maintains a beef herd of almost 14 million head – more than half the size of Australia's herd – with 70pc of the beef produced each year going to export markets including Chile, Russia, Israel and Brazil. Beef is the nation's third largest export commodity, after soybeans, and hydro-electricity.
About half of Paraguay's breeders are Nelore-based (South American Indicus derivative), with the balance mostly composites. Fertility rates and slaughter carcase weights are quite low, however, with weaning rates in some areas below 50pc. Despite mineral deficiency, few producers provide mineral supplements.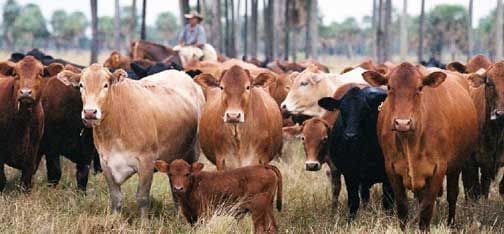 "Artificial breeding is quite advanced across South America, including Paraguay. I would guess that about ten percent of breeders are artificially inseminated each year, so potential for genetic progress using more Australian genetic material is quite large," he said. "With in vitro fertilisation, which is becoming more widely adopted, that can grow even more quickly."
His business expects to see its first Belmont Red calves, using Seiffert Belmont Red genetics from Australia, hitting the ground over the next three months.
Dr Baumgarten is particularly attracted to Australia's Belmont Red breed for local Paraguan grazing conditions, either as straightbreds or blended as a red, naturally-polled composite with local Senepol and Bonsmara-based cattle.
"We're looking for the right balance of tick and parasite resistance, short coat, fertility, conformation and carcase traits," he said.
"Australia is doing wonderful work in selecting cattle for this environment (Central Queensland). Ultimately, we would like to adopt a system like Breedplan within our own Paraguayan seedstock herds," he said.
"The only thing I regret is that I did not start coming to Australia years ago, given what I now know."
"Rockhampton and this semi-tropical area of Australia, with all the genetics and production research that is going on, should be like a mecca for us. In Paraguay's case, most cattle breeders are looking only at Argentina or Uruguay for their genetics. But pastoral conditions in those countries are completely different –more like New Zealand. We need to be looking to Australia, which is much closer to what we see in our own paddocks."
During his current Australian visit, Dr Baumgarten spent time with Seifert Belmont Reds principals Jeanne Seifert and Ian Stark, looking over their cattle, approaches to selection and production systems.
"We were very impressed at how the Seiffert cattle are performing under current very harsh conditions," he said.
While about 15-20 percent of steers were grain-finished in Paraguay, Dr Baumgarten said he saw the country's beef export future primarily as a specialist grassfed beef producer, "like Australia."
"Any country in the world can produce grainfed beef, but grassfed, for those that can produce it with some scale, is a point of difference," he said.
"Currently Paraguay is exporting mostly commodity beef. But we need to develop a grading system like Australia, and start looking for some price differential based on quality," he said.
A veterinarian by trade, Dr Baumgarten completed a Masters degree in animal science at New Mexico University in the US in the 1970s, where he learned to speak English.