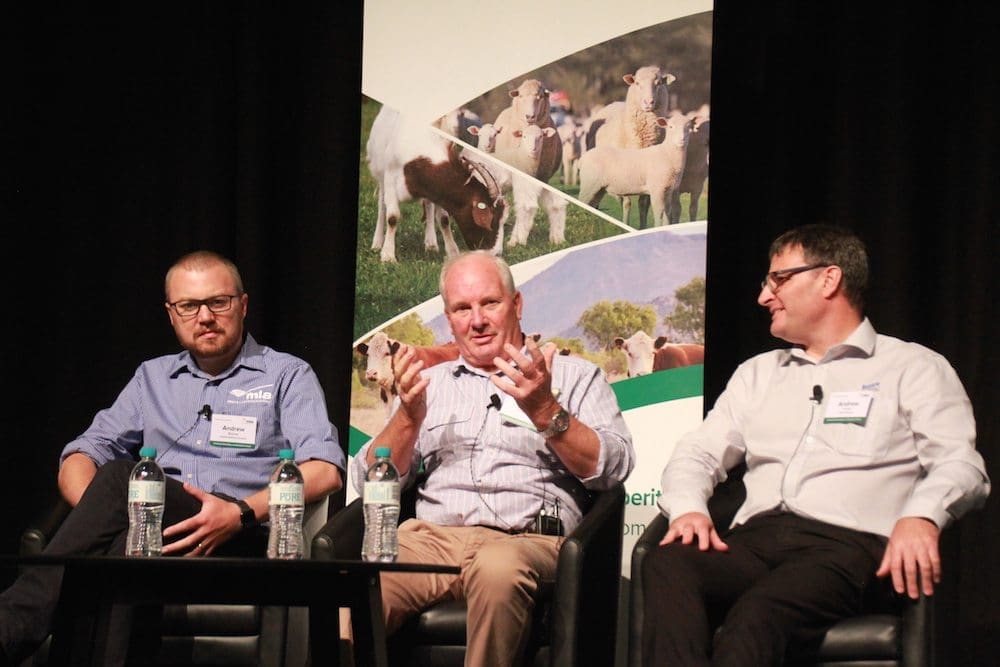 'Right at the minute, hiding in your herd, or in the mobs of cattle you buy, is probably a $300 or $400 per head difference just on growth rate and efficiency… It is all about getting access to the right data and getting paid for that" – Rod Polkinghorne (centre), pictured with MLA's Andrew Skinner (left) and Rezare's Andrew Cooke (right). 
AUSTRALIA'S beef cattle industry has been urged to follow Ireland's lead to accelerate its rate of genetic gain.
Ireland's beef and dairy cattle industries have achieved  impressive rates of genetic gain over the past 20 years through a national system that rewards producers financially for recording individual animal data on a national database, and for using the bulls with the best performing genetics.
About 20 years ago the Irish Cattle Breeding Federation (ICBF), a non-profit organisation charged with driving genetic gain in Ireland's beef cattle and dairy cattle industries, established Ireland's national cattle breeding database.
Its single objective was to achieve the greatest possible genetic improvement in the national cattle herd for the benefit of Irish farmers, the dairy and beef industries and members.
The system is underpinned by the principle of "profit from science".
Every beef and dairy animal in Ireland is recorded on the database, along with its individual ancestry and quantitative data on traits related to beef or milk profitability indices.
The database now contains 100 million plus records from 30 million animals, with over 100,000 farmers currently participating. It is the word's single largest livestock genomics program.
The ICBF presentation slide (right) illustrates the rate of gain since 1996 achieved in Ireland's dairy herd according to the national database's Economic Breeding Index.
Australian beef eating quality pioneer Rod Polkinghorne said when he first came across Ireland's system several years ago and began to understand it, "I didn't know whether to slash my wrists or get excited".
"I am still here so I got excited," he said.
"I guess the reason I am so passionate about this is that I have seen it work, I know genetics work and I know we can harness it."
"There is a rating on every bull sold," Mr Polkinghorne said. "It doesn't matter if it is purebred, crossbred, composite.
"Whatever he is, if you want to get your bit of money, you have got to use the top sires, so imagine what that does to actually drive progress."
Captures the 'absolute pearlers' in commercial herds
The system incorporates commercial progeny testing of various sires in use. As a result some of those 'absolute pearlers of bulls' being used out in commercial herds can be identified.
Mr Polkinghorne said that in comparison, Australia's system of driving genetic gain is a more flawed "trickle down" system, with stud breeders focusing on breeding better bulls and then pushing them out to commercial herds.
The system relied on having very good stud breeders – "and we do" – but it means that the bulls that go off into a commercial herd are effectively lost.
"Most of these bulls are say 15 months, so we know how that bull grew, we know a little about his brothers and sisters and aunts and uncles, but we know absolutely nothing about his progeny
"And yet what is more important? Wouldn't you rather know about his actually progeny?"
We need to get better at sharing and using data
Mr Polkinghorne's comments were just one example of an often repeated message by speakers at last week's Meat & Livestock Australia livestock breeding and genetics forum.
Presentations repeatedly reinforced the view that Australia has to get better at collecting, sharing and using data to drive genuine genetic gain in a direction that delivers cattle worth more at the farm gate to producers, and which produce more of the type of high eating quality beef customers actually want.
"How much do we miss?" an exasperated Mr Polkinghorne asked.
He said he had been aggravated to learn during the recent beef language white paper process that of the over three million records captured for MSA eating quality each year, relating to marbling, carcase weight, fat depth, ossification, less than 500 records make it back into BreedPlan.
"At the minute we have this trickle down model that once was valid, but we have ben trying to defend it my view for over 20 years, and we should have just got on with the job and grasped the opportunity.
"There is now no excuse, it can be done, we know it can be done, it is being done elsewhere in the world, so either we get up to speed and get ahead of the game and become the leader globally, or we just drop behind.
"If we can go from trickle down to outcome up, we will utilise every bit of commercial data that is out there, use all the carcase data, drive it to value the sires and the dams, and then we end up with a huge opportunity."
How to improve data sharing key focus of forum
Meat & Livestock Australia managing director Richard Norton told Beef Central that how the industry can get better at sharing data was a key focus of last Wednesday's forum.
"We want to collect data, we want to know what people think about collecting data, what data they want collected, and the challenges of collecting data," Mr Norton said.
Mr Norton said MLA has told the National Livestock Genetics Consortium that sharing will be a core principle of any data produced through accessing socialised funds in future.
"You can have one breed specific project come to the consortia, but the data and the learnings from that are not breed specific. Every breed can look at what came out it," Mr Norton said.
He said MLA will collect data on an open platform, and commercial providers will then have the opportunity to use the data to come up with value propositions designed to improve profitability.
Mr Norton said the clear message he received from levy payers in his first three years as MLA MD from 2012-2014 was that no one wanted the status quo and everyone wanted transparency in the meat processing sector.
"So we're now moving into using genetics, but there is no point using genetics if we can't get complete transparency through the processing sector.
"And that means returns by value by cut, and being able to link all that back to the DNA of the animal.
"You can use genetics and absolutely change the profitability of your enterprise but we need to do this as a whole value chain.
"If you just want to sell your beef in an averaging system where you understand that some of your carcases will make the processor $200 more than he paid you, and some will make $200 less than what he paid you, then by all means challenge the status of industry wanting to move to objective carcase measurement."
Industry inertia must be challenged
Mr Norton said there was so much technology coming our way in the genetic space, but a big challenge was the culture of the industry and inertia through fear of change.
"It is right across the whole value chain, and it is not just producers.
"The fear of changing the way I get paid for my cattle, the fear that if I measured retail yield that my cattle might actually be less.
"These sort of conversations were happening at the beginning of MSA 20 years ago.
"Look where MSA is at the moment.
"The end point here is that through genetics and genomics and matching phenotypes to carcase attributes we will improve our eating quality and give us the ability to open global markets on eating quality ciphers, not on myths around p8 fat measures."
Mr Norton said the "big picture" is that ultimately every measure upon which a producer gets paid is objective, not subjective.
Mr Polkinghorne said 20 years of individual animal records at Chartlon feedlot from 1971 to 1990 showed a $200/head difference based on growth alone within individual lots – differences that could not be detected by looking at the live animal.
NLGC a 'marvelous step forward': Polkinghorne
He also singled out MLA for praise for driving a new direction in livestock genetic work in Australia.
"I think the National Livestock Genetic Consortium outcome should be a revolution and it should be really exciting," he said
"In 20 years I have never been slow to criticise some of the things MLA have done, some of the people or what they have said or done.
"So it is only right I should also congratulate Richard Norton and the MLA on having the courage and the foresight to set up this NLGC consortium, it is a marvelous step forward and they really should be congratulated."