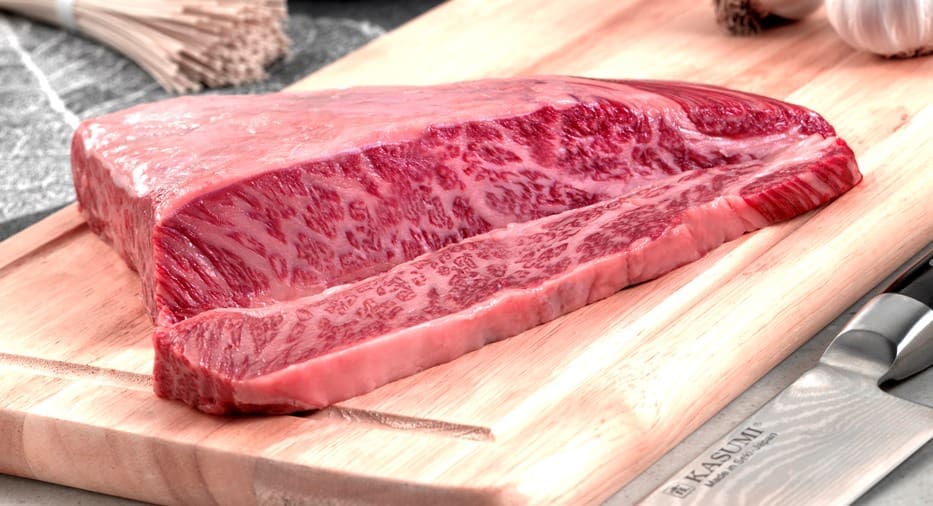 THE Australian Agricultural Co has doubled-down on its exposure to Wagyu beef programs in efforts to assert itself as a dedicated producer of what it describes as 'luxury beef brands, at scale.'
Following the discontinuation last year of the company's 1824 composite breeding program which produced 100-day grainfed type beef, 80 percent of AA's beef production is now geared towards Wagyu programs, shareholders at last week's annual general meeting were told.
For the first time in its history this past year, AA Co produced more Wagyu beef than non-Wagyu, as that transition gains traction.
It means that apart from cull cows sold from AA Co's composite breeding cow herds in northern Australia, used to produce F1 Wagyu progeny, virtually all other cattle turnoff in future will carry F1 to Fullblood Wagyu genetics.
Managing director Hugh Killen told shareholders that as a result of the impacts of this year's drought and flood, together with the removal of the 1824 program, AA Co's total herd size had reduced to around 400,000 head. At its peak in early 2017, the company claimed to manage about 550,000 cattle.
But within that, AA Co has worked hard to preserve its Wagyu herd.
The February floods in northwest Queensland produced losses totalling 43,000 head, worth around $41 million – but the majority of those mortalities were non-Wagyu breeders. Further herd reductions had been seen as a result of the broader drought, but despite that, AA Co had achieved 3pc growth in its Wagyu numbers this past year.
"This is a remarkable achievement, given the weather challenges, which speaks to the capability we have built," Mr Killen said. "This capability positions us to deliver the highest quality product around the world, and to deliver our product under our own brands."
"We have continued to invest in growing our Wagyu herd," he told shareholders. "This has meant significant additional costs across feeding and transport, but this is an essential investment for the future. We continue to see rising global demand for Australian premium beef, and together with our brand strategy, we expect to benefit significantly from this investment."
Strategic advantage
Mr Killen said challenging drought conditions had meant additional management costs of $60 million this year, mostly made up of supplementary feeding and transport to protect the company's 'core asset' Wagyu herd.
"This investment has allowed us to increase numbers in this critical herd component, at a time when many (Wagyu) competitors were not able to do the same," Mr Killen said.
"We believe this provides us with a strategic advantage as we move forward and unlock value through our premium brand-led strategy."
Cattle herds, including Wagyu, devalue
In line with general industry trends, AA Co reported an overall $205 million reduction in livestock value over the past year.
"This decline is significant but it is important to note that $138m of that has occurred in the non-Wagyu herd," Mr Killen said.
Declines in non-Wagyu herd numbers primarily came from increased cattle sales and a drop in cattle purchases, off the back of the company's Livingstone Beef processing and 1824 brand program closure decisions last year.
"We've also increased sales of these non-Wagyu animals in response to drought conditions," Mr Killen said. "This has allowed us to focus our resources on our Wagyu cattle which are the heart of our premium branded beef strategy," he said. "The financial impact of this loss of non-Wagyu animals was $42m."
The market price for these composite animals had also suffered during the year, contributing a $30m unrealised loss to the statutory results.
Remaining declines in AA Co's livestock balance sheet primarily related to the reduced valuation of its Wagyu cattle, Mr Killen said.
Market prices for Wagyu cattle had continued to decrease from their highs of a couple of years ago, he said. This resulted in a $64m unrealised loss in the last financial year's result to the end of March, with most of this movement captured in the first half of the year.
"This decline in the live cattle price of Wagyu does seem significant, but we remain undeterred by this as our prized Wagyu are not sold live," Mr Killen said. "Rather, these animals form the heart of our branded beef strategy, and should we need to source beef from outside our own stock, we benefit from lower Wagyu prices. This in turn offers potential for higher margins via our premium brands," he said.
AA Co's cost of production as a whole stayed relatively flat last year at about $2/kg liveweight.
"As mentioned earlier, we've spent $60m in additional operating expenditure to protect our Wagyu assets, and this explains nearly the entire variance in cost of production from the prior two years," Mr Killen said.
"It's important to note that our production mix has proportionately shifted towards Wagyu kilograms of beef over the past several years. In 2019 we produced more Wagyu kilos than non-Wagyu kilos for the first time."
"In fact, in 2019 we've produced 30pc more Wagyu kilos than we did just two years ago, in 2017.  This is important, because producing a Wagyu kilo of beef is much more expensive than producing a non-wagyu kilo."
The impact of the season had been a challenge for the company's efforts to increase Wagyu production over the past several years, but this work meant AA Co was well positioned to meet sales demand as it enters new international markets, Mr Killen told shareholders.
"And we'll be able to meet the demand of our branded beef strategy, which is fundamental to improving our margins and returns," he said.
Branded beef strategy
AA Co's branded beef strategy remained critical to returning lasting value to its investors, shareholders were told last week.
"Our unique brands allow us to connect with the highest value, highest margin customers around the world. This allows us to leverage our substantial assets for maximum return," Mr Killen said.
"This strategy is supported by increases in our elite herd numbers over the last twelve months and we have managed to insulate this strategy from drought and flood impacts."
The company was continuing to command premium prices across its Westholme (crossbred) and Wylarah (Fullblood) branded products, and prices had increased on 60pc of cuts across the two brands, he said.
"More than anything else, this demonstrates the price power and customer connection of these brands. Overall Westholme and Wylarah revenue growth is up 6pc on last year, and our heritage Fullblood wagyu brands are up 41pc over the same period. It's still early days, but these are important positive signs for our strategic direction and progress," he said.
These results were in addition to positive revenue growth across different regional markets, Mr Killen said.
Revenue growth of 26pc had been seen for the brands across Asia, with 10pc growth in Australia and 6pc in the EU, he said.
Overall AA Co's corresponding underlying Wagyu meat sales had increased by 4.5pc over the past year, shareholders were told.
US market in transition
The company's approach to the US market was in transition, Mr Killen said.
"The US is a global gateway for luxury products and much of the world takes its lead from luxury consumption in the US. We are establishing a deep presence in that market – as a platform for driving our premium lines around the world," he said.
During the year the company established a commercial trading office in Los Angeles, which would allow it to execute a new approach to growth in the US market – over and above the 200 US restaurants currently serving AA Co Wagyu beef.
"This in-market presence will be crucial as we establish our premium brands there, and the US model will form the basis for future approaches to other markets around the world," he said.
In Asia, the company's Singapore and Taiwan presence had been 'very positive'.
"This highlights the important evolution of Asian consumers – they are discerning, affluent and seeking quality beef in higher volumes. Our strategy will continue to position us to benefit from this significant trend," Mr Killen said.
AA Co also launched its Westholme beef in Dubai in October, to a positive reception. Revenue in the second half of FY 2019 in the Middle East region was up 49pc compared to the first half of the year.
"As an example, we are on the menu at At.Mosphere – the world's tallest restaurant and recognised as the finest dining in Dubai, and social media engagement in the region has grown on the back of our launch," Mr Killen said.
"Our branding and marketing strategy is the right strategy for the future of our business, and you can see we are making progress on that strategy right around the world."
In terms of general beef outlook, Mr Killen said global beef demand was increasing, at a time when worldwide supply was also increasing.
"But in Australia, global demand is rising for our product, even as production is decreasing, on the back of tougher seasonal conditions.
"In this context our growing Wagyu herd and branded beef strategy positions AA Co to really benefit from this positive global trend. Again, I think this underscores that we are on the right track and must continue to make progress."
How good are AA Co's Wagyu genetics?
During questiontime at last week's AGM, Kevin Jones, shareholder, remarked on how little marbling was evident in photos used during the event presentations, asking how 'good' AA Co's Wagyu genetics were.
"Our products cover all marbling scores," Mr Killen said. "Most of our herd will marbling in the mid-scores around marbling score 5-6, but there will be a bell curve. But our scarcest and best product, which goes into our Wylarah Fullblood brand, can produce marbling scores 11+ or 12 (on the Japanese scale).
"We are right in the sweet-spot in terms of marbling score. In terms of genetics, looking at the breeding values of AA Co's herd against the broader Australian Wagyu industry, our worst performers are above the mean for marbling for Wagyu cattle in Australia, so we have a very high-performing herd, overall."
"We have arguably the finest Fullblood Wagyu herd in Australia – the Westholme herd – and our F1 crossbreds are absolutely phenomenal, because the quality of the AA Co composite animal (used as dams in F1 Wagyu breeding programs) is a very soft, a beautiful animal. That is ultimately what comes into our Westholme brand, and it is a magnificent product as well."