Scroll down for more sale pictures below
EVEN in a strong market for Wagyu genetics, Wednesday's inaugural "Marble High" Wagyu Sale in Toowoomba exceeded expectations for vendors, with more than $2.8 million changing hands for just 17 heifers, eight bulls and 24 semen straw lots.
But despite the high prices, the opinion of the biggest buyer, Keith Hay of Geneflow, Tocumwal, NSW, who outlaid $1.29m for 10 heifers, was that the sale represented good value for buyers considering the premium quality of genetics on offer.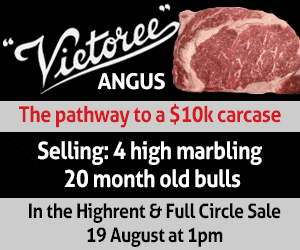 The auction offered elite genetics from three leading Queensland based Wagyu seedstock operations for the first time in a dedicated sale  – Arubial Wagyu at Condamine, Macquarie Wagyu at Millmerran and Hewitt Pastoral Enterprise's HP Wagyu based at Emu Park.
17 elite fullblood heifers sold to a top price of $240,000 and averaged $99,853 her head.
That is believed to be a national all-breed sale record average for registered females.
Of those, several ranked within the top one percent of the Australian Wagyu breed for key traits such as marbling score and Self Replacing Breeding Index (SRI), which ranks animals on profitability for herds that retain heifers as breeders with turnoff finished through feedlots, and almost all were within the top five percent.
Eight bulls sold for a top price of $105,000 and $62,813 average.
In the semen sale 24 lots comprising 104 straws averaged $29,063 per lot – also believed to be a national record average for semen sales.
The top semen lot sold for $80,000 (or $16,000 per straw for five straws) while the top priced straw sold for $35,000.
The $240,000 sale top price was paid for the first lot of the sale, Hewitt Pastoral Enterprises' HPEFR137, a fullblood daughter of Mayura L0010 out of Sahara Park MS Itoshigenami N3.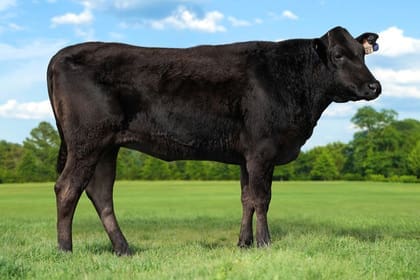 The 25-month old is the seventh highest ranked female in the Australian Wagyu Association's SRI profitability index with an SRI of $351. She also has a marbling EBV of 3.2 and ranks within the top 1pc for the full range of AWA profitability indexes.
She was one of 10 heifers bought by Keith Hay from Riverina-based seedstock enterprise GeneFlow, which will all now go into an IVF program.
He drove 15.5 hours from Tocumwal on the NSW/Vic border to attend the sale in Toowoomba in person, attracted in particular by the significant number of heifers offered with an SRI profitability index of over 300.
While the other Wagyu profitability indexes targeted specific traits, he said the SRI index is valued as an indicator of overall balance.
"It is not often that you see that," he told Beef Central.
"A normal pattern of sales is you might have one or possibly two animals that have got an SRI of 300, and it is pretty rare that you have animals on offer that are over three for marbling score, there might have been half a dozen of them.
"How often does the seventh cow in the breed come up for sale?
"Not very often, and there were also two of Laird Morgan's (Arubial) in the top 20s in the breed, so there were three animals that were real standouts, and I just thought they were too good to miss."
I just thought they were too good to miss
Mr Hay was the losing bidder on the Australian record $400,000 Wagyu heifer sold at the 2022 Elite Wagyu Sale at Melbourne, which had an SRI of $337 and marbling score EBV of 3.
He believed the top heifer yesterday, with a higher SRI and marbling score index, was good buying at $240,000, and he added that he was attracted to her evenness: "she had milk, growth, a good marbling score and a good EMA – she was just so even in every aspect."
"She has been the highest SRI heifer ever offered, to pick up an animal yesterday for $240,000 which was 15 points better on SRI (than the $400,000 record heifer), I felt it was good value."
The top price bull was Macquarie Wagyu s0181 (AI), a son of Itoshigenami G113 and dam Macquarie Wagyu J435, selling to the Knudsen family of Chinchilla. He is in the top 1pc of the breed for all Wagyu profitability breed indexes with the highest SRI of bulls offered ($338) and a marbling score EBV of 2.8.
In addition to a full room who observed the action live at the Burke and Wills Hotel in Toowoomba, the sale was also interfaced live by Elite Livestock Auctions, with a number of bidders also operating from the United States.
More pictures from the sale below: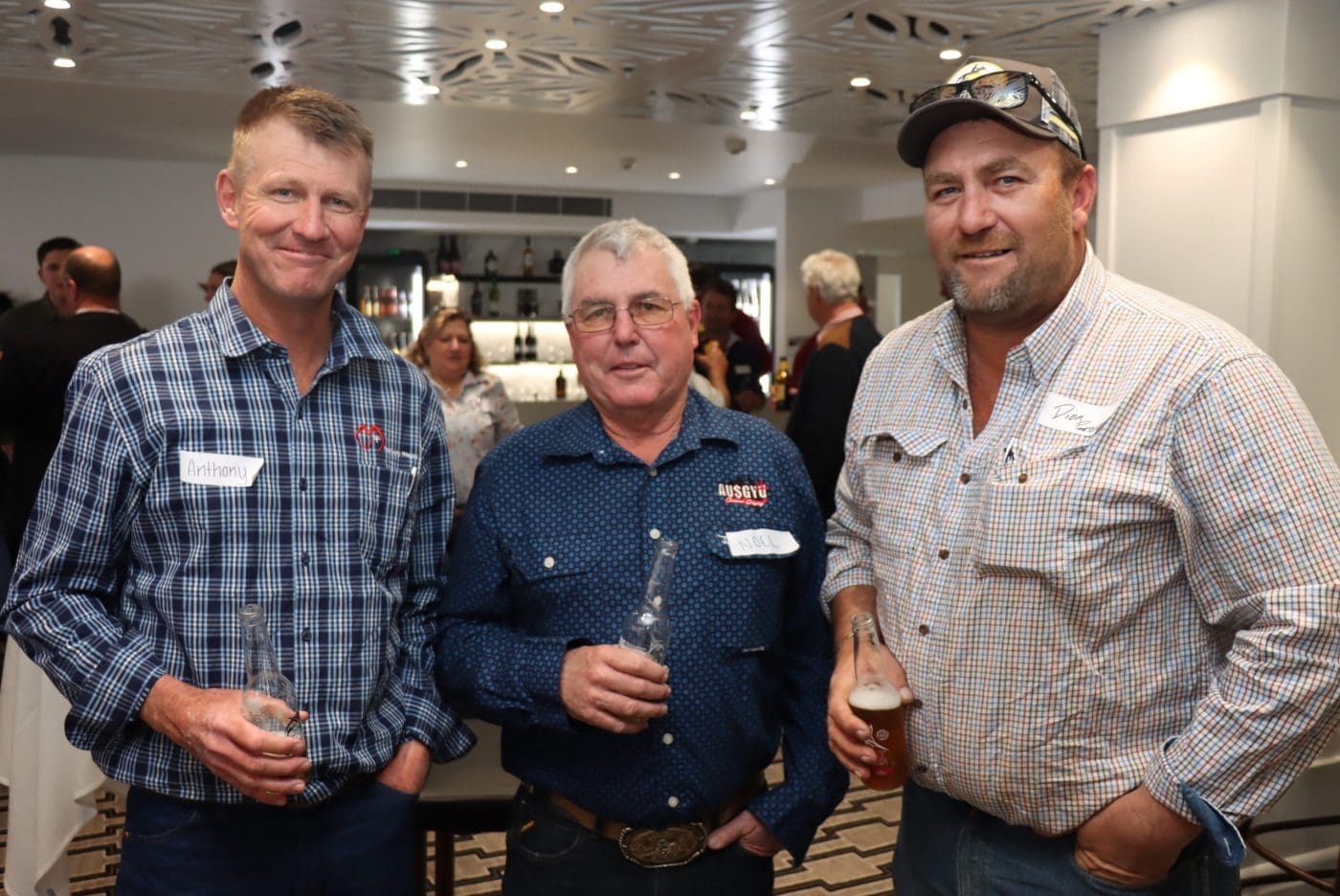 Macquarie Downs manager Anthony Winter with Noel Chiconi from Mungallala and Dion Porter, Westmar.