WITH a month or so still left to play out, the 2020 spring bull selling season is rapidly emerging as an era-defining benchmark for the seedstock industry, by which all bull sales will be measured for years, if not decades to come.
What has set the 2020 season apart is not so much a string of breed record prices (although a few breed records have in fact already been set this year) but the sheer depth and determination of buying support.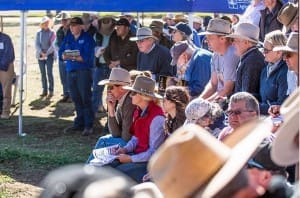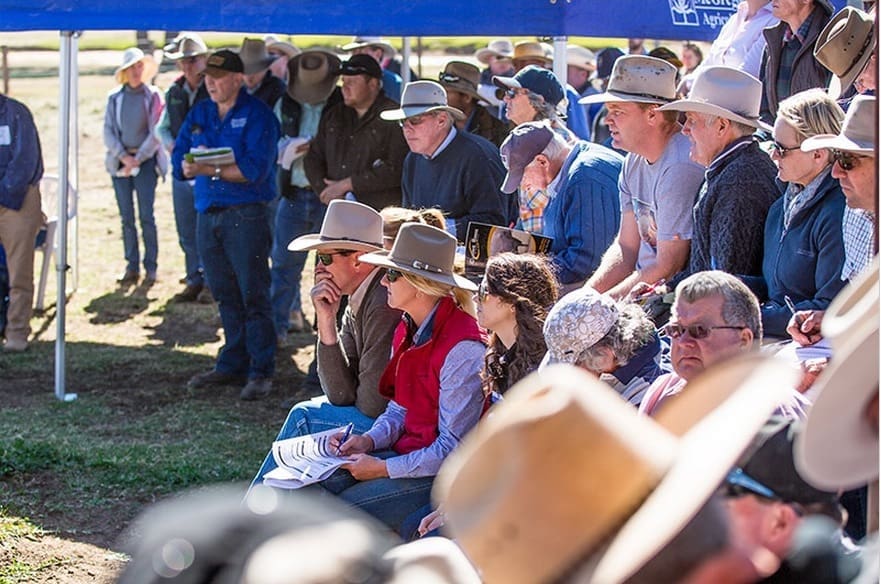 This year, 100 percent clearances of bulls offered in catalogues has become almost routine – and the trend is being seen right across breed types, and across geographic regions.
Beef Central's summary of recently completed sales across Australia (click here to access) shows studs from no less than nine breeds have notched up sale averages of $10,000 or more thus season. With a string of prominent Queensland Indicus and Indicus-infused bull sales still to come, no less than 34 individual Australian studs have recorded sale averages batter than $10,000 this year.
Before 2020, the number of Australian bull sales that had averaged five figures or more could be counted on two hands. Many sale averages this year are up 25, 30, 40 percent or more on the 2019 drought year.
Equally staggering has been the trend where these results have been achieved without the 'momentum' delivered by a couple of extreme outlier bull prices. More than a dozen of the high-performing sales listed below achieved their impressive average prices with a top price of less than $20,000 or less.
That suggests unbelievable 'middle ground' buying support from cattlemen and women chasing solid commercial herd improvers, rather than potential future stud sires.
The die was set back in late July, when a couple of the earliest southern British breed sales (Lotus Herefords, Curracabark Herefords and Peakes Angus) all logged startling averages up to $12,400.
Here's a quick summary of Australian bull sales that have averaged better than $10,000 in the past ten weeks:
Santa Central Santa Gertrudis Sale QLD $11,556 avg for 97 bulls
National Braford Sale QLD $10,741 avg for 120 bulls
Palgrove Charolais QLD $19,766 avg for 94 bulls
Palgrove Ultrablack QLD $16,727 avg for 55 bulls
Crawford Angus NSW $10,200avg for 45 bulls
Casa Toro Simmental QLD $10,117 avg for 34 bulls
Yarrawonga Waco Santa Gertrudis QLD $11,703 avg for 177 bulls
Dunlop Santa Gertrudis QLD $12,556 avg for 97 bulls
Reiland Angus NSW $10,395 avg for 67 bulls
Minnamurra Speckle Park NSW $11,551 avg for 60 bulls
Milwillah Angus NSW $16,598 avg for 81 bulls
Millah Murrah Angus NSW $20,384 avg for 78 bulls
Hazeldean Angus NSW $10,911 avg for 89 bulls
Eidsvold Charolais QLD $10,213 avg for 54 bulls
Clay Gully Simmentals QLD $10,706 avg for 56 bulls
Dunoon Angus NSW $12,434 avg for 115 bulls
New Dimension Brafords QLD $10,800 avg for 10 bulls
Rennylea Angus NSW $12,509 avg for 157 bulls
Talbalba Herefords QLD $11,867 avg for 53 bulls
High Country Droughtmasters QLD $10,125 avg for 36 bulls
KO Angus NSW $10,409 avg for 44 bulls
Coffin Creek Angus NSW $11,811 avg for 37 bulls
Hazeldean New England Angus NSW $10,020 avg for 50 bulls
Watasanta Santa Gertrudis $10,911 avg for 34 bulls
Booroomooka Angus NSW $10,638 for 216 bulls
Eaglehawk Angus NSW $10,202 avg for 69 bulls
Te Mania Angus NSW $10,603 avg for 111 bulls
Clunie Range Angus NSW $10,818 avg for 146 bulls
Sugarloaf Angus NSW $10,967 avg for 44 bulls
Knowla Livestock Angus NSW$13,041 avg for 73 bulls
Texas Angus NSW $14,052 avg for 155 bulls
Lotus Herefords NSW $10,156 avg for 32 bulls
Curracabark Herefords NSW $12,437 avg for 19 bulls
Peakes Angus NSW $11,153 avg for 52 bulls.
As recently as this afternoon, the first day of the two-day National Droughtmaster Sale in Rockhampton has notched up unprecedented sales figures, with a clearance of 206 bulls (98pc) averaging $12,009, and selling to a top of $160,000.
What's driving the trend?
So what's been driving the price and demand momentum for bulls this year?
We asked Angus Australia chief executive Peter Parnell for his take on what's been going on.
The two most obvious factors are the return to decent seasonal conditions across Eastern Australia since March, and a commercial cattle market that has defied COVID-19 and political tensions with China to drive to ever-higher levels for young cattle. The Eastern Young Cattle Indicator has hit new record highs twice in the past two months, and appears poised to crack the 800c/kg mark some time this year.
Dr Parnell said it was hard not to be surprised by just how strong bull sales this spring have been.
"I think it is highly correlated with sheer confidence in the beef industry, driven by cattle price," he said.
"We've seen the same trend in the past – when a strong commercial cattle market will fuel a surge in bull sale results – it seems to even over-ride seasonal impact," he said.
"It's probably unrealistic that the current commercial cattle market will stay where it is, but for the timebeing, it is fuelling this tremendous confidence among commercial bull buyers."
Dr Parnell said while he had not yet done any formal analysis, he felt there was a strong correlation this year between price and quality, as measured by performance data as well as phenotype.
"Hopefully our message about the impact of performance recording is filtering through – of the value in investing in high performance genetics."
He agreed that the culling of stock that many stud masters had undertaken during the drought had inevitably lifted the average quality of remaining sale bulls this year.
"Because the drought lasted over such a prolonged period, they've also improved their cow herds in the same way. The female herd is providing better genetics as well."
This was evident in 'quite a significant' lift in genetic trends this year (relative to recent earlier years) for the Angus Breed Index values, which suggested significant culling of older, lesser performing females had taken place.
"We are seeing a greater rate of genetic progress this year in the ABI. It's a response to a number of factors – partly that the message is getting through in terms of the value of selecting on performance. But given the amount of culling that's occurred due to drought, the seedstock herd that is left is of higher genetic merit."
Age would also be a factor, with the older cows culled first, being on average of lower genetic merit than the younger cows that are left after the drought.
Asked whether this year's unprecedented high sale clearance rates suggested bull breeders had in fact culled 'too hard' last year, after being spooked by the impacts of drought, Dr Parnell said he did not think this was the case.
"It perhaps indicates that there was a much greater liquidation of bulls, as well as females, in commercial herds last year than some may have anticipated," he said.
"When they were forced to sell down, they obviously sold bulls, as well as females, with the intent of buying better ones back in when conditions turned around. And slaughter prices last year probably supported that move. Cull bulls were worth a lot of money last year, and some people took the opportunity to improve cash flow. Now they are coming back into the market with a vengeance, replenishing their sire batteries with better genetics. And they are willing to pay a lot of money, because of the general confidence that's out there."
From the seedstock herds' perspective, Dr Parnell said Angus registration numbers were back this year, but not as much as some might expect.
"I'd guess that bull numbers being offered this year might be back 10pc on average compared with earlier years – but not the 20-25pc that some might have anticipated.
"This year, we thought our inventory of registered Angus females might be a lot lower than it is. But we have a seen a lot of our Angus Australia members retaining more heifers, and they have already built up their numbers almost to where they were a couple of years ago," Dr Parnell said.
"Angus last year saw a 5pc reduction in registered female numbers due to drought. This year, we had anticipated it might be a further 5pc reduction, but it has bounced back more quickly than we had anticipated. By next year, we'd anticipate we will be well above where we were before the drought started."
Beef Central asked whether this year's eye-catching sale results might also drive a build-up in bull breeding interest, leading to a surplus of bulls in a few years.
"It's always supply and demand, and there is a lag period involved in bull production, of course," Dr Parnell said.
Click here to access Beef Central's regularly updated list of breed record prices for bulls and females, including this season's new entries.