Location: Condamine, Queensland
Capacity: 10,000 head
2014 cattle turnoff: +34,000 head
2003 Top 25 ranking: 21 (7500 head).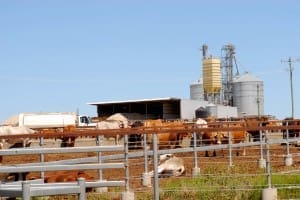 TWELVE years ago, Cloncurry's McDonald family built their Wallumba feedlot near Condamine on Queensland's Darling Downs to provide some insurance against seasonal variation, and to provide some greater continuity of supply and quality for the business's beef brands.
A little more than a decade later, and that decision has paid off in spades, with Wallumba registering its busiest year ever last year, in the midst of severe drought across northwest Queensland.
Turnoff through the 10,000 head SCU facility exceeded 34,000 head of finished heavy export cattle last year, when barely a blade of grass stood on some of the McDonald family's northern breeding and growing properties.
Don McDonald and family's McDonald Holdings (MDH) business is one of Australia's largest privately owned cattle enterprises, running around 150,000 cattle.
The Wallumba property was purchased in 2002 with a small, existing 3000 head feedlot, but a major development project was put in place immediately to take the facility firstly to 5000 head, before going to its current capacity of 10,000 SCU in 2009. Steam flaking grain processing infrastructure and further improvements went in at the same time.
In a significant development, approval has just been received in the last couple of weeks to double the feedlot's size again, to 20,000 head. Work on that expansion won't take place straight away, as the MDH herd size has been badly knocked around by the seasonal conditions over the past couple of years, but it will be approached in the next couple of years, perhaps in two stages.
Two years ago, another significant development came when MDH bought an adjoining irrigation property, Nagrim, with a large water licence, where the company now operates nine centre pivots to provide an extensive backgrounding operation on irrigated oats and barley in winter and sorghum in the summer. The irrigation country also provides all the feedlot's silage requirements. Backgrounded cattle can literally be walked from the irrigated pasture/fodder paddocks into the feedlot's laneways.
While Wallumba is intended primarily to host MDH-bred cattle, when spare capacity is available, some custom-feeding takes place. Currently there are about 1000 head of client cattle on the stock manifest.
Both 100-day export and 70-day domestic programs are run, but the emphasis is on export weights. An increasing proportion of crossbred cattle are fed, but also large numbers of straight Brahman types.
As a strategic investment, has the feedlot proved its worth to a large northern extensive grazing enterprise over the past ten years?
"Absolutely," MDH's Don McDonald said.
"All of these things have their moments. There have been times when grain prices become extremely high, and the old story – meatworks aren't paying us enough for our cattle – but by and large, it has been a critically-important part of our business," Mr McDonald said.
"Sure, there might have been periods when we might have been better off with just bullocks in a grass paddock, but it's also allowed us to increase our breeding herd size, by not tieing-up as much country growing bullocks. And when the drought cycles come, you just could not put a value on it."
As MDH developed its own beef brand programs, the feedlot has played an even more important role in delivering greater eating quality consistency and continuity.