Location: Dalby, Queensland
Operating capacity: 13,000 head
2014 cattle turnover: 45,000 head
2003 Top 25 ranking: Not yet built
ESTABLISHED a decade ago by veteran environmental engineer and feedlot consultant Max Winders and his son David, Wambo feedlot near Dalby – like many other feedlots on our Top 25 list – has grown progressively in stages as finances, licenses, water access and industry profitability has allowed.
Two new rows of pens have recently been added, as well as a new hospital and processing area, a new mill and expanded commodity shed, and new feed mixing and delivery vehicles. It's taken working capacity today to 13,000 head, or a few less for heavier cattle.
The feedlot started at about 3000 head, growing in several stages to its current operating capacity, along a path to an approved 24,000 head licensed pen layout, as Wambo Cattle Co meets an increasing demand for its custom feeding services.
Wambo feeds primarily for a variety of clients, with a mix of mostly domestic and 100-day cattle.
The feedlot relies mostly on tempered white grains, with the addition of some corn when it's available. Its location on the Western Darling Downs encourages its use of wet distillers grain (WDG) and corn silage in the ration to optimise customer margins. About 15t/day of WDG is incorporated into rations, from the nearby Dalby grain-based ethanol plant.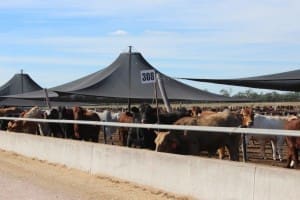 Being a more recent feedlot development, Wambo is built on a herringbone pen design rather than a square grid, providing for better cattle flows when shifting stock.
Pen shade has been provided in pens catering for 1600 head of cattle. A further eight pens will be provided with similar structures before next summer.
As the image here shows (click on image for a larger view) the bespoke shade structures are tent-like, with tensioned, reinforced shade cloth supported on timber poles and a ventilation opening at the apex, extracting the trapped hot air.
Up to 10 degrees of reduction in black bulb temperature has been achieved in this way, with the ventilation air assisting in drying the pad under the 650 square metre shaded area in each pen.
Water access from CSG industry
An unusual feature is the use of a reverse osmosis plant, used to treat saline water from the nearby Arrow Energy coalseam gas extraction process for use as stockwater.
To meet the increasing demand for cattle drinking water, Wambo has increased its use of associated water from adjacent gas fields to supplement its 700 ML of surface water storages. To ensure that the water quality is continually maintained at a stable drinking quality, the water from the gas fields is first mixed in the water storage before being pumped to the feedlot water supply system.
Wambo has hosted trials of two ion exchange water treatment systems to increase its ability to access this significant groundwater resource, with the CleanTeq 'Proof of Concept' plant being used to deliver up to 400,000 litres per day of water at an average TDS of 1650 mg/L through the recent drought. It is anticipated that the associated water resources available to the feedlot will be such that a water supply to the 24,000 head design capacity feedlot can be guaranteed.
This feature is brought to you by Lallemand Animal Nutrition.
Click here to return to Top 25 Lotfeeders table.
Click here to return to Top 25 Lotfeeders introductory article.