Location: Hay, NSW.
Operating capacity: 15,000 head
Turnover 2014: 10,000 cattle.
2003 Top 25 ranking: Did not appear (Perhaps listed as No 8 "Name, address and details withheld") with a listed capacity around 14,500 head.
A PLANNED diversification into large-scale intensive dairying will not impact on the future of the Ravensworth feedlot's beef feeding operations, near Hay in western NSW.
Principal Ron Harris says the beef lotfeeding activity will continue as normal, after the proposed dairy enterprise is established adjacent to the current feedlot pens.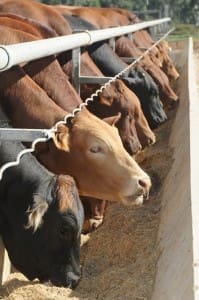 Ravensworth holds one of the largest feedlot licenses in Australia, at 60,000 head, however the yard has only ever reached a built capacity of 15,000 head. A portion of that remaining license has been 'converted' for dairying use, which is expected to see 18,000 milking cows in production on completion, all shedded, in the first stage.
Ravensworth was established in the early 1990s by investment banker, Bankers Trust, under the project management of Brian Locke. The feedlot was always intended to have significant scale, and was not simply 'tacked-onto' over the years like so many other feedlots that preceded it.
The Harris family bought the operation from Bankers Trust about 15 years ago.
Some farming blocks were sold off the original Ravensworth property aggregation last year to dissolve a partnership with Mr Harris's brother, Peter, leaving the feedlot and cotton enterprise, and some sheep country, under Ron Harris's control.
Ravensworth also does some custom feeding for outside clients, and is unusual in the sense that it is one of only a handful of feedlots in the country that will grainfed both beef and sheep.
Rations are based on dry-rolled white grains. The facility also has convenient access to almond hulls from a nearby Riverina processing plant, used as a source of roughage. All of the cotton seed ginned from the Harris's cotton crop is brought back on farm, for feedlot use.
The completion of the adjacent intensive dairy project will see a significant mill upgrade taking place, Mr Harris told Beef Central.
Contrasts in grainfed pricing, north and south
Contrary to many feedlots further north, which have operated at neat capacity for the past 18 months, Ravensworth has been only partially-utilised during 2014, feeding around 3500-4000 head at any one time over the past year. The programs are split roughly 50:50 between domestic and 100-day export cattle. That delivers a three-cycle turnover each year, representing around 10,000 head at recent occupancy levels.
"The main reason is that we can't get any money for a grainfed product down where we operate. Competition for grainfed cattle from processors is not as strong as it is further north," Mr Harris said.
"We have not been able to secure a supermarket contract, so most of our export steers are currently going all the way to Beenleigh and Dinmore, in southeast Queensland, because prices closer to home at Wagga are not as competitive," he said.
"Grainfed producers in the north get much better prices than we do, and I'd argue that the cattle are not as soft to eat. Down here, those cattle are worth between 320c and 400c/kg, but they'll give 420-500c in the north for the same cattle (prices quoted at time of interview)."
"If the profitability had been there, we would have fed more last year. I won't feed cattle unless I'm going to make a profit," Mr Harris said.
While Ravensworth's preference has been to forward-sell cattle, about half are being fed on spec at present because of the supply prospects that lie ahead in 2015.
Mr Harris said given the disappointing local market for grainfed cattle to established processors, he had not ruled out building a boutique-scale abattoir adjacent to the feedlot, a la Rockdale and Beef City, to take ownership of his beef further downstream.
"The Chinese are happy to take quarter beef so they can bone it themselves at home. That means a small plant here would not need a lot fewer labour units, than when there is a boning room involved. We'd simply have a kill floor, and freezer room."
He said he was 'in discussion' with people over the proposal now, and if it went ahead, he suggested it could spark a further expansion in feeding capacity at the Ravensworth site, given the unutilised license capacity.
The trading company, Ramps Ridge, buys in feeders for the company-owned cattle in the yard, mostly British-based, feeding mostly to 100 days.
This feature is brought to you by Lallemand Animal Nutrition.
Click here to return to Top 25 Lotfeeders table.
Click here to return to Top 25 Lotfeeders introductory article.