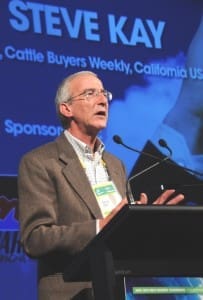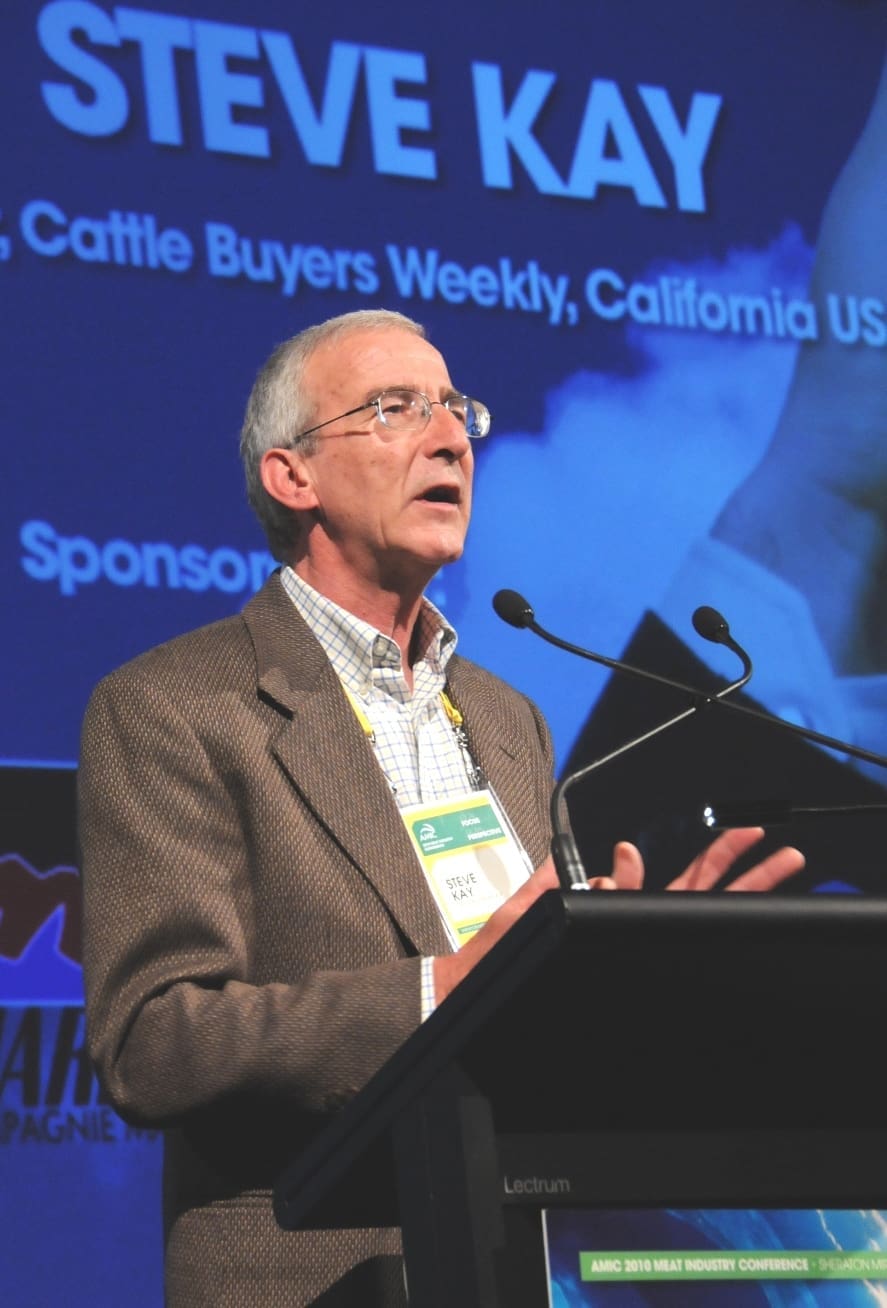 For this month's Kay's Cuts column, written by US meat and livestock market analyst, Steve Kay, we've asked him to pass comment on findings from his recent US Top 30 Cattle Feeders report. His findings add context to Beef Central's own recent Top 25 Australian Lotfeeders feature…
ONE look at annual US cattle feeding returns since 1975 would make one wonder why anyone would want to feed cattle or own a feedlot.
On the surface, the numbers suggest only 17 profitable years and 23 loss years. But the numbers (from the Livestock Marketing Information Centre) are averages based on a 750 pound (341kg) steer fed on the Southern Plains. They assume average performance and no hedging.
It's therefore reasonable to assume that US feedlots that stay in business do far better than the averages.
They are likely to be well-situated in terms of attracting packer buyers. They are financially strong, employ successful risk management strategies and are large enough to achieve economies of scale that smaller feedlots don't have.
The US feedlot sector is currently ending one of its more profitable two-year periods.
Reports have indicated that margins at times exceeded US$200 per head. LMIC's number for last year was much more modest at around $70/head. This period, though, was preceded by extensive losses, in the billions of dollars per year for the sector as a whole.
It's been that way since at least 1975, according to LMIC's data.
US Top 30 shows decline of small yards
I began writing about US cattle feeding in 1998, a year that saw small losses. I began compiling a ranking of the top 30 cattle feeding operations shortly after that and have published it annually ever since.
When I published my 1994 rankings, my lead story in that issue of Cattle Buyers Weekly was titled "Losses Will Impact Feedlot Business". The story noted that $1 billion of equity had disappeared from the sector in the previous year and that had driven many new cattle feeding customers out of the business.
The US industry even before then was moving from being a largely custom feeding business to one in which feedlots owned the majority of cattle they fed. This trend has continued until now, in part because of the risks involved in feeding cattle.
US cow-calf operators (ranchers) have never retained ownership of their cattle through to the packing plant in large numbers. But the record high prices for feeder cattle the past two years have created every incentive for them to sell their cattle rather than retain ownership. This will continue in 2015 and beyond.
These factors have combined to change profoundly the structure of the US cattle feeding industry over the past 30 years.
Iowa was the Number One feeding state in 1980. But the Southern Plains, where modern commercial cattle feeding began in the 1960s, soon overtook Iowa. Texas remains the No. 1 state, with Nebraska a close second (partly because of the availability of dried distillers' grains). Kansas is third, Colorado fourth and Iowa fifth.
However, Iowa and the wider region (South Dakota, Minnesota and Illinois) are feeding more cattle than in previous years.
The use of DDGs is one factor. Another is that a brand-new beef processing plant opened in Tama, Iowa last fall and hopes to harvest 1700 grain-fed cattle per day. This proves the adage that if you build a plant, the cattle will come to it.
Another structural change is the disappearance of both the smallest-sized feedlots (under 1000 head of capacity) and feedlots in most of the categories up to the largest (50,000 head and over).
In the last ten years, the number of the smallest feedlots went from 91,000 (marketing 4.1M head) to 71,000 (marketing 3.0M head) in 2013. During the same time, the number of the largest feedlots increased from 53 (marketing 6.965 million head) to 69 (marketing 8.45 million head).
Analysis of my top 30 provides further evidence of US feedlot consolidation. The top 30 in 1994 had 105 feedlots with pen space for 4.186 million cattle. By the end of 2014, the top 30 had 121 feedlots with pen space for 5.879 million cattle. So the number of feedlots increased 15pc while pen space increased 40pc.
To give you an idea of scale, the US's largest feedlot operation, JBS Five Rivers Cattle feeding, has 11 feedlots with capacity to feed 930,000 head. Second is Cactus Feeders with nine feedlots and 527,000 head of pen space.
Twenty four operations can feed 100,000 cattle or more at any one time. The shrinking US cattle supply has not caused the top operations to shrink in recent years. In fact, they now have pen space to feed 55pc of all the cattle on feed in US feedlots over 1000 head of capacity.
(Editor's note: The equivalent figure in our Australian Top 25 is remarkably similar, at 57pc of all Australian feedlot capacity).
Size, economies of scale and financial strength will be vital going forward to offset the increased capital required to feed cattle.
Total investment last December that was required for a turn of cattle (roughly five months) was about $16.5 billion, says agricultural economist Nevil Speer.
This was the highest amount in history and was three times larger than the total investment required just over five years ago when feeder cattle prices bottomed out in the summer of 2009, he says.
The market has paid an excellent return on that huge investment for the past two years.
But the return is about to turn negative, unless feeder cattle prices slump and fed cattle prices exceed expectations. Whatever happens, the financial risks involved in feeding cattle in the US will be higher than for many years.