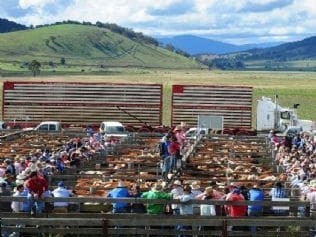 Gavin O'Sullivan started O'Sullivans Livestock Transport in his hometown of Elmore in Victoria in 1970 with the purchase of an International prime mover and a 34-foot, two-deck trailer, to cart sheep and cattle into the local Bendigo market and the Newmarket sales at Flemington in Melbourne.
With O'Sullivans Livestock Transport joined soon after by Gavin's brother Peter, the business began to grow as livestock transport services by rail were gradually phased out in Victoria and demand for road-based transport increased.
By the mid-1980s, with rail-based livestock transport abandoned in the state, the O'Sullivans were purchasing more trucks and stock crates to keep up with the growing demand for road-based cartage of sheep and cattle to and from farms, saleyards, feedlots and abattoirs.
The business also grew by buying other transport operations including well-known names throughout the livestock transporting industry including Baldwins, English's, David Beer, Hayes Transport at Orange, and Eddie Smith.
The management of the business today also now involves Gavin's son Sam and Peter's sons Scott and Paul, who help to oversee a fleet of 55 predominantly Kenworth and Western Star prime movers.
O'Sullivans Livestock Transport's primary business is sheep but it also shifts large numbers of cattle. The company's main area of operation is from Dubbo in New South Wales south through to Victoria and Adelaide, but it also handles work throughout the eastern seaboard and across to Western Australia as demand dictates.
Another feature of the business is the major livestock holding facility it owns at Elmore, which it uses to help clients coordinate the delivery of livestock to suit their needs.
"We handle fairly major holding facilities for our bigger clients, where we 're quite happy to hold their stock for weekends or weeks at a time and look after their stock until they need them," logistics manager Sam O'Sullivan explained.
In addition to helping to build what is now one of Southern Australia's largest livestock transporting companies, Gavin O'Sullivan has also played an active role in promoting the interests of livestock transporters at industry and Government level.
He was a founding member and past president of the Livestock Transport Association of Victoria, and has also held advisory positions with the Australian Livestock and Rural Transporters Association and the Australian Trucking Association.

O'Sullivans Livestock Transport
Midland Highway
Elmore Vic 3558
P 03 5432 6036
F 03 5432 6478
Sam O'Sullivan 0407 338 006
Email: loading@ostelmore.com.au