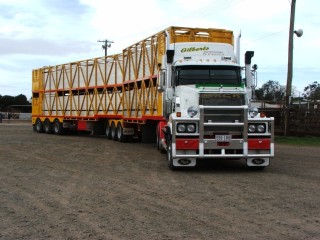 Gilberts Transport at Toowoomba is a prime example of a livestock transporting company that has grown not only with its clients, but more specifically, with an entire industry.
For the past 20 years the company has specialised in servicing the large and growing feedlot industry on Queensland's Darling Downs.
Company founder and major shareholder Peter Gilbert purchased his first cattle truck in Toowoomba in 1968, a Commer with a Perkins 6354 engine.
Five years later he sold his trucking business to work for Tancred Brothers, embarking on a career that saw him work across three states as a livestock buyer before managing Wainui Feedlot near Dalby, after its acquisition by Tancred Brothers as part of its purchase of Australian Estates/CSR.
Mr Gilbert's return to the livestock transporting industry was triggered when he bought a truck while at Wainui to assist with carting of feedlot cattle.
"That was when the feedlot industry was just in its infancy, and the business has basically evolved from there," he said.
"As the feedlots have grown we've grown with them."
Gilberts Transport operates out of Toowoomba and specialises in carrying store cattle into feedlots and finished cattle from feedlots to meatworks. The company also handles some grass-finished cattle, but its core business is feedlots.
"We pride ourselves in the service that we give," Mr Gilbert explained. "We run good equipment and provide good service and we've got good employees, which is very important when your carting fat cattle, you've got to have good operators."

• Click here to return to Top 25 Livestock Transporters table.
Gilberts Transport
Peter Gilbert
430-438 Boundary Street
Toowoomba QLD 4350
Ph (07) 4634 9211
Fax (07) 4634 9311 f
PO Box 9270
Wilsonton QLD 4350
Email: admin@giltrans.com.au