Patriarch Kelvin Boyle started Boyle's Livestock Transport in 1957, using his father's Ford body truck to transport livestock around Victoria's Western Districts for local farmers.
The business grew to two double-deck semi-trailers in the 1980s, and as sons Rodney and Anthony joined the business, was running four trucks including two B-doubles by 2002.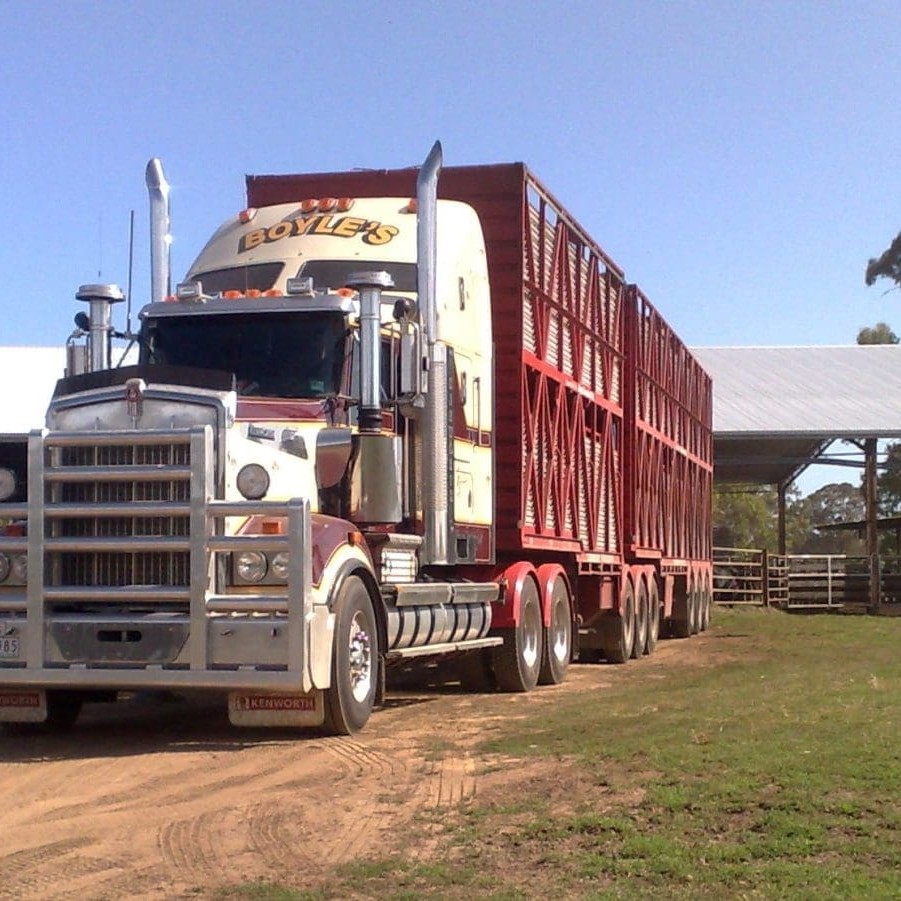 Over the years, Boyle's has bought several smaller livestock transport businesses to extend its footprint, the most recent being the Lyndon Manor Transport operations in Pakenham.
Earlier purchases included another local company T & P Smith from Hawkesdale in 2002, when it doubled capacity to eight trucks, and then in 2004 purchased another three from Hayes Transport Services in Colac.
Today Boyle's operates a fleet of 12 prime movers out of its depot at Mepunga, near Warrnambool in south west Victoria, concentrating primarily on saleyard and abattoir work across Victoria and the southern NSW Riverina, and stretching across into meatworks and saleyards work in South Australia.
The company operates mostly Kenworth prime movers powered by Cummins engines. Having basically the same running gear throughout the fleet means Boyle's is better equipped with spare parts inventory to handle maintenance and repairs on all vehicles. The fleet workshop at Mepunga includes three staff.
All trucks are fitted with air-conditioned sleeper cabs to ensure drivers get the best opportunity to rest, on longer runs.
Most of the trucks are run as B-double cattle trailer configurations, all on air-bag suspension and equipped with hydraulic ramps, internal lighting, non-bruise sides and the option of both big and short penning, depending on customer and load requirements.
Some of Boyle's big clients include Midfield Meats, one of Victoria's largest processors, and Ralph Meat Co at Seymour, processing about 400 head per shift, with which Boyles has had a close alignment for 40 years.
The company's website says it is trialling a new hydrogen injection system on its engines. If successful, it could increase fuel economy by 10pc and decrease our emissions output by up to 50pc, saving money and helping the environment, the website says.
In 2007 Boyle's won the Melbourne Age / D&B Victorian rural business of the year award for business management. Kelvin Boyle was inducted into the transport industry Hall of Fame in Alice Springs in August 2010.
Click here to return to Top 25 Livestock Transporters table.
Boyle's Livestock Transport, 281 Reas Rd, Mepunga, VIC
Operations Manager Anthony Boyle
Mob 0408 526 923
Ph 03 5566 3267
Email: office @boyleslivestock.com.au
Website: www.boyleslivestock.com.au