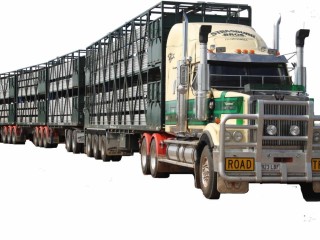 The Strasburg family name has been synonymous with livestock transport in Queensland for close to 60 years.
The family's origins in the cattle carting business draw back to 1956 when Arthur and Joyce Strasburg bought two 1954 International trucks and started AN & JD Strasburg Transport at Glamorgan Vale in the Lockyer Valley.
Within 15 years the business had grown to run eight trucks.
In 1976 Arthur and Joyce's sons Raymond and Lester bought two Commer trucks from their parents and established their own business, Strasburg Bros Livestock Carriers, operating from Toowoomba and Marburg.
As their transport business grew the Strasburg brothers diversified into manufacturing, from 1987 making aluminum bull bars and from 1997 making their own trailers.
The company sells new and used trailers around Australia. Having its own trailer manufacturing business means Strasburg Bros boasts one of the most modern trailer fleets of all transport companies in Australia, with the oldest of its 37 trailers being no more than five years old.
In 2004 Raymond sold out of the business and in 2006 the King Bullbars business was also sold so the company could concentrate on the livestock transporting business.
Today Strasburg Transport continues to operate two depots at Marburg and Toowoomba with 15 prime movers and 37 trailers servicing Queensland, the Northern Territory and New South Wales from Charters Towers to Casino, west to Longreach and "anywhere else that cattle need to be moved."
Lester Strasburg says the business has been founded on strong relationships that have been built over the years, and "honesty, hard work and dedication to doing the job well".
"Having a good team that has been stable for years and the customers know them and like them is very important," he said. "We have one driver who has been here in excess of 30 years."
The company's fleet comprises 12 Western Star and three Kenworth prime movers.
Asked if he believed it was still possible in today's environment for other young drivers to build their own large scale trucking company as he did with his brother over the past 35 years, Mr Strasburg said it was, but hard work and patience were essential
"They would have to be willing to work for it and pay attention to their book work, and they would also have to have some patience and allow the business to build itself up."

Lester Strasburg
3 Edmond Street
Marburg QLD 4346
PO Box 21
Marburg QLD 4346
P – 07 5464 4686
P – 07 5464 4011 (transport bookings)
M – 0408 876 328 (Les)
Email: accounts@strasburgs.com.au
Website: www.strasburgs.com.au