Australian livestock producers were given a lesson in 'producer power' last year when a young couple from South Dakota visited central Queensland at Meat and Livestock Australia's invitation to share their story about agricultural advocacy.
Troy and Stacy Hadrick learned a lesson they say they will never forget when they allowed a New York Times journalist to visit their farm under the pretence of writing a positive story about agriculture in 2002.
The resulting story tracked the life of a steer from birth through to dinner plate and accused American cattle producers of polluting the environment, abusing their animals and producing unhealthy food.
It triggered shockwaves through the entire US beef industry and sent calf prices and feeder cattle prices plummeting.
Every single consumer who read the article had their perception of the beef industry shifted further from reality, Troy said.
"When we finally got to read the article when it came out on Sunday morning, Stacy and I looked at each other and said we are not ever going to let anybody else tell our story for us ever again."
The Hadricks began talking to consumers, and realised that while many wanted to know where their food came from and how it was raised, the answers they were receiving about agriculture often were not coming from credible sources.
They decided it was up to producers of food and fibre to tell the positive story of agriculture.
Using online blogs, Twitter and Facebook updates, and any opportunities they could find to talk to people in face to face situations, the Hadricks began having conversations directly with consumers, and encouraged everyone they knew in agriculture to do the same.
They generated national media attention when the viral reaction to a simple video they placed on You Tube led to Australian-wine brand Yellowtail withdrawing a commitment to provide $100,000 in annual sponsorship to the Humane Society of the United States. HSUS has been criticised for using the vast majority of its publicly-raised funds for lobbying purposes, rather than for directly helping animals.
The Hadricks encourage other producers to have the confidence to talk about their industry, and speak at large industry gatherings across the US. MLA managing director Scott Hansen invited the couple to Australia after seeing them address a conference in the US in 2010.
While others in Australian agriculture were already using online and social media to connect with each other and to consumers before – the vibrant agchatoz community on Twitter and Facebook is an obvious example – the widespread media articles that followed the Hadrick's visit helped to spark a new wave of agricultural advocacy and social media sign ups in Australia.
Many newcomers who joined agricultural communities on Twitter and Facebook and started their own blogs in the weeks and months following the Hadrick's visit cited their story as a key reason for their decision to engage.
If you missed seeing Troy and Stacy speak last year, the good news is that they are on their way to Australia again.
US, Australian producers face similar challenges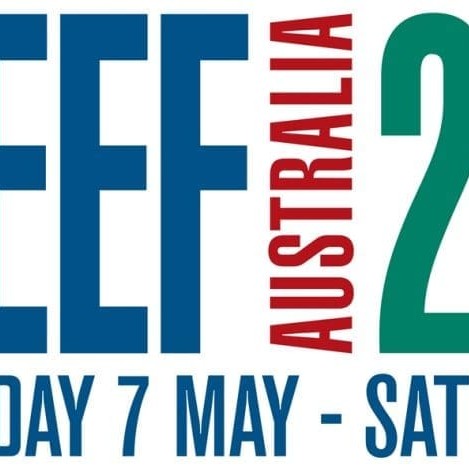 In a Beef 2012 seminar titled Producer Power, to be chaired by Alice Greenup of Greenup Santa Gertrudis, the Hadricks will talk about what it means to be an influential person, and will give fellow producers the tools to effectively tell their story.
Troy Hadrick told Beef Central this week that the couple thoroughly enjoyed their time in Australia last year, and found that many of the issues facing Australian cattle producers were identical to those facing US ranchers.
"Dealing with anti-agriculture groups, government regulations, and how to connect with consumers are all very important topics that producers in both countries are having to deal with," he said.
Asked what had changed in the agricultural advocacy movement since they were last in Australia, Troy said it was clear that more and more producers were feeling confident to tell their own story.
"Whether it's through social media or personal visits to classrooms and civic clubs, farmers and ranchers are realising that everyone needs to be doing their part in inform consumers about where their food and fibre comes from," he said.
"We've also been very excited to see young people getting active in sharing the story of agriculture.
"Our future farmers and ranchers are discovering that it's their responsibility as well to get involved."
Troy said the key message remains that producers and ranchers need to be engaging consumers through a variety of different avenues about food and fibre production.
"It's a critical story that needs to be told and it needs to be told by the true experts, the farmers and ranchers themselves.
"No one is more qualified to inform consumers about agriculture than we are.
"But we are also excited about sharing new ideas and examples of what we have been doing.
"There are opportunities everyday for all of us to connect with consumers in fun and exciting ways."
The Producer Power seminar at Beef 2012 will also include a presentation by Darwin based PR consultant Jo Brosnan about the powerful role played by personal stories in helping to bridge the divide between northern producers and mainstream Australians during last year's month-long live export ban.
The seminar "Producer Power: How your story can grow your industry" will be held in the Bos Taurus Room of the James Lawrence Pavillion between 9am and 11:15am on Thursday, May 10, 2012. For more information click here