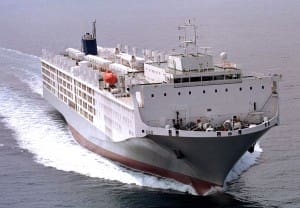 With Ramadan less than three months away, cattle exporters are facing a major challenge to deliver 250,000 cattle to Indonesia in time to help the country increase beef supplies and lower prices during the month long religious festival.
The Indonesian Government formally released permits for the import of 250,000 feeder weight (<350kg) cattle to importers last Friday, who have in turn passed orders on to exporters.
In releasing permits for 250,000 cattle the Indonesian Government is hoping to maximise the supply of beef in the market during Ramadan, the period when demand for beef peaks in Indonesia.
However, the lack of forward notice will make it difficult for exporters to deliver the cattle Indonesian wants in time to make a difference to prices during Ramadan.
The month long Ramadan festival starts this year on June 18.
Feeder cattle from Australia are typically shipped at average weights of 320kg to remain under Indonesia's maximum weight limit of 350kg by the time they land in the country.
Imported feeder cattle are normally fed for about 90 days, or three months, to reach the 450kg slaughter-weight preferred by Indonesia's wet market butchers.
However the start of Ramadan is now just over two and a half months away. Even the first feeder cattle shipped this week under the new second quarter permits will not reach market weights until the final weeks of the festival.
Read more stories from the NTCA conference here
The options for Indonesia may be to pull cattle out of feedlots early, issue special permits for the import of slaughter-weight cattle closer to the Ramadan, or increase permits for boxed beef.
Exporters are now racing to deliver as many of the 250,000 cattle to their importing customers in Indonesia in coming weeks as they can.
Many bought cattle in advance of second quarter permits being issued, but the lack of certainty from Indonesia about how many permits would be issued prevented them from securing large forward. Some reports from Indonesia suggested the Ministry of Agriculture wanted to issue permits for just 75,000 cattle for the second quarter. Amidst those sort of signals forward contracting large numbers of cattle would have been a major gamble for any exporter.
How will second quarter permits affect short term prices?
Beef Central asked several industry stakeholders at Friday's NTCA conference for their thoughts on how the release of permits for 250,000 cattle would affect short-term cattle prices out of Darwin.
Prices usually begin to ease at this time of year as the dry season mustering rounds kick off and a new wave of supply hits the market.
Both David Connolly from Thames Pastoral Company and outgoing NTCA president David Warriner thought the permits would put a solid base in the market.
"It will certainly keep prices solid," Mr Warriner told Beef Central.
"The cattle are there to go, I think the 250,000 will be filled pretty quickly, they will be there."
One exporter who asked not be named said he thought prices may still ease somewhat in coming weeks largely because of the continued drought-driven supply of cattle available in Western Queensland.
"If it wasn't so dry in western Queensland prices would most probably firm, but I think you will most probably find that prices will soften a little during the dry season.
"But my expectation is that David Warriner will get his $3/kg by Christmas.
"It has been a terrible wet season, in that it has finished early for a lot of people in the Northern Territory, that means your grass will be all gone by August-September.
"Everyone will have moved their cattle so the supply won't be there, and you'll see $3/kg then I reckon."
Another contributing factor to the current price outlook is an expected slowdown in shipments to Vietnam in coming months as exporters work with importing supply chains to ensure all ESCAS requirements are being met.