A prominent Darwin-based veterinarian and researcher has been awarded the 2014 Northern Territory Rural Women's Award, in the lead-up to the annual NT Cattlemen's Association conference starting in Darwin later today.
The prestigious award to Dr Amelia Rentz was announced at a ceremony at Parliament House in Darwin last night.
NT minister for primary industry, Willem Westra van Holthe, joined minister for women's policy, Bess Price, in announcing the award.
Dr Rentz will receive a $10,000 bursary to continue her leadership development and to improve livestock disease intelligence and surveillance by developing a rural education program. The program will focus on high risk zoonotic diseases (those which can transfer from animals to humans) and how they relate to humans and animals in regional northern Australia.
An independent panel selected Dr Rentz, a veterinary surgeon with her own large animal practice in Darwin, from a field of three finalists.
Bonnie Henderson, a grazier from Darwin River, was named runner-up.
"The award honours the achievements of rural women across the region and supports them to continue their work as leaders and advocates for the sector," Mr Westra van Holthe said.
As well as outlining their work and achievements in agriculture, nominees must also articulate a project or initiative that will support their professional development and benefit the primary industries and rural NT.
"I would like to congratulate the finalists for their commitment to rural development and I wish Dr Rentz every success in her leadership development and ongoing career in rural industries," Mr Westra van Holthe said.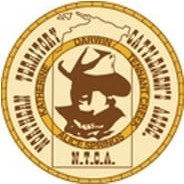 Dr Rentz and Mrs Henderson will now attend the Australian Institute of Directors' Course in Canberra. Dr Rentz will join winners from other states and territories as finalists when the national Rural Women's Award winner is announced at Parliament House in Canberra in September.
The NT award is sponsored by the Rural Industries Research & Development Corporation.
Click here to access all Beef Central's reports relating to the NTCA conference and associated events, as they unfold this week.