The Australian Agricultural Company has launched a recruitment process in preparation for a planned September commissioning of its much-vaunted Darwin export abattoir project.
AA Co chairman Don McGauchie and chief executive Jason Strong held a short media briefing in Darwin today during the NT Cattlemens Association conference, following an earlier site visit.
While the briefing contained little that was not known and discussed previously about the project, it was announced that the company intends to start killing operations after September, in advance of the next northern wet season.
In advertising placed on Beef Central's recruitment page on Friday (click here to view), AA Co has advertised for two livestock buying staff, in the first 'non project development' jobs advertised for the facility.
The company says it will start a more general operations recruitment process for killfloor and boning room staff within the next month.
While AA Co continues to talk-up the prospects for the much-publicised project, there's no shortage of stakeholders from across Australia's established processing industry who rate the plant's chances of long-term success at zero.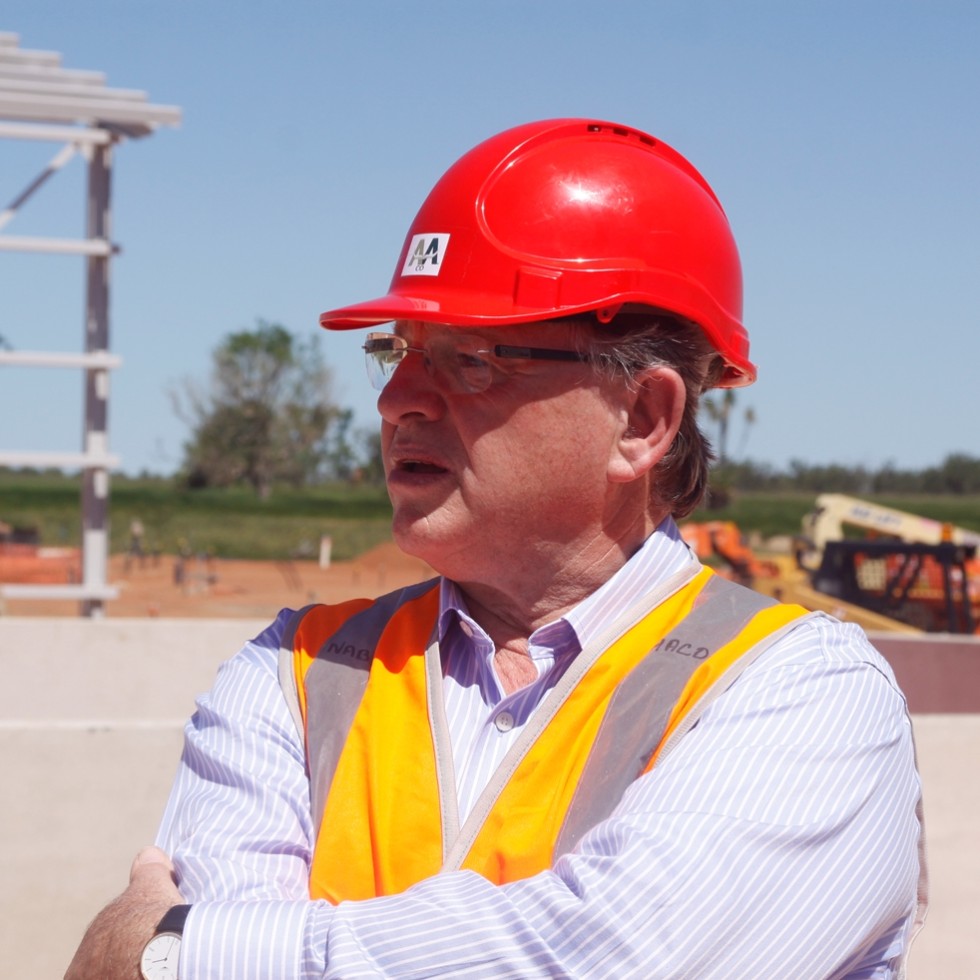 "There's immense interest in the beef processing facility at Livingstone Valley," Mr McGauchie told yesterday's briefing.
"This is a $91 million project that we have been planning for several years, which will employ up to 320 people. At full capacity it will be able to process 1000 head of cattle a day, using two shifts per day," he said.
AA Co plans to commission the plant from September with a single daily shift, representing about 520 cattle per day, increasing to two shifts over time.
Mr McGauchie said the facility will contribute more than $120 million to the local economy. Civil works on the site began almost 12 months ago, and construction began in earnest in September last year.
"There were some slight delays due to the heavy rain in January, but we had factored that into our planning and the facility remains on-track to open in September," he said.
Refrigeration and rendering equipment is now arriving and being installed.
The company has also just signed a 10-year gas supply agreement with APA Group, which will provide the energy to produce power and steam for the facility.
Managing director Jason Strong said the facility was going to be one of the biggest single employers in the Darwin region.
"We'll be employing about 160 people per shift, meaning 320 staff once both shifts are in operation," he said.
"Within the next month we will begin a recruitment process to find those staff. This is demanding work that requires training, so we'll be inducting employees and beginning that training process so the facility can begin operation as soon as possible after construction," Mr Strong said.
He said there had been a lot of expressions of interest from the local community already.
"Our preference is to employ locals first. We're also committed to at least 10 percent indigenous staff at the facility."
Mr Strong said AA Co was continuing to talk to local cattle producers about supplying cattle to the facility and the region's cattle sector was 'very enthusiastic' about having another channel to market.
"It's important to stress that the Darwin processing facility will be complimentary to the live export trade, not a competitor," he said. "It will give AA Co and other producers the ability to sell older and less productive cattle that aren't suitable for live export into a processed beef market."
The plant would mean producers will now have another option for these cattle, rather than being forced to truck them all the way to the east coast for slaughter.
"If you're sending a road train from the Katherine or the Victoria River area to a Queensland processing plant, the saving will be about $160 per head, or $20,000 a trip," he said.
Gas agreement provides long-term energy security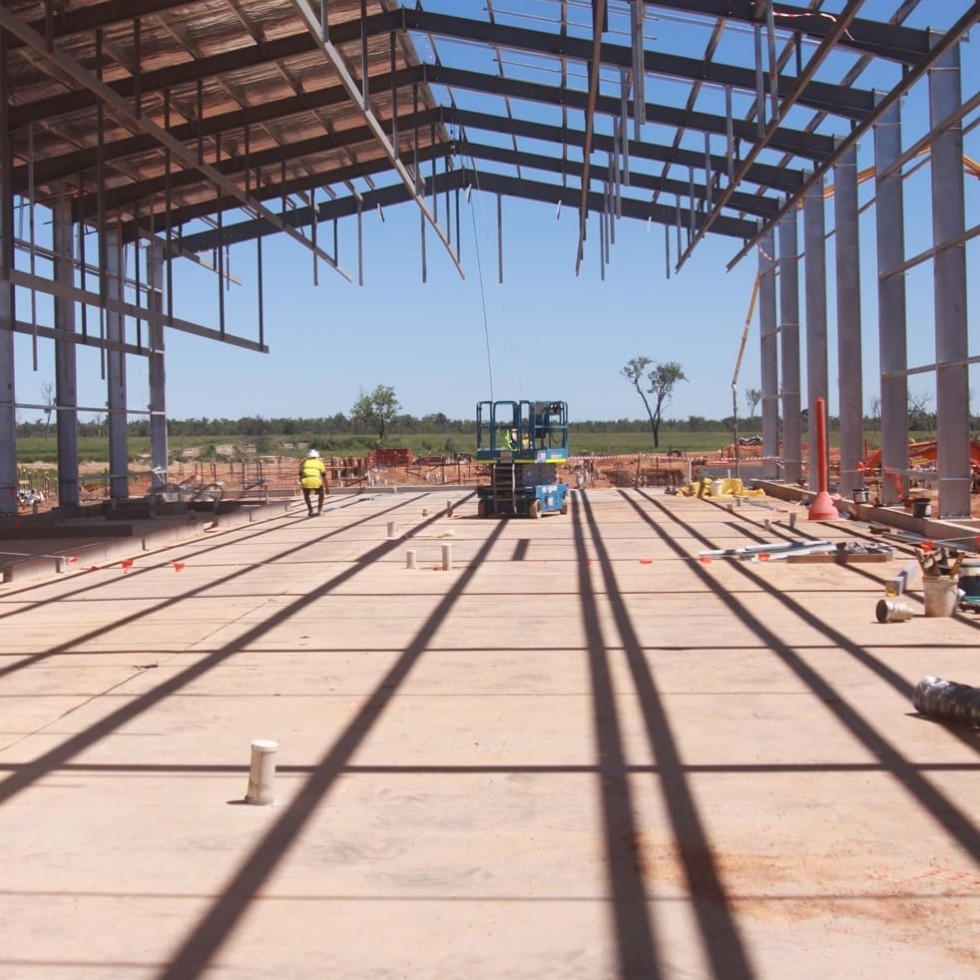 Under a natural gas agreement signed with APA Group, AA Co will draw supply from APA's adjacent pipeline, which transports natural gas from deposits in the Amadeus Basin near Alice Springs to Darwin.
A 2.8km lateral line will run from the main Amadeus gas pipeline at Noonamah, to the plant. The lateral and the necessary gas receiving infrastructure at the facility will be constructed owned and operated by Northern Australia Beef Ltd, a wholly-owned subsidiary of AA Co.
The facility will use gas for co-generation – an energy-efficient means of generating both electricity and thermal heating for meat processing, rendering and other purposes. The agreement provides long-term energy certainty for the facility's energy needs.
Meanwhile, the ABC today reported that chairman Donald McGauchie told media that cattle within the company had already been identified for processing, but no cattle had yet been purchased for the sole purpose of slaughter.
"Obviously we've got a lot of cattle of our own that will go through the facility, but we'll certainly be starting to position cattle for the meatworks when it's up and running," ABC reported.
"One of the things we'll be doing, which is unusual for a facility of this sort, is we'll be position cattle months out, either on our own properties or how the way we buy cattle forward," Mr McGauchie said.
"We'll be aware of what cattle are going into that facility well ahead of when they arrive."
AA Co's recently-purchased Labelle and Welltree pastoral leases on the Darwin floodplains would assist the supply of stock to the abattoir, especially over the wet season period.
"Clearly that gives us an ability to assemble cattle close to Darwin and we have other properties along the road right up here," he said. "But those two properties are going to be a very important part of that overall strategy."
ABC reported that Mr McGauchie rejected any claims that a meatworks as far north as Darwin would endanger the live cattle trade, which is currently very profitable.
"I think there's a capacity in the NT to raise cattle numbers very significantly," he said. "Having another market for producers, an opportunity to look at where best to sell their cattle as we will do as a cattle producing business, is very much a part of improving the entire NT industry."
Do Beef Central's recruitment ads work?

Click here

to view an earlier advertiser testimonial.