Conference presentations predicting where cattle prices will head next are often so qualified by ifs, buts and maybes they offer about as much value as weather forecasts that vaguely suggest conditions will be "fine with a possibility rain".
No such fence sitting was evident at the NTCA conference last Friday where northern cattle industry veteran and Asian cattle market analyst Dr Ross Ainsworth confidently told producers they should soon expect liveweight prices of $4/kg or more.
From his vantage point outside Australia, he says cattle producers here, despite producing some of the best quality beef in the world, receive some of the lowest prices for their cattle in the world.
Even in Cambodia, he notes, home to some of the poorest people on earth, farmers receive the equivalent of AUD$4/kg liveweight for their cattle.
Reinforcing a message he has been repeating for several months in his regular columns on Beef Central, Dr Ainsworth said a global undersupply of beef relative to global consumption growth means it is simple logic that Australian cattle prices have to go higher.
The only thing standing in the way from that happening, he says, is widespread rain to stop the drought-induced oversupply of cattle that is preventing Australian cattle prices from catching up with the rest of the world.
His comments may not be welcomed by those who buy cattle such as exporters and processors, but they reflect a clear and growing expectation from producers that it is time Australian cattle prices reflected what their counterparts in other countries are being paid.
Read more stories from the NTCA conference here
For the past 12 months NTCA president David Warriner has been shouting from the rooftops that liveweight prices of at least $3/kg are needed for northern cattle production enterprises to remain viable and to reinvest in their enterprises.
The dynamics of strong demand versus tight supply in the north have already moved the market for steers in Darwin from $2.30 last year to $2.70/kg (and higher in places) in that time (albeit with a drop to below $2/kg in between).
In a production sector which has become conditioned to accepting prices that have stayed within a range of 100c-200c/kg liveweight for decades without breaking above that level, predictions of 300c-400c/kg lw seem all but incomprehensible.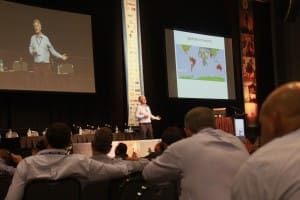 But Jakarta-based Dr Ainsworth says that if you stand outside Australia as he does and take a global view of cattle demand, supply and liveweight pricing, and then look back at what is happening in Australia, it is only logical that Australian cattle prices have to rise when it finally rains to reflect global undersupply factors.
He illustrated his point by showing a pendulum and an arc to demonstrate where global cattle supply is in relation to global cattle demand. The left half of the arc was coloured red to denote oversupply, and the right hand side was coloured green to denote undersupply.
He says available cattle herd and production statistics place the global pendulum firmly in the "green" area.
However, looking specifically at the Australian cattle sector, he believes the pendulum is currently just on the red side of the centre, denoting oversupply.
"(That is because) drought is causing an excessive supply to hit the market of those cows that are being sacrificed, but as soon as that stops, as soon as the drought is broken, it will never return," Dr Ainsworth said.
"The pointer will go straight into the green and the important part of my proposition is that it will never come back.
"This isn't a supply and demand thing where it goes back to this, not like motorcars where you just produce or less and the market goes up or down, this is a one way trip.
"There are not enough animals left in the whole world to supply the increasing demand, in fact the numbers that are left are going down, and the demand is going down.
"When this hits the green it is never coming back. "
He said if some of the poorest people in the world in Cambodia could pay $4/kg for live cattle, he could see no reason why the rest of world could not afford to pay Australian producers $4/kg for live cattle.
The only question was when, which would hinge on when widespread rain is received. Further dry weather will see even more cows slaughtered.
"However, all this is going to do is delay the inevitable, and when that pointer swings, it will go even further, because there will be even less cows, and then less calves to supply this raging demand."
There were not enough cattle in the world and China "was only just getting started".
China has already eaten most of its cattle and was scooping all of the remaining cattle out of continental South East Asia, while Indonesia had also eaten through most of its herd.
"We (Australia) haven't got many left so it is only going one way."
Outgoing NTCA president David Warriner said livestock prices around the world were far too in front of Australian prices to be ignored
"It confirms my theories that there are segments in markets that can pay what we need."
He said marketing strategies had to change to ensure Australian cattle were being sold to customers that could afford to pay prices that translated to liveweight cattle prices for Australian producers of $3/kg or more.