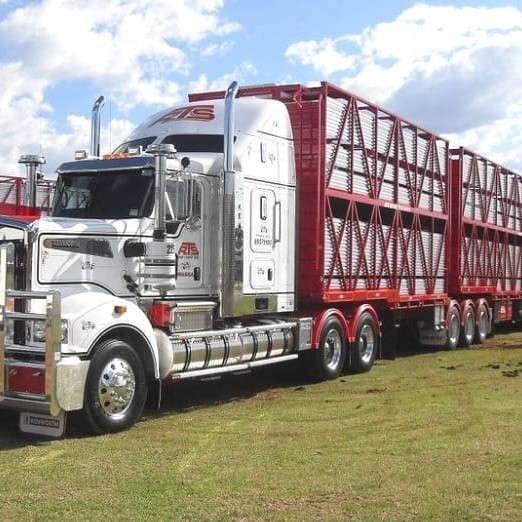 RODNEY's Transport Service has several clear distinctions from others on our Top 25 livestock transporters list.
Firstly, the company's livestock haulage business, while large in its own right, is just part of a much bigger road transport conglomerate, and secondly, the livestock operations are devoted almost entirely to just one client.
Since its inception in Wagga Wagga in 1992 as a one-man operation with just three trucks, RTS under founder Peter Rodney now operates one of Australia's larger haulage fleets with more than 100 prime movers and 300 trailer configurations, covering general freight, bulk haulage and livestock.
The move into the livestock sector came only early last year, when RTS bought the well-known Howe's livestock transport business based in southeast Queensland.
Beenleigh-based Howe's Carriers, founded by industry veteran John Howe, had hauled cattle for major processors and lotfeeders Teys Brothers for an incredible 48 years, basically growing his business as the scale of the Teys enterprise expanded beside it. That close alliance has continued under the RTS banner.
When RTS took over the Howe's Carriers business, it numbered six Western Stars pulling Haulmark B-double crates, but the fleet has now grown rapidly to 20 mostly Kenworth prime movers. Total one-time uplift capacity is 96 decks.
The overwhelming majority of the work is centred around Teys' cattle procurement, lotfeeding and processing operations, stretching from Naracoorte in South Australia through Wagga, Tamworth, Beenleigh, Biloela and Rockhampton. In addition Teys operates feedlots at Jindalee in NSW and Condamine, Qld.
The work also extends into delivery of grassfed cattle bought by Teys Australia out of saleyards and paddock sales from southern and western Victoria all the way to central and western Queensland.
RTS founder Peter Rodney said his company's move into the livestock transport sector was a business decision, designed to help spread industry downturn risk be extending across a greater number of haulage and industry sectors.
RTS has established a new livestock division depot near Toowoomba.
Out of the company's Wagga home depot, RTS had previously done business with the former Cargill Australia processing company (now merged with Teys), hauling hides, tallow, meatmeal and packaging materials, but no livestock were involved.
Rodney's has been involved in development of some innovative stock transfer technology recently. More on this in an upcoming Top 25 feature article.
Contacts:
Rodney's Transport Service
Livestock depot: 57 Heinemann Rd, Toowoomba Qld 4350
Ashley Millar, manager.
Ph: (07) 4630 4342
Fax (07) 4630 4788
Email: ashley@rodneystransport.com.au
Web: www.rodneystransport.com.au