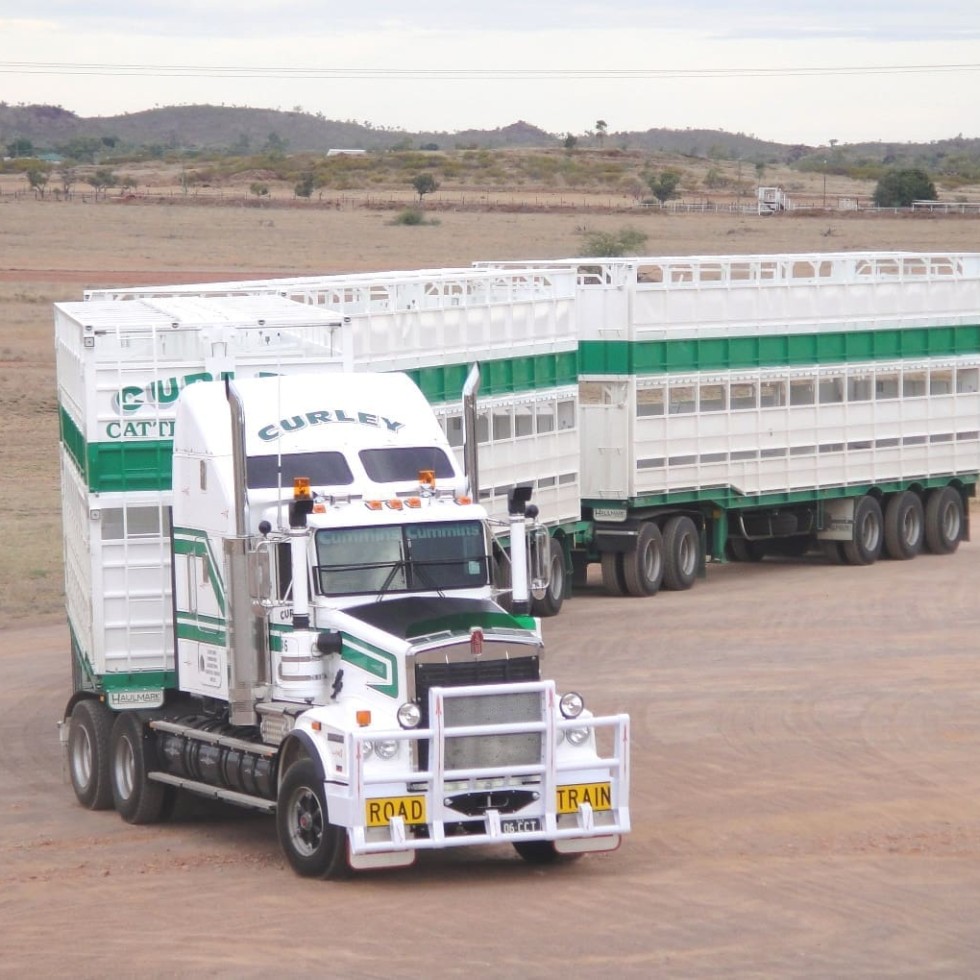 Brothers Mick and Robert Curley established a small livestock haulage business soon after Mick successfully balloted for a block of grazing country northeast of Cloncurry called Gipsy Plains, back in 1963.
In 1996 Mick and his wife Dawn bought-out Robert's share in Curley Brothers Transport to focus solely on the trucking operations, while Robert and his wife Jacqueline continue to operate Gipsy Plains today.
The amicable business separation came at the time that Curley's bought out another local transport operator, Charlie Hudson, taking the newly-formed Curley Cattle Transport from five prime movers to eight.
Curley's has continued to strategically acquire other trucking operations over the years. Next was Hickey's Livestock in Georgetown in the lower Gulf (four units), followed by Cleary's Transport based at Mt Isa (five), and lastly, Boulia Transport (two trucks).
The main purpose in buying out the smaller operators was not only to establish depot facilities in other regional cattle centres across north and northwest west Queensland, but also to build the customer base, using some of the well-established carting relationships that existed.
Today, under Mick's son, Stephen, who acts as managing director, Curley's operates two major depots at Cloncurry and Charters Towers, plus smaller ones at Boulia, Georgetown and Normanton. Combined, they provide a footprint across the state's northern heartland cattle country around the Gulf and northwestern Queensland.
The business today operates 26 Kenworth prime movers, all six-deck road trains, with total one-time uplift capacity of 154 decks.
Despite its location, Curley Cattle Transport is not as heavily reliant on the live export trade as some might think.
"To really do well in the live export trade, a transporter really needs a set-up in Darwin area, because you have to load onto the boats," Stephen Curley explained. "Unless you have that local facility, you can't afford to sit there and wait for a few days if the boat happens to be late."
In Curley's case, what tends to happen is that the company brings the northern Queensland cattle destined for export from property of origin into Mt Isa or Cloncurry, while another operator with facilities around Darwin does the run from there to Darwin.
Despite the operational limitations, Curley's does do some trade into Darwin, but most of its business is in taking cattle out of large-scale breeding and growing properties in the Gulf, the northwestern parts of Queensland, the Barkly region in the NT, and the Channel Country, coming back east to feedlots, backgrounding or slaughter.
Slaughter destinations include Townsville, Mackay, Rockhampton, and the large plants in southeast Queensland.
The big decline in the Queensland Government's Cattle-rail livestock rail services from western railheads has shifted a lot more of those slaughter cattle onto road transport over the past five years or so.
"The absence of the rail service is not good for the industry, to be honest. People think because we operate trucks, we'd be the first to say, 'yes – get rid of rail'," Mr Curley said.
"In fact the opposite is the case. The roads can't handle it, we as operators can't handle it during peak periods like we've seen this year. If the rail service was going to be wound-down, it should have happened over a 15 year timeframe, so the road freight industry could adjust. The industry can't afford to fill those gaps overnight: these days, you get a steak sandwich in change out of the price of a new road train and trailers, at close to a million dollars," he said.
"There's no doubt that the stock transport industry is the toughest on trucks of any transport sector in Australia, due to the roads we regularly use. That means we need the most robust vehicles and configurations we can buy. In our case we use all Kenworth T658s."
Big pastoral companies serviced by Curley's include Stanbroke, North Australian Pastoral Co, Western Grazing, Paraway Pastoral Co and MDH Pty Ltd (McDonalds). It goes without saying that the business also continues to cart for Robert and Jacqueline Curley's nearby Gipsy Plains station.
In some cases, ownership of the properties serviced by Curley's has changed two, three or more times over the years, but the contract work tends to continue from one owner to the next.
Obviously the impact of the drought across the northern and western region of Queensland this year has been reflected in Curley's operations, with considerably more activity than normal as properties have lightened-off breeder numbers or destocked. One local Cloncurry property had thousands of head away on agistment on six different properties spread across the state.
Some of that activity, at least, has been seen in diversion into different directions: cattle that would normally be heading to meatworks have gone to feedlots, for example.
Mr Curley said it was apparent that a much broader range of cattle descriptions had gone into feedlots this year, simply to add weight in a tight year.
Asked what the key point was that made Curley's a successful business, he said it was in 'coming from humble beginnings.'
"Coming from a small size to where we are today, we still respect the need for personalised service and attention to detail. In many cases, we've grown with our clients. A cattle producer who might have started out with one place 30 years ago might now have four or five. We've been able to keep pace with that growth, and it's very rewarding. Loyalty runs both ways."
Contacts:
Curley Cattle Transport
Sir Hudson Fysh Drive, Cloncurry QLD 4824
Cloncurry head office and main depot:
Ph: (07) 4742 1220    Stephen Curley managing director Mob  0427 909 175.
Normanton depot: (07) 4745 1165
Georgewtown depot: (07) 4062 1111
Charters Towers depot: (07) 4787 7111
Boulia depot: (07) 4746 3132.