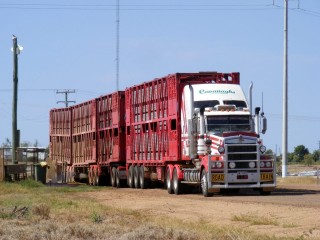 Launched by Robert Cavanagh with the purchase of a single truck in 1988, Inverell, NSW-based Cavanagh's Transport today runs a fleet of 10 prime movers operating from the Northern Territory and North Queensland and south to Victoria.
Mr Cavanagh grew up on a beef and dairy farm near Casino in the NSW Northern Rivers and started his working life as a truck driver in 1985 with JT & HM Savage at Tamworth, later to become Stockmaster.
After buying his first truck in 1988, Mr Cavanagh continued to work for Jim and Helen Savage as a sub-contractor for three years before returning to the Casino district to cart cattle for local cattle producers, feedlots and abattoirs.
Mr Cavanagh said that his business has grown by forming strong relationships with loyal customers and growing steadily with those customers over time.
In 1995 as the McDonald family's Bindaree Beef abattoir was gearing up Mr Cavanagh relocated his business to Inverell. He bought a second truck in 1998 to keep up with the growing cattle industry work in the region and a third in 2000.
Servicing a range of clients including Caledonia Grazing, Western Grazing, Fletchers International, and supermarkets Coles and Woolworths, the business has gradually grown year on year to its present size of 10 prime movers.
In something of a return to where his career first began, in 2010 Mr Cavanagah purchased Stockmaster Transport in Tamworth. Both companies retain their own brands but are run from the same office.
"It was a company with similar values to ours, and it allowed us to expand our client base and our geographic spread," Mr Cavanagh said.
Mr Cavanagh has previously served as president of the NSW Livestock and Bulk Carriers Association and the Australian Livestock and Rural Transporters Association.
Click here to return to Top 25 Livestock Transporters table.
Cavanagh's Transport
Robert Cavanagh
Evans Street, Inverell NSW, 2360
M – 0427 223 439
P – 02 6722 3438
F – 02 6721 3235
Email: robert@cavanaghstransport.net.au
PO Box 971 Inverell NSW 2360