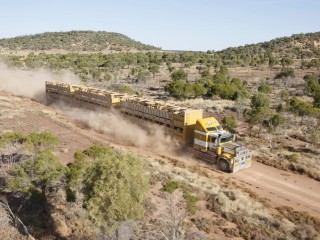 Five years ago Gordon Martin celebrated three milestones which underlined just how far his business had come since he bought a single tipper to cart gravel for NSW's Merriwa Shire (now amalgamated into the Upper Hunter Shire) in 1958.
In 2008 Gordon turned 70, he marked 50 years in road transport, and he also accepted the keys to his 200th Kenworth prime mover.
Now 56 years since he bought his first tipper, the Martin Group today owns 45 tippers, but that is far from the largest part of the business.
The company's livestock transporting business, Martins Stock Haulage, now owns 75 prime movers.
Following the company's acquisition of Dorries Transport at Oakey near Toowoomba last month, Martins Stock Haulage now has the capacity to cart 373 decks with its own trailers, or over 10,000 cattle, at any one time.
During the same period in which Mr Martin built both his livestock transport and bulk haulage businesses he also developed a significant coal transporting company in the Hunter Valley, which grew to 60 prime movers before he sold the business in the early 1990s.
So how does a small, one-truck operator carting gravel for the local council grow to become such a powerful force in the Australian transport industry?
The simple answer, according to Gordon's son and Martins Group operations director, Jason Martin, is that while Martins is a trucking business, it has always focused on being a 'people' business.
"It has a lot to do with the people he has built up around him," Jason said.
"He always says it is more the people you have got around you that makes a business grow."
Martins Stock Haulage has expanded through the gradual purchase of additional prime movers and trailers as its business has grown but also through the acquisition of other small to mid-size transport operators.
The biggest single increase in scale occurred in 2005 when Martins expanded into Queensland with the purchase of Porters Transport at Oakey, which at the time had 35 prime movers and 75 trailers.
That was followed more recently by the purchase of Priddles Transport at Springsure, and Dorries Transport at Oakey just last month.
Jason said his father has long held a philosophy that it is always better to 'go in the front door' to secure more work rather than trying to undercut others around the back.
"That has always been a big thing for him, he doesn't like pinching work," Jason said. "He likes to do it the right way, and doesn't go around the back door and undercut people. He has always been pretty up front like that."
Another long-term strategy that Mr Martin attributes to the company's growth has been its focus on offering a professional service rather than trying to be the cheapest operator.
"We just try and do things right," he explained. "We keep the gear up to date, that helps us to get the better drivers, we keep our vehicles clean, which helps us to get a good image out there, and we strive to offer a good service, and with word of mouth that gets around.
"We're not the cheapest out there, but we still get the work. It is a lot do with the service – people are prepared to pay for professionalism, and the better gear with the latest technology and safety systems."
Martins Stock Haulage covers all of Eastern Australia, and occasional jobs across to the west, with major depots in Scone (head office), Dubbo, Oakey and Rockhampton.
Its operations service all facets of the livestock supply chain, including feedlot operations, processors, saleyards and producers.
The company's fleet in New South Wales is based primarily on B-Double trailer configurations, with the exception of a couple of road trains operated out of Dubbo, while the Queensland fleet comprises B-Doubles, B-Triples and six-deck road trains.
While Martins Stock Haulage also handles sheep work, cattle work accounts for the lion's share of its operations.
In 2006 Gordon Martin was inducted into the National Road Transport Hall of Fame. A written tribute at the time acknowledged his hard work ethic and his ability to seize opportunities as they arose.
Three years later those traits were reflected in the company's response to the sudden loss a major customer, and its ability to turn what could have been a major setback into a growth opportunity.
Until 2009 Martin's Stock Haulage carted cattle for JBS from its Prime City Feedlot at Tabbita near Griffith north to the Beef City feedlot near Toowoomba, a run that at times required as many as 25 B-Doubles a day.
However, that business disappeared in 2009 when JBS announced it was launching its own livestock transport division.
"That put a big hole in our business at the time," Jason recalled. "We had all this gear, and all these people relying on us driver wise, so we thought okay, we will go and find something else, so that is what we did, we went out looking for business."
The proactive decision to seek out new work has not only resulted in further growth since that time but it has also allowed the business to establish a more diverse customer base.
In addition to its transport interests, the Martin Group also runs a diversified pastoral operation, running approximately 2000 Angus breeders and progeny and producing crops on a number of properties totaling approximately 23,000 acres in the Hunter Valley and Liverpool Plains.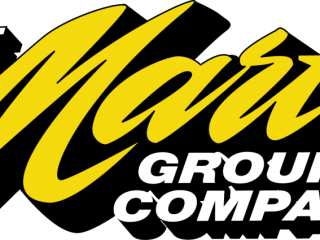 Martins Stock Haulage
Lot 4 Hays Street
Scone NSW 2337
P – 02 6545 3222
F – 02 6545 3141
Email – livestock@martinshaulage.com.au
Gordon Martin – Executive Director
Jason Martin – Director Operations

Depots
Scone
Ian O'Bryan: Operations Manager
Mick Kealy: Livestock Manager
Rod Currell: Livestock Operations
P – 02 6545 3222
F – 02 6545 3141
Oakey
Mick Bradley: Livestock Operations
Graeme Hoare: Livestock Operations
Dale Harrison: Livestock
P – 07 4691 2888
F – 07 4691 2777