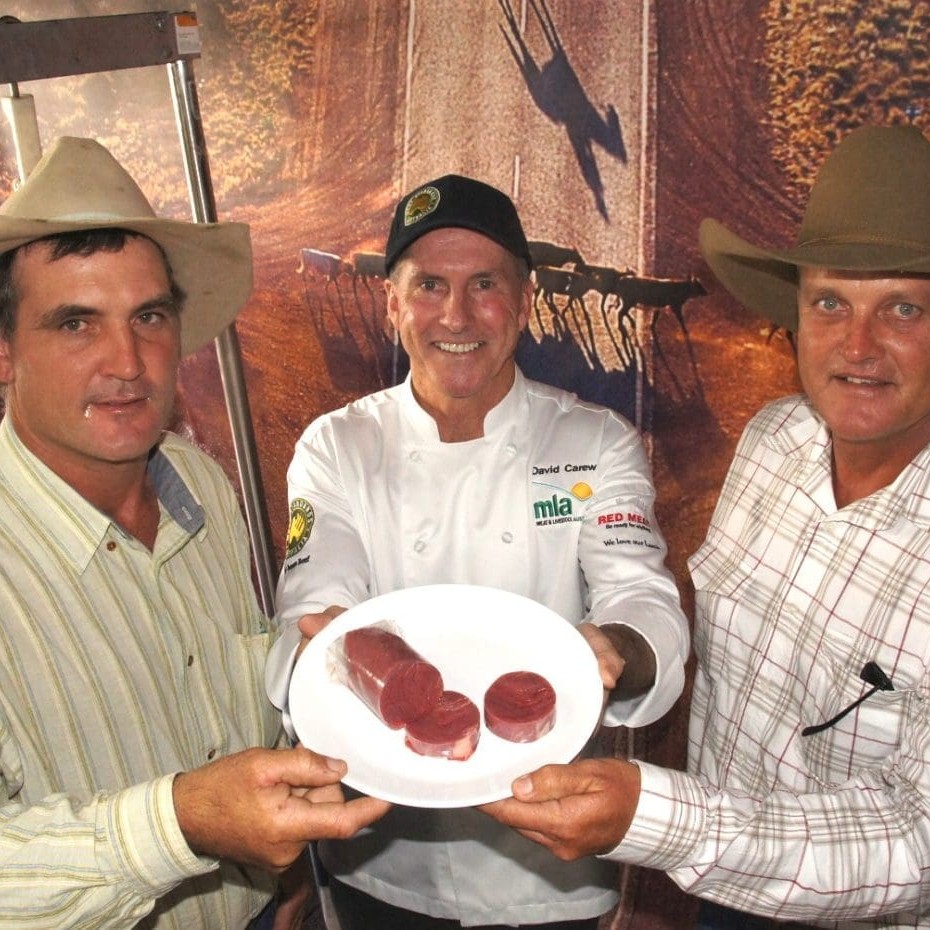 Developments such as the use of seam-cutting of primal groups like rump, blade and chuck, together with the use of new product enhancement technologies like SmartShape offer enormous scope to extend carcase value and better target end-user requirements.
It's all part of a growing industry effort to 'sell the sizzle' on secondary cuts, and break down some of the prejudices against them in the food service sector, particularly, when presented in their traditional form.
A series of customer-focussed benefits were demonstrated to industry stakeholders attending a practical MLA red meat innovation workshop held during Beef 2012 today.
MLA's product development project manager, David Carew, demonstrated the 'deconstruction' of a conventional rump primal into its component parts, removing separate items like the rump cap, pillow steak, rump eye and centre-cut. The secret is to 'coax' the sub-primals apart by following the natural seams that occur between each muscle, with surprisingly little knife-work involved.
He explained that items like rump cap are now highly valued in export markets like Brazil, where it is known as Picanha. But caps also hold great potential for greater use on the domestic market.
When seamed-out and cut against the grain of the muscle, it not only produces a greatly enhanced eating performance, but gave the chef something better to work with, in terms of portion dimensions, Mr Carew said.
"When considering ways to better utilise cuts like rump, 'centre of plate' performance, or what chefs are identifying with, is a key," he said.
"The product has to look the part. Unfortunately, shape has now become a new means of determining quality, and while sometimes unfairly, a triangular piece of meat might indicate a less desirable eating experience than a rounded piece (suggestive of eye fillet)."
As demonstrated during the workshop, a little expert trimming and slicing on a seamed rump cap, and what emerges is a product that somewhat resembles a sirloin on a plate.
"Using a standard rump cut, we might expect to extract at best, seven or eight portions from smaller rumps of this size," Mr Carew told the audience. "When we have finished slicing the seam-cut portions, it is possible to come up with almost 20 portions from the same primal."
"From the perspective of a food service sector chef, looking to be able to create value on menus, he needs to be able to put out as many plates as possible at the lowest possible price – that's where the value is to him, not on the price per kilo."
Mr Carew then seamed-out the pillow steak, another high performance piece of rump meat that can get caught-up with surrounding connective tissue.
"Pull that out and it producers a beautiful little piece of tender meat that works ideally in items like thinly-sliced Thai beef salads – another centre-of-plate performer."
What is left of the original rump, after removing those muscles is what's known as the rostbiff, traditionally roasted. But by taking the process yet another step further, the rostbiff can produce further value-added products, divided into the rump eye and rump centre-cut.
"This is all about where we can start to find dollars and cents for our industry that is going to make its way back to producers," Mr Carew said.
In international markets like Russia and China, MLA is working with chefs to explain how they, too, can take a whole rump and break it down to make more money from it on their menu.
SmartShape provides big opportunities
Another important technical development which is helping shift the curve in carcase value and greater utilisation of secondary cuts was also demonstrated to workshop participants. The technology is known as SmartShape, an all-Australian technology that could give Australia a strong competitive market advantage into the future.
"One of the areas where MLA has excelled has been in developing the science that helps the red meat industry stay in front of its competitors," Mr Carew said.
While SmartShape can be used in a number of muscle-shaping applications, one of these is in further enhancing seam-cut items from the rump.
"To the average consumer looking for a steak cut, if it's not oblong or round, they don't come near it. That's proven by the fact that the industry does not sell secondary cuts well, or at least at a lot lower margin than they are potentially worth."
In the demonstration at Beef 2012, Mr Carew showed how a piece of irregularly-shaped rump eye or rump centre cut is placed into a shaping sleeve, via a silicone tube, using the SmartShape machine.
"This is really good technology, and in my opinion has the potential to revolutionise our industry," he said.
The squeezing process does not damage the meat in any way, but breaks down its structural fibre, producing a much more consistent shape, not unlike an eye fillet. After a period, the sleeve can be removed, and the item retains almost all of its formed shape.
"For food service, this is an ideal shape to deal with. With the help of the MSA cuts/cook system which helps them recognise high-performing meat cuts, SmartShape puts that rump material into a format that the consumer is willing to pay more money for."
The combination of seam-cutting and SmartShaping can turn a box of rumps each weighing 3-4kg, with a lot of variability between the muscles contained, into something which is a group of meat items with very task-specific applications, going into a restaurant, or a banqueting/function setting.
"They want exactly this type of meat," Mr Carew said. "Tenderloins are now prohibitively expensive for the banqueting/convention market. And tenderloin itself is not ideal for consistent size in banqueting use, because it has a long, thin tail and big head, making it difficult to deliver a consistent portion-size.
But SmartShape could take up to 37 percent of the boned carcase meat produced under conventional cutting lines and convert it into a shape much more attractive to end-users.
"What we are starting to see now, and will increasingly do so in the future, are these 'SmartShaped pieces of meat, being used as replacements for items like tenderloin, backed by the MSA science that can determine the 'performance' muscles' that are suitable for centre-of-plate grilling."
"And they're not just in the loin area – they can be found in sites like the blade, brisket and chuck as well as the rump," Mr Carew said.
"There are better-performing muscles distributed around the carcase – we just need to go and find them, and the MSA science and SmartShape can build an application for them in the marketplace."
New market entry points
Mr Carew said while red meat basically 'owned' the main-meal market in segments like the restaurant trade, one of the exciting opportunities ahead was in finding new market entry-points.
"We're talking about penetrating the entrée market, where beef has had very little presence up to now. By further developing these seam-cut secondary items – producing smaller portions that have very high and consistent eating performance – we think there significant opportunities to build a market with the entrée course."
"The same can be said for the banqueting/convention area, because that whole food service segment previously thought the tenderloin was the only cut that could be used for this purpose. The trouble is, tenderloins only make up 1.5pc of a carcase," he said.
"But SmartShape means we can now send a much greater proportion of a carcase for market segments like that. According to the MSA cuts/cook symbols, they can fill a whole raft of different applications."
Several large processors, including Teys Australia, have recently launched SmartShape value adding programs.
Mr Carew said MLA had developed a specific program to sell and describe secondary cuts, called the Primal Utilisation Program (PUP).
Just one of the fundamentals of this is the MSA 'cut to cook' process, describing each and every single muscle on the carcase, allowing each to be accurately related to the customer. 'Plate profiling' recognises that the customer wants certain dimensions, typically round or oblong, and consistency in those dimensions; while 'menu design' is about conveying to end-users how each product will eat, and present on a plate.
Another compelling reason to seam-cut was that different components of a chuck or rump primal ate so differently, when cooked together, Mr Carew told the workshop.
A muscle like chuck had some of the most contrasting muscle components of any part of the body. It ran from the end of the loin muscle (tender), to some of the toughest meat from the neck muscles.
"Putting that all in the same casserole pot together and trying to cook it is a recipe for disaster," he said. "One of two things will happen: either the loin component (about 30pc), will be mush in the bottom of the pan and be unusable, or the other 70pc of it will still be tough," he said.
For this very reason, one large value-adding company in WA was ready to give away chucks, and potentially, red meat in total, because of the inconsistency issue.
"But the real reason was their lack of knowledge of red meat," Mr Carew said. "As an industry, we must develop that knowledge and capability across the chain, so every piece of meat is being used appropriately. It's an area that MLA is devoting a lot of attention to, and we have helped lots of end-users like this to solve their problems and find solutions."
"It's all about delivering on consistency and meeting expectations. That WA business is now at the leading edge in the country, so far as frozen, pre-cooked meals are concerned," he said.
Mr Carew said surprisingly, pound-for-pound, red meat was actually cheaper to use than chicken in many food service/banqueting applications.
"It's just the inconsistency and understanding issues with conventional product that troubles these value-adders, to the point where they can just give up," he said.
"But not now; not any more. Using MSA, seam-cutting and SmartShape, they are going to be very happy with the red meat they have at their disposal."
The MLA innovation workshop is being repeated at 1pm on Tuesday and Thursday, May 8 and 10, at Beef 2012 in the MLA Innovation Marquee.