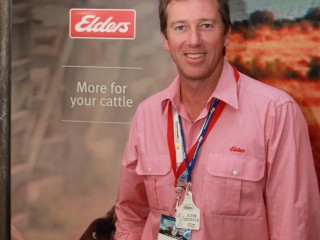 When you're a national identity and the owner of livestock property, there is a certain inevitability about where conversation will lead when you wander into the judging ring of Australia's largest stud cattle show.
Former Test bowler and Elders ambassador Glenn McGrath spent a few hours chatting with stud cattle breeders at Beef 2012 last Wednesday, and said he came away with no shortage of advice on which breeds of catttle he should be using to stock his western NSW grazing property.
The record Test wicket-taker's close association with agriculture is well-known. He grew up on a sheep/wheat farm near Narromine in NSW and lived there until he was 19, before moving to Sydney to pursue his cricket career.
While cricket took him all over the world his love of agriculture never dwindled, and in 1997 he bought a sheep and cattle property between Bourke and Cunnamulla, which his brother now runs.
Glenn told Beef Central that while the operation is primarily geared to sheep – carrying around 4500 head – he has recently expanded his cattle herd to take advantage of an exceptional run of seasons.
"It's not so much sheep feed now, it's more cattle feed," Glenn said.
"We've got about 600-700 head out there at the moment of mainly Brafords, and we're putting some Hereford bulls across them.
"As I've been wandering around the show everybody has been convincing me to get into Brangus, to get into Brahman, to get into Droughties, or this breed or that breed.
"Who knows, I might have a dozen different breeds out there after this," he said with a grin.
Glenn said he doesn't visit the property as much as he'd like but said his visit to Beef 2012 had sparked a desire to return more often.
"Since being here it has sort of made me rethink things," he said. "I'm going to try to lock it in to get out at least once every few months, just to spend a bit of time out there, be a little bit more hands on and get involved in it.
"For me personally I think I need that, just to get out of the city."
Glenn said he was very impressed with his first visit to Beef 2012, from the record crowds and diverse array of cattle breeds on show to the range of technology and innovations on display and the role the event plays in helping people from across the industry to connect and catch up.
He is also playing an active role with the Australian Year of the Farmer this year to promote the importance of agriculture and food production to the broader population.
He believes the initiative is an important step but said more work needs to be done to close the divide between urban and rural Australia.
"I wonder sometimes if young people in the city actually know where their beef comes from or the effect that all agricultural industries have on their everyday life.
"Hopefully this year can just start to create a bit more awareness.
"We're not going to solve all the problems in the first 12 months, but hopefully if we can start the ball rolling."