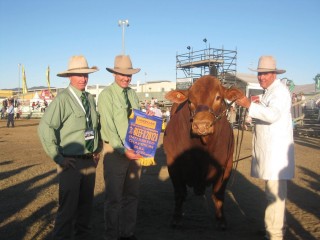 Rockhampton district Droughtmaster breeders Bruce and Val Childs and family have again placed their Glenlands stud prefix in the national spotlight after their 32-month-old senior grand champion Droughtmaster bull Glenlands Prince took out the prestigous Beef Australia 2012 Interbreed judging championship title from 31 beef breeds.
Coming over the scales at 1112kg, Glenlands Prince is a son of Glenlands Kingsley and has impressive show credentials including the Interbreed runnerup title at the 2011 Brisbane Royal Show.
Before a packed audience gathered in centrering at the Rockhampton showgrounds on May 10, the panel of three judges had an unenviable task confronted by such a wealth of breed grand champions paraded at the nation's biggest beef exhibition.
Tackling the interbreed judging challenge was Rhett Mobbs, Bulloo Lakes, a Queensland cattle breeder running a predominantly commercial herd of 2000 Simbrah cattle on the family's property located between Blackall and Quilpie. He was joined by NSW central coast cattleman James Laurie, Kholwha, who runs a 1600 head crossbred herd turning off Angus and composite bulls. Completing the panel was visiting US stud Brahman breeder John Coleman Locke, a sixth generation member of the JD Hudgins Ranch who manages the Locke Division of JD Hudgins.
Selecting the Interbreed Grand Champion female was no less a challenge from the 31entries but the judges gave the nod to the senior and grand champion Red Angus cow Bolton Girls Whisper-Echo paraded with a sappy calf at foot.
Bolton Girls Whisper-Echo, 32 months, was sired by BJR Make My Day 981 from Trevone Park Whisper and was shown by the Victirian-based Bolton Girls Red Angus stud, Congupna, operated by sisters Aimee and Olivia Bolton.