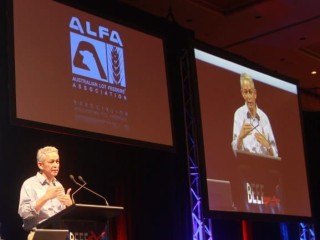 In Brief
• Indonesian cattle import requirements could exceed one million head by 2017, due to a combination of a rising population, increasing economic conditions and the limitations on Indonesia's local cattle herd to satisfy demand
• Implementing the Federal Government's Exporter Supply Chain Assurance System has cost Greg Pankhurst and Dicky Adiwoso's cattle importing and lot feeding business more than $1.2m to date, but has done the industry "a great benefit"
• Dicky Adiwoso says Indonesia was "shocked, humiliated and angered" by last year's sudden ban on live cattle exports when it was announced without warning
• Greg Pankhurst predicts there will be strong growth in both chilled meat and live cattle exports to Indonesia in future, provided Government to Government relations improve.
No Australian or Indonesian was closer to the impact of last year's ban on live cattle exports to Indonesia and its ongoing effects than long-time business partners and lotfeeders Greg Pankhurst and Dicky Adiwoso.
Both have run a cattle importing and lot feeding business in Indonesia for more than 20 years, through which they have developed two world-class feedlots at Lampung and Medan with the combined capacity to feed 130,000 head of cattle each year.
In a frank and candid address to the opening day of the 2012 Australian Lot Feeders Association BeefEx conference on the Gold Coast, the business partners spoke of the effect that last year's suspension has had on their business and on the Indonesian lotfeeding industry.
Four Corners approach
Mr Pankhurst said he and Mr Adiwoso were approached by ABC Four Corners in April last year about their interest in participating in a "good news story" about the trade. Despite being "a little wary" of how Four Corners would treat the story, they cautiously agreed and invited the ABC to come.
The ABC took 10 hours of footage at their feedlots. Its cameras were given open and unfettered access to all aspects of the operation, and Mr Pankhurst said they found "nothing wrong". Only about two minutes of the footage from his operation was used in the resulting 45 minute program "A Bloody Business" which aired on May 30 2011.
The program, which was dominated by footage of Australian cattle being mistreated in a number of small, traditional Indonesian abattoirs, triggered putlic outrage and a Federal Government decision to suspend the trade six days later.
Mr Pankhurst said the Animals Australia investigators who secured the original footage of cruelty that dominated the Four Corners report had gained access to the abattoirs by posing as English tourists who were interested in Islam.
"They were welcomed, they were shown what you saw on TV which was not the norm in all faciltiies and they glorified it," Mr Pankhurst said.
He said that that by the time the ABC left his feedlot, he knew the story was going to be negative because of the nature of the questions he was asked during a three hour interview.
"We knew there was trouble on the horizon," Mr Pankhurst said. "We all saw those terrible images on May 30, a bloody business, we were all shocked, gutted and blown away."
He remains adamant that what was shown was not the norm in Indonesia, and that the program presented an unbalanced perspective by not devoting more attention to the modern, professional abattoirs that handled large volumes of imported Australian cattle.
'Shock, humiliation, anger'
His colleague Dicky Adiwoso, who was with the Indonesian minister for agriculture when he received a phone call from Australian agriculture minister Joe Ludwig informing him that the trade had been suspended, said the reaction in Indonesia was one of "shock and humiliation, followed later by anger".
"How could a trading partner do this to us in such a confrontational way" was the inward feeling from the president down, he said.
Mr Adiwoso explained that the trade compliments both countries, with Northern Australia the perfect breeding ground for the type and volume of tropical cattle its near neighbour requires, and Indonesia with the capacity to intensively and efficiently feed large numbers of cattle using waste agricultural products and village grown fodder.
After the ban was lifted and the trade resumed under the requirements of the new Exporter Supply Chain Assurance System (ESCAS), Mr Adiwoso said his task was to convince his fellow countrymen that changes needed to be made quickly.
"It was long hours of road show campaigns to convince our business associates and people involved in our industry," he explained. "We travelled throughout our supply chain at all levels, having heart to heart talks and presentations.
"There were instances where we put ourselves in confrontational situations, but with persistent effort we have been able to set up a system which complies, and in many instances exceeds, OIE standards of animal welfare. Many say it is now better than Australia."
He said the biggest challenge was – and still is – to convince Indonesians at all levels that the trade blockage was not a cultural imposition or a religious conflict.
ESCAS costs and benefits
In the wake of the ban, Mr Pankhurst and Mr Adiwoso have downsized their business to work only with those abattoirs who are willing to work with them.
They have invested more than $1.2 million to meet and exceed ESCAS requirements throughout their supply chain. This has involved investments of about $80,000 on average in every abattoir they supply, including the installation of more than 20 pneumatic stunners and CCTV cameras, inside abattoirs and also mobile cameras in every truck that transports their cattle.
They have employed an additional 40 people solely for the purpose of implementing and maintaining the requirements of ESCAS.
The costs include an intensive and regular third-party audit process, which alone will cost the operation more than $250,000 this year.
Mr Pankhurst said any breaches of the system are not tolerated.
To illustrate he related an incident that occurred earlier this year.
It involved their self-reporting of a detection of an ESCAS breach in their own supply chain when an abattoir owner on-sold an Australian steer supplied by their feedlot to another abattoir outside the accredited system in order to make a $100 profit.
The breach was quickly detected by their real-time traceability system, under which the ear tag of every animal is scanned by mobile phone at slaughter and then uploaded directly into their electronic database.
The accredited abattoir was immediately ejected from their supply chain, despite the considerable investments they had made improving its infrastructure, and the incident was immediately reported to DAFF.
Despite the fact the steer was killed humanely in the second abattoir and the incident was self-reported, the importer and the exporter both received penalties and an effective black mark against their record under ESCAS.
Mr Pankhurst said that despite the cost and demands of ESCAS, the system has strengthened the industry.
"At the end of the day it has done the industry a great benefit," he said.
"It has come at a very large cost…(but) you as an Australian producer can now be sure that if your animals go overseas they will certainly be given high welfare standards if they through an ESCAS system."
Future Indonesian demand 'significant'
Looking to the future, Mr Pankhurst said the while the relationship between the Australian and Indonesian Governments remained strained over the handling of last year's ban, ESCAS was now working and he believed the trade would rebuild in the medium to long term.
Indonesia's population of 240 million people was growing rapidly, and as a nation dominated by followers of Islam, its people had a strong appetite for beef.
The country is experiencing a mining export boom and one of the world's fastest rates of economic growth (6pc plus per year). Averge per capita income is US$3500, but expected to grow to US$5000 within five years.
Beef consumption is also anticipated to grow from the current average of 2kg per person per year to wards 3kg/person.
Mr Pankhurst said that with expected consumption increases, and Indonesia's domestic herd under pressure, he believes Indonesia's cattle and beef import requirements to satisfy local demand will reach the equivalent of one million cattle by 2017.
Asked if he believed chilled beef imports would replace live cattle imports as the affluence of Indonesia's population grew, Mr Pankhurst said he believed the two would go hand in hand..
He said that 15pc of households in Indonesia had refrigeration, which meant there would long remain a strong requirement for hot meat sourced through wet markets.
While refrigeration in larger cities such as Jakarta was increasing and supermarkets selling chilled beef were making headway, in those cities and in the regions there were still massive populations that relied upon wet markets to source their protein requirements, which could not be met from chilled beef.
"I think it will work hand in hand, I think during the next 25 years there will be more boxed beef going to Indonesia and there will be more live cattle," Mr Pankhurst said.
"That 2kg (beef consumption per head) at the moment, that is what they're eating, if we increase it by 1kg over 260 million people, it is not hard to do the sums, it is about 750,000 cattle both ways."