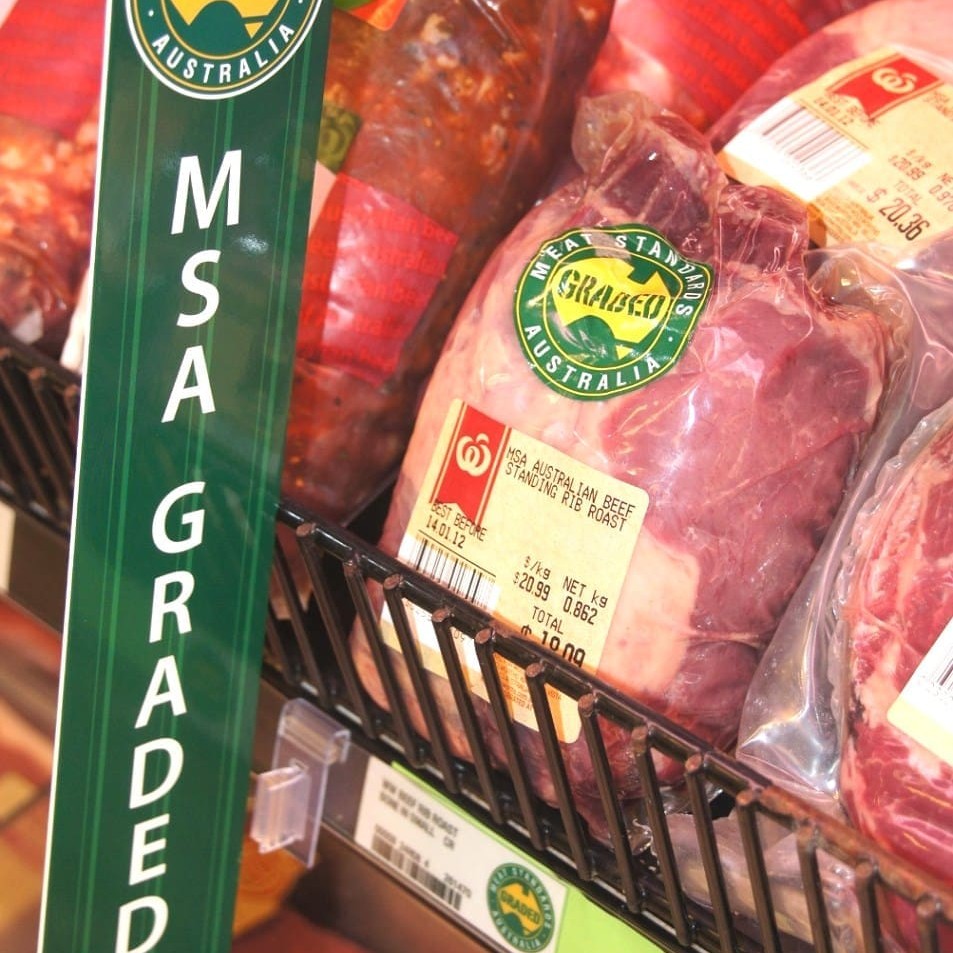 Adopting the Meat Standards Australia identity at retail has left a big impact on customers, judging by extensive consumer survey results outlined by Woolworths fresh foods division chief Pat McEntee last week.
Speaking to lotfeeders attending their BeefEx conference on the Gold Coast, Mr McEntee said there was no doubt that having MSA underpinning Woolworths' own beef brands this year had built greater customer confidence, trust and loyalty towards the company's beef offer.
Woolworths became the first national supermarket group to adopt MSA identity in the meat case on January 9, and now stocked the product in all 860 stores across Australia.
Mr McEntee indicated that MSA had fitted nicely within Woolworths recent brand relaunch as "Australia's Fresh Food People," which, as part of its mission statement, aimed to be Australia's most trusted brand.
"We spend a lot of time talking to and listening to our customers," he said. "We've identified a number of things that are really important to our customers about our aspiration to be the first choice for Australian shoppers, and our direct link to MSA beef is the first and most important of these – providing outstanding quality and freshness of the food we sell."
Mr McEntee said since Woolworths had launched its MSA program in January, it had seen a 'tremendous' response from customers. MSA beef sales had so far totalled $172 million – representing incremental sales growth of 10.5 percent.
"What I'm excited about is that last week, that growth factor had grown to in excess of 17pc. Since the launch, our MSA beef sales have in fact continued to increase," he said.
Putting that in volume terms, Woolworths has sold 9.9 million kilograms (9900 tonnes) of MSA graded beef in stores since January.
Along the way, consumer awareness of the MSA program and what it is about had grown from 15pc to 40pc.
"The feedback we are getting from customers is that they feel more comfortable and confident about buying tender juicy beef in Woolworths stores, as a result," Mr McEntee said.
"If we look at almost 9000 head of cattle purchased and processed by Woolworths each week, we are achieving almost 98 percent compliance against MSA specifications," he said.
That's well above the program-wide compliance rates for MSA reported by Beef Central back in July (see article here) of 94.3pc compliance for the 2011-12 trading year.
But performance like that did not happen overnight, Mr McEntee said.
He outlined three important reasons why company MSA compliance had been so high:
The type of cattle Woolworths specified for its beef programs
The relationship it had with its livestock supply contract holders. A lot of that revolves around direct consignment and the feedback and benchmarking Woolworths has been able to provide to its producers (via the Woolworths WORLD model) for a number of years.
The third part is that although Woolworths has only launched its MSA program to retail customers in January, it has actually been working on adopting much of the meat science behind MSA and earlier derivatives for more than 20 years.
"It's been a constant evolution in challenging ourselves to produce high quality cattle and beef that exceeds our customers' expectations. It just hasn't happened overnight," Mr McEntee said
Customer research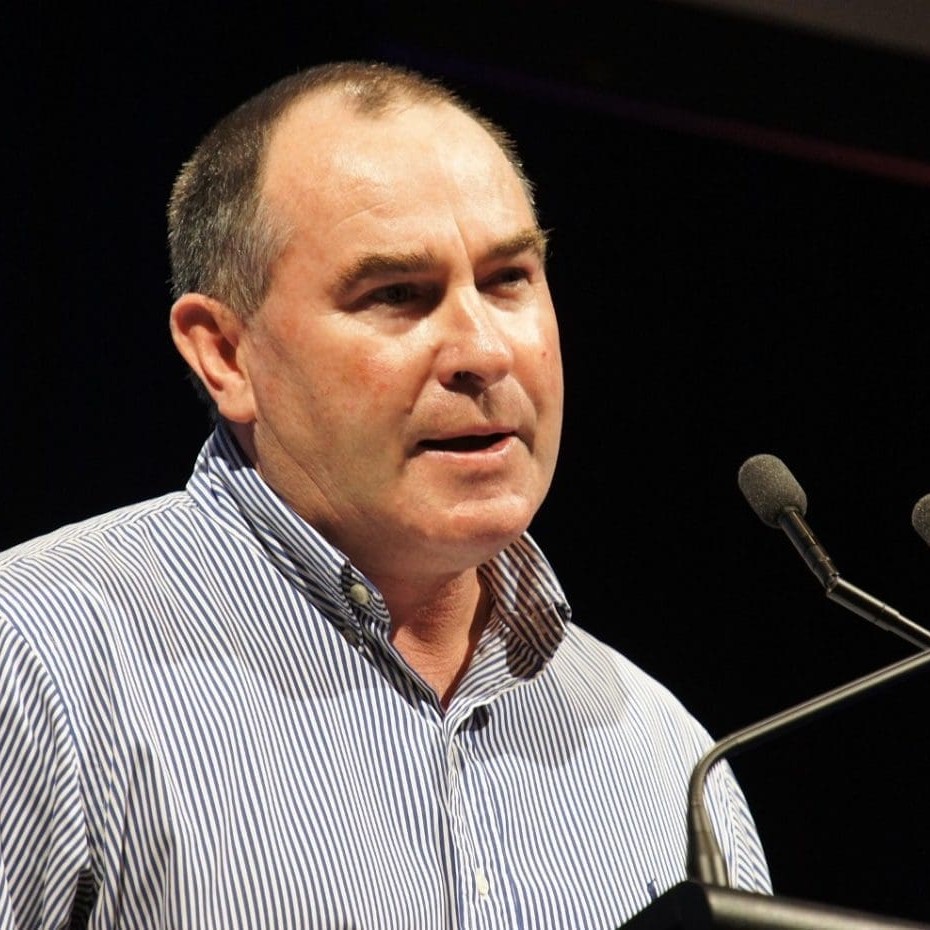 So what is MSA delivering to Woolworths customers?
Based on the company's ongoing, recent, extensive customer survey work, 93pc said it was important for a supermarket like Woolworths to have an independent quality system to support the grading of its beef, Mr McEntee said.
Significantly, 97pc of customers said they now used the MSA sticker to identify quality beef when shopping in a Woolworths store.
"But it's important to recognise that that 97pc figure simply refers to customers recognising and using the sticker as a guide. It's important that we don't get carried away with that figure. The simple fact is that there are few consumers in Australia today who understand the MSA program itself, and what's involved behind the sticker," Mr McEntee said.
"There is still a long way to go to educate the customer to have total trust and confidence in the MSA program."
In other highly encouraging survey data, 61pc of female Woolworths shoppers are showing more interest in the beef category, since the company's January MSA launch; and 67pc of shoppers of both genders 31-50 years have shown more interest in the product.
Mr McEntee said since the Global Financial Crisis, customers everywhere had become more considered in their purchasing patterns, and with increasing energy and other utility costs and other expenses, that was only continuing.
"That makes value and price still very important to the customer. In fact, our surveys show price remains 34pc of a customer's consideration on what's important to them in a beef purchase.
"That's a really important reminder that when we look at the beef category, our beef business is competing as a chosen protein source against cheaper options like pork and chicken," he said.
Mr McEntee said further promotion of MSA remained an important priority. He said Woolworths itself had invested more than $2 million on promotion and customer awareness surrounding the program since January.
Just part of that was eight million catalogues produced each week, regularly featuring MSA beef, and a Woolworths variant of the popular Entice magazine produced by MLA. Woolworths now publishes 50,000 copies of its Entice magazine, twice each year, promoting seasonal use of secondary cuts.
"The other thing we've done since launching MSA is keep things simple for our customers, choosing just one important message to start with: 'Tender, quality beef every time'."
"We're realty confident that if we keep the messages simple to our customers they will understand what we are talking about, and will support us. We started with that message, and then built in, 'Tender, juicy, quality beef every time'. Keeping that messaging very, very simple for customers actually helped our uptake in our MSA beef program on the shop floor – much more so than if we had confused people with more complex technical messages about what MSA does," Mr McEntee said.
While customer awareness of what MSA stood-for had grown from 15pc to 40pc following the 'What's New' TV slots and other work, there was still a big deficit in consumers' understanding of the program; what it stood for; and how it helps Australian customers select a tender juicy piece of beef every time they shop.
"There's still a long way to go in this area," Mr McEntee said.
"We have to continue to work with industry to strongly promote the MSA brand, and further educate customers about what it's all about."
A new point-of sale information kit will be added to stores in coming weeks, which will again make MSA top of mind with Woolworths customers.
Next steps for Woolworths in its MSA work include further innovation – the launch of MSA stir-fry in coming days being just one example. The company is also working with MLA to have more sub-primal cuts tested for MSA accreditation, and further product development is happening in value-added lines carrying the MSA label.
Mr McEntee said Woolworths currently serviced about 3.5 million customers each week. Their single favourite cut was rump steak, which accounted for 150,000 packs sold each week, but the cut with the biggest growth so far since MSA had arrived had been rib on the bone (aka OP rib) which had shown an increase of 35pc on last year.
Seasonal marketing was now an important part of the Woolworths beef offer, with more than $5.3 million in additional sales generated through the winter MSA casserole range alone.
With summer approaching, Woolworths will shortly launch its summer grilling range, numbering about a dozen items.
See Pat McEntee's earlier warnings regarding moves to adopt MSA 3, 4 and 5-Star segmentation in the marketplace, click here.