THE Five Nations Beef Alliance will hold its annual general meeting in Rockhampton during next week's Beef 2015 event, bringing together some of the world's largest beef producers and exporters.
The alliance includes cattle producer representation from Australia, the United States, Mexico, Canada and New Zealand.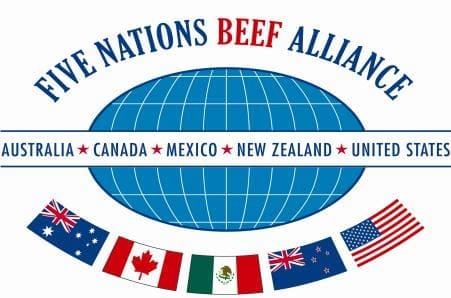 Together, the Cattle Council of Australia, Canadian Cattlemens Association, National Cattlemens Beef Association (US), Beef + Lamb New Zealand, and Mexico's Confederación Nacional de Organizaciones Ganaderas represent producers from countries that account for about one third of global beef production.
Representing the NCBA will be CEO Forrest Roberts, plus several councillors.
After their formal AGM meeting on Monday, several Five Nations delegates are expected to stay on at Beef 2015, including speaking slots during the seminar program being held in the International Business Lounge. NCBA's Forrest Roberts will speak on Tuesday. More updates on these late-breaking arrangements as they come to hand.
Critical stage for TPP trade talks
Just this week, representatives from the Five Nations Beef Alliance met in the US to press for the need for substantial trade liberalisation via the proposed Trans Pacific Partnership multi-lateral trade agreement.
With the TPP negotiations seeming to be approaching the 'end game', discussions over the next few days will be critical given the negotiators are aiming to narrow the outstanding issues prior to a hoped for TPP Ministerial meeting in May.
Five Nations Beef Alliance members are urging TPP negotiating teams to hold firm and deliver an agreement that will make it easier to do business, establish fair trade rules and reduce costs.
Beef producers are particularly adamant that any TPP outcome must provide new and substantial market access opportunities.
Consumers around the world have a growing appetite for high quality beef products, but the beef industry's ability to respond to this demand is often stifled by a range of tariff and non-tariff barriers. The TPP offers an opportunity to remove these trade barriers, the Five Nations Beef Alliance says.
However, for this vision to be realised, TPP members must step-up to the plate and make genuine commitments to expeditiously liberalise the trade in beef, the group said in a statement issued this morning.
"Maintaining the status quo is not an option. Beef producers cannot accept this outcome, and neither can the beef supply chain, or our highly-valued customer base," the Alliance said.
"The desire to improve the global trade environment is what brought beef producers from five competing nations together. The TPP has the potential to join 12 nations together – and in so doing, provide better access to food supplies for around 800 million people."
"Now is the time to secure a game changing, trade enhancing deal," the group said.
The alliance said it agreed with US president Barak Obama's statement in relation to the TPP, which said: "It is our chance to put in place new, high standards for trade, and to lower barriers, open markets, export goods and create good jobs for our people."
What is the Five Nations Beef Alliance?
The FNBA is a private entity which includes the national organisations representing beef cattle producers in Australia, Canada, Mexico, New Zealand and the US.
The role of the FNBA is to develop strategies that address the mutual concerns of its members and ensure that global beef trade increases.
The FNBA's overriding principle is "to exceed global consumers' expectations in respect to beef, while eliminating non‐scientific and political trade restrictions."
The FNBA:
Continues to push for further trade liberalization in the Doha Round of the World Trade Organization (WTO) negotiations.
Unequivocally supports improved market access through the removal of tariff and non‐tariff barriers, the elimination of export subsidies and substantial reductions in domestic support.
Urges all beef‐importing countries to ensure that sound science remains the only basis for addressing Sanitary and Phytosanitary (SPS) issues.
Works with other international and inter‐governmental organizations to ensure that global beef trade is determined using science‐based standards.
Urges countries to conduct risk assessments that only use science‐based methodologies and to implement only science‐based measures that adhere to the international standards of the World Organization for Animal Health (OIE) so that trade in cattle, genetic material, beef and beef products can be conducted without interruptions due to non‐scientifically based criteria.
Supports the ongoing development of animal identification systems that will lead to the eradication of animal disease and management of animal health concerns in the beef industry, and provide confidence to beef consumers.
Urges all governments and quarantine authorities to remain vigilant in preventing the introduction of exotic diseases that affect cattle and beef production.
Endorses the ongoing need to maintain animal welfare codes and/or legislation that are science‐based, outcome‐focused and do not impede trade.
Actively encourages the use of management practices that result in a sustainable beef supply while protecting the environment, supporting healthy communities and ensuring economically viable agricultural production and livelihoods.