LET the good times roll – tickets are now on sale for a week of seriously fun social events at Beef Australia 2015, including the famous Beef Australia Gala Ball.
Beef Australia chief executive Denis Cox said the packed social calendar features daily breakfasts, lunches and dinners, many of which have been expanded due to popular demand to accommodate more people.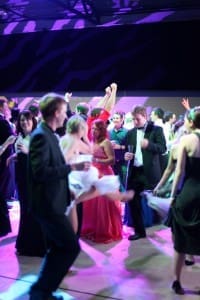 "The Beef Australia Gala Ball will be the biggest and best yet," Mr Cox said. "For the first time the popular black tie event will be held under the stars on the Cremorne Lawn at the Rockhampton Showgrounds.
"This will add even more glitz, glamour and romance to the evening, and allow for more people to attend, with catering prepared for a crowd of 1400."
Mr Cox said Beef Australia 2015 was an important chance for producers, service providers and the Central Queensland community to celebrate the successes of the cattle industry.
"Beef Australia provides producers from around Australia and overseas the chance to get together, renew old friendships and form new ones, and to celebrate everything we love about this great industry," Mr Cox said.
The week will commence with the Rabobank QCL Beef Industry Awards Dinner on Monday May 4, which will recognise the efforts of the industry leaders and innovative producers.
Competitors in the Ruralco Commercial Cattle Competition will reflect on their event and celebrate the champions at its awards dinner, also to be held on Monday May 4, while cattle producers and meat processors will get together on Tuesday May 5 for the ANZ National Beef Carcase Competition Awards Dinner.
Thursday features the Westpac Women in Business High Tea – Supported by Ruby Connection, while the ever-popular Suncorp Sportsman's Lunch and the NAB Ladies Luncheon will both be held on Friday May 8.
The week will end on a high with young producers kicking up their feet at the Hats 'n' Heels Cocktail Party on Friday May 8, with the Gala Ball to follow on Saturday May 9.
"Of course all of our social events will feature Australia's best beef on the menu and great entertainment, including celebrity appearances from the likes of Mary Coustas, Adam Gilchrist and Craig Lowndes," Mr Cox said.
"Tickets for these events traditionally sell out quickly so I encourage the public to get in early and secure their seats."