STUD cattle breeders have just over one week left to nominate seedstock to compete in the industry's most prestigious competition, the Beef Australia 2015 Landmark Stud Cattle Championships.
Nominations for the competition, which is expected to attract almost 2000 head of cattle from most states and territories, close next Friday, January 30.
Close to 30 beef breeds are expected to be represented on the grounds when three-days of judging are held in Rockhampton from May 5 to 7.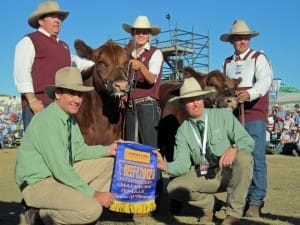 Beef Australia 2015 chief executive Denis Cox said the dry conditions in some parts of Australia last year had been challenging for breeders preparing their cattle, but he remained confident that the quality of stock on show would be outstanding, now that there had been some rain.
"One of our core roles at Beef Australia is to showcase to the world the best beef cattle Australia has to offer and there is no better opportunity for stud producers to show off their skills and the quality of their cattle to an international audience," Mr Cox said.
"I urge stud breeders not to miss the deadline to nominate, as the Landmark Stud Cattle Championships are the only truly national stud competition at which they can test their cattle against the best from around Australia, and gather feedback from experienced judges so that we can continue to grow and develop as an industry."
"As this opportunity comes along only once every three years, championship ribbons at Beef Australia are highly sought-after, and of considerable value in the stud market."
The Landmark Stud Cattle Championships will be held at the Rockhampton Showgrounds from Tuesday May 5, culminating with the interbreed judging on Thursday May 7.
A late fee of $75 will be charged for any nominations made after January 30. No nominations will be accepted after March 6.
Nominations are also open for the Ruralco Commercial Cattle Championships and the ANZ National Beef Carcase Competition.
For producers keen to enter cattle or participate in the youth competitions, nominations must be submitted through Beef Australia's online entry forms, click here to access.