With opening day for Beef 2015 now only a fortnight away, it's time to start showcasing some of the vast range of new equipment, services and technology that will be on display in Australia's largest cattle industry commercial trade showcase.
Two of the biggest names in animal traceability and handling systems, Allflex and Gallagher, will mount extensive displays, including a host of new products designed to save beef producers time, improve efficiency, and extend capability.
IT'S NOW 50 years since Allflex started the production and supply of livestock identification tags.
The global leader in animal traceability systems is using that experience and expertise to bring innovative new technology and products to market for cattle producers to achieve greater efficiencies and improved profitability in their operations.
Through significant research and consultation, Allflex has released a range of new products that reduce labour, create faster work processes and integrate mobile applications to improve speed and accuracy of livestock data reading and reporting.
RS420 and RS420 App
Electronic animal ID technology has come a long way since tags and readers first started to appear in the cattle industry in the late 1990s, and Allflex's new stick reader shows clear evidence of the accumulated industry experience gained over that period.
The new RS420 Green Stock reader offers a suite of innovations – some suggested by commercial livestock managers themselves – to make it even more user-friendly, versatile and rugged than its predecessors.

The RS420 reader's design and construction takes durability and reliability to a new level.
A new lithium-ion rechargeable battery used in the latest model gives up to 16 hours continuous read in eco-power mode, with a battery recharge in less than three hours.
The battery itself is easier to access and replace, if required, and a screen indicator shows when the battery is charging as well as the charge level. Blue-tooth is now built into the reader itself, rather than attached via a separate device as it was previously.
Choosing options on the reader's screen can send data to up to three different Bluetooth enabled devices – for example a computer, a scale-head, or a bar-code printer (in the case of sheep). Design and construction emphasis on ruggedness, reliability and durability means the new reader has been tested for extreme resistance to water, dust, temperature variation and impact resistance.
The reader comes with a 12-month warranty and has dedicated back-up and support staff.
Advances in electronics technology mean faster processing, with virtually instantaneous memory scanning for duplicates, for example. Greater memory capacity means up to 100,000 records can be stored, and divided into separate sessions, with time and date stamp. Sessions can be set-up to count and provide a signal in multiples of cattle required per deck when loading to a stocking density, for example, to avoid manually counting cattle onto a truck.
'App' allows easy transfer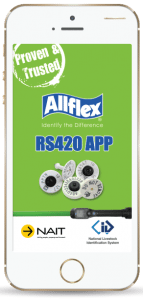 To accompany the latest reader is the RS420 mobile 'app', allowing users to transfer data recorded on the reader direct to an iphone. This data can then be automatically uploaded straight to the NLIS database. The app can be downloaded from the Apple App store for free.
Tissue Sampling Unit (TSU)
The Allflex Tissue Sampling Unit (TSU) represents a big step forward in sample collection for DNA and disease testing of animals.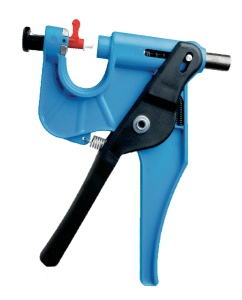 Using a fresh stainless steel cutter for each sample, contamination is minimised by taking the sample and sealing the collection vial in a single action. This ensures sample quality and process integrity are maintained without compromising labour efficiency.
Allflex's TSU is a simple yet sophisticated new technology which takes a small 3mm ear punch from an animal, that can be used for DNA testing, Pestivirus or other serology testing. The sample is sealed in a clear tube and printed with a unique 2D barcode. The TSU can be purchased either in packs of 10, or trayed with matching electronic and/or visual tags.
Taking a TSU sample using the applicator gun is much faster and easier than traditional tail hair samples used for DNA testing, and offers many efficiencies both on farm and in the lab.
Aleis reader panels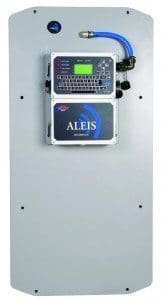 Allflex has extended its product range to incorporate the Aleis range of livestock identification reader wands and panels.
The Aleis brand provides an extensive range of world-leading technology that has been developed specifically to handle the harshest of conditions facing producers in the management of their livestock.
The Allflex displays and staff at Beef 2015 can be found on the Elders (P17-19), Landmark (centre-ring) and Ruralco-SBB (C209) sites.