IT'S often been said that you can get a carton lid or vacuum-packaging bag printed with the logo of any Australian meat processor you choose in your Beijing or Shanghai cold storage facility within a few hours.
Such is the level of substitution occurring in China that a number of Australia's best known premium Wagyu beef supply chains refuse to sell any product whatsoever into the Chinese market.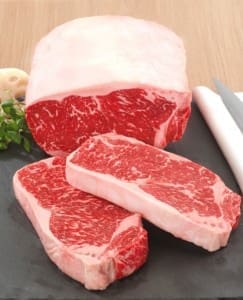 Hard-won supply chain reputations can be destroyed in minutes if a poor quality substituted product is picked up by an unsuspecting customer, who has paid good money for the real thing.
The problem of substitution in international markets has been around for decades, but recent price hikes for beef across the board have only raised the degree of temptation among unscrupulous operators to replace a cheaper piece of protein (not necessarily always bovine) for high quality, safe, consistent Australian beef.
It's been estimated that substitution and counterfeiting in foodstuffs and other consumables is a $1.7 trillion industry across the world each year, and beef is a growing part it.
But technology is starting to zero-in on the problem, with some novel and creative solutions.
Chinese-based technology company YPB (the acronym stands for words meaning 'excellent brand protection' in Mandarin) is a good example.
Chief executive officer John Houston, who has had a long business career across Asia, mostly in telecommunications, addressed a beef industry supply chain audience recently about the substitution challenge, and the solutions his company is developing.
"We sit in a very comfortable consumer market in Australia: you go to the supermarket and pick up a piece of beef on the shelf, but you don't for a moment suspect that it is something that it is not," he said.
"But it's not like that in all other countries. In China, it's not uncommon to go into a restaurant or supermarket and be presented with something that is meant to be a branded product, but it will be a copy."
"Counterfeiting is an absolutely enormous industry in China, and it goes well beyond a fake handbag or watch. People are dying after eating substituted foodstuffs. Brand values are being decimated. It's a much bigger issue than anyone in this room realises," Mr Houston said.
"While the Chinese Government is keen to do something about it, it's such a big issue that we need to address it and embrace it from this side, also, before our products get to China, because there's a very, very large 'swap' occurring of cheaper meat cuts for premium cuts in the Chinese market."
"Why is it done? There's a lot of money to be made, if they don't get caught. Not only can we lose the value of our brands, but it also represents criminal activity," he said.
McDonalds China last year recalled 4300 cartons of patties that had forged expiry dates on them. In 2008 the baby formula industry was rocked by the infamous melamine scandal, killing six and sickening 300,000 infants. Perpetrators were put to death, but it did not stop the problem of substitution.
Invisible tracers
YPB's solution has been to develop a system based on impregnating consumer products under threat of substitution with invisible tracers, which can be picked-up using a specialised scanner.
"One of the attractions of the technology is that it is 'invisible' to those in the supply chain," Mr Houston said.
"If the counterfeiter can see it, it can be copied. Bar codes used in track-and-trace systems are among the first things counterfeited. A brand owner might put a hologram on their product, thinking that is a perfectly good way to protect their brand integrity, and give buyers the confidence that the product is real. The problem is, there are now 94,000 hologram manufacturers in China."
YPB's anti-counterfeit technology produces a powerful, covert, forensic trace signature which, together with a specialised, hand-held scanner and iPhone app, allows brand owners and others to easily detect and report fakes or counterfeits.
The tracers, based on inorganic, non-radio-active rare-earth based trace minerals, can be impregnated – in minute quantities – in fibres, plastics, paper, resins, paint, packaging or other materials.
The active ingredient is also safe, having been certified by US, EU and Chinese food and drug administrations as safe for contact with food items. This allows the tracer to be embedded directly onto food items themselves. Already there are imported high-quality chocolates in China carrying the characteristic tracer signature.
"It becomes such a part of the product it is invisible, and cannot be copied, compromised or distorted – even by burning," Mr Houston said.
The technology was the brainchild of a Chinese professor regarded as a world expert in the field of fluorescence. Each source of fluorescence has a different characteristic excitation and decay pattern.
The particle size of the material used in YPB's diagnostic product is the same size as a particle of airborne pollution, meaning it cannot be seen or destroyed.
"It would be relatively simple for us to provide a product for the Australian red meat industry to mark product with a tracer, in much the same way as a roller food-dye stamp is currently used on some red meat items," Mr Houston said.
Part of broader solution
While he doubted his company's product would ever be a 'silver bullet' for all substitution problems involving Australian beef, it could be part of a solution, he said.
"From the time the product leaves these shores to when it reaches its final food service or retail destination in China, the industry needs to think about ways to protect the product, as it passes through the transport and distribution cycle."
He said in addition to protecting proprietary commercial beef brands from substation, it was equally important to protect the 'brand Australia' reputation for clean, green and wholesome products, which could equally be damaged by counterfeiting.
"By using information, knowledge and technology, we think it's possible to protect both the value of the Australian beef brand, and individual company brands," he said.
The sixty four dollar question, of course, is: Are counterfeiters already working on reproducing the unique tracers used in YPB's technology?
"We don't believe it can be copied," Mr Houston said.
A range of about ten uniquely identifiable traceable 'signatures' are being developed, meaning combinations can be used to create a 'batch' which can be very clearly identified with a specific company, or time period.
YPB has also developed a complementary iphone app, for use alongside its tracer/scanner technology, which allows consumers to distinguish and report real products from fakes at point of sale.
YPB estimates that embedding the tracer process adds less than a cent to the cost of a 7c tamper-proof soy sauce cap, for example.
Protecting Australian milk's reputation
In a similar development designed to protect the integrity of Australian food items in international markets, dairy giant Norco last year signed a three-year deal with Australian firm, Authenticateit, to protect Australian milk from counterfeiting in overseas markets.
This system uses the GS1 numbering system and GS1 DataMatrix for traceability and authentication.
The front end of Authenticateit is a free smartphone app that provides consumers in China with an easy way to check the authenticity of Norco milk on the shelf, by simply scanning of the product's barcode.
The app also verifies if the product has not been recalled via a live integration with the global product recall portals. The app also automatically detects the language settings on the mobile phone and presents all the information in Chinese to the consumer in China.
The solution adopts the GS1 numbering system with the application of the Global Trade Item Number (GTIN) on GS1 DataMatrix.
Norco implemented the state-of-the-art Authenticateit protection platform to comply with new food safety regulations that now require exporters of food products to China to have a means of traceability and serialisation.