Despite a record number of cattle coming onto the market so far in 2015 – a factor that normally places heavy downward pressure on prices – the cattle market has continued to reach new highs, Meat & Livestock Australia pointed out in yesterday's weekly bulletin.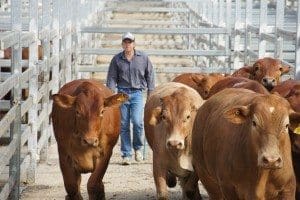 "While it may appear the economic theory has been defied, it actually highlights how intense the demand for Australian beef is," chief analyst Ben Thomas said.
"It also paints a positive picture for the strength of the Australian cattle market, knowing that the consequence of the record cattle turn-off will be significantly fewer cattle available for sale in coming years.
"The weaker A$, in comparison to last year, coinciding with tight US beef production, declining tariffs on Australian beef into Japan and Korea and the burgeoning demand from a range of Australia's developing markets, are all working in favour for Australian beef and, ultimately, cattle prices.
While this is great news for producers with cattle to sell, MLA argues that it could be perceived as a double-edged sword for those who have liquidated and are looking to re-enter the market.
"However waiting for prices to recede below five-year average levels will take some time – especially considering how tight the Australian cattle pool will be."
The Eastern Young Cattle Indicator nudged a record 476¢/kg cwt earlier this week, with the average price for EYCI eligible cattle at CTLX (Carcoar), Gunnedah, NVLX (Barnawatha) and Wagga Wagga exceeding the 500¢ mark, while many others came close.
Source: Meat & Livestock Australia