NAB Agribusiness is mounting an interactive display at Beef 2015 aimed at helping producers and other industry stakeholders better understand the fast-paced world of social media.
Traditionally, banks with a presence at such events have set-up their spaces as 'hospitality tents' used mostly for client engagement and business meetings. This year, NAB is going down a somewhat different route, developing  its Beef 2015 site for a stronger educational purpose.
"Social media and finding ways to stay engaged with the broader community are issues of growing importance to many farmers and graziers," NAB's head of channel marketing, Stuart Wenn says.
"In past eras, producers stayed connected with each other through their weekly visit to town, or when visiting field days or other events. In 2015 it's different: social media and digitisation means they can much more easily stay connected – engaging effectively, sharing ideas, solving problems and accessing news, as well as keeping-up with neighbours, customers and the wider community," he said.
"Our presentation at Beef 2015 is about encouraging producers to think about doing something they have always done, but perhaps doing it differently, using technology."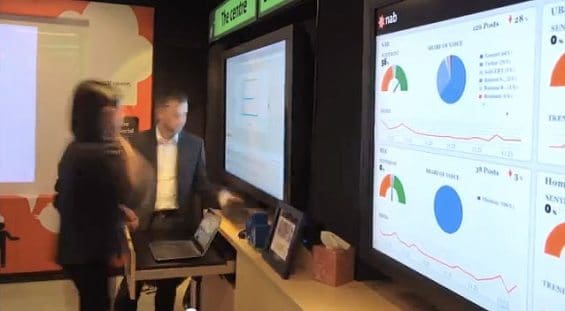 The NAB Agribusiness team plans to re-create one of the bank's 'social media command centres' which operate at the bank's Melbourne and Sydney offices.
By using technology to monitor the 'chatter' going on across internet platforms like Facebook, Twitter, LinkedIn and Instagram, it's possible to pick up the pulse of popular opinion on topics of keen interest to the beef industry.
NAB's venue at Beef 2015 (P48 on the site map, facing the main stud beef judging ring not far from the Beef Australia International Restaurant) will feature an interactive display including a series of large plasma screens, filling a number of functions.
One will carry all of the tweets and Facebook entries coming through live on the Beef Australia handle @BeefAustralia and hashtag #beefaus2015.
Another will carry analysis on common brands and terms associated with the beef industry, using a 'planet' presentation with topics identified in red or green, depending on whether the associated comments carry positive or negative sentiment.
Clicking on one of the issues swirling around the 'planet' allows the user to drill-down to what is being said on social media about that subject, whether it be 'HGPs', 'Certified Australian Angus Beef' or 'sustainability.'
Beef businesses with an established social media presence will also have the chance to view some analysis on what's been said about their brands or identity over the internet during the preceding 12 months.
NAB will also demonstrate the use of social media, by feeding into the Twitter and Facebook conversations surrounding the Beef 2015 event, highlighting what topics are trending out of the event's many activities each day.
Newcomers to social media will also have the opportunity to learn from experts how social media might help their business, and receive useful information including a set of 'Top Tips' on how to get started.
Food businesses connecting with broader community
Also being showcased will be case studies of food sector businesses which have successfully embraced the social media world, to their advantage.
Here's a good example from another farm sector: Sunny Queen Farms has developed a Facebook presence and website page called "Chook Tracker," which displays, in real time, a video stream feed of its free-range hens in their idyllic open-air environment. Click here to access the page.
The underlying message is that consumers can actively engage with Sunny Queen's brand proposition. The site creates a sense of openness, transparency and accountability, by allowing website visitors (and potential customers) to see how well Sunny Queen looks after its free-range chickens.