THINK cattle prices have reached a new level in 2015, but may now start to stabilise given the recent big rises in numbers?
Think again, if price movement performance seen in previous big Australian drought events is any indication.
Meat & Livestock Australia senior analyst Ben Thomas gave a quick industry briefing during the closing stages of Beef 2015 in Rockhampton, leaving a clear impression that after two very tough years, there's still more joy ahead for the production sector in pricing.
He used the trends evident in three previous extensive drought events across Eastern Australia to try to paint a picture of what may lie ahead, price-wise.
"When trying to predict what might happen in prices in the future, it's often best to look back at what happened under similar circumstances in the past," he said.
As a general rule, 2015 had already seen most cattle indicators at least a dollar a kilo higher (carcase weight basis) and at least 50c/kg liveweight more expensive than where they were last year.
The extraordinary thing about finished cattle price movements this year is that it's happened despite all-time record numbers still being processed and offloaded across Eastern Australia.
"While Australia's recent post-drought price recoveries have come about because decline in cattle supply, this time the demand environment we are currently experiencing is the big driver. Cattle numbers have not yet even started to decline – not one little bit," Mr Thomas said.
"It means the price trend that lies ahead will be fuelled not only by this unprecedented international demand, but also by the inevitable constriction that will happen in cattle supply."
In both the 2002-03 drought event, and again in 2005-06, pretty much all cattle indicators rose by about 30 percent (on average) on their low-points, within six months of the droughts being broken, Mr Thomas said.
In 2002-03, for example, yearling heifers were 46pc higher six months after the drought broke, and 80pc higher a year later. Cows rose 26pc and 54pc across the same period. Similar examples were shown for the droughted 2005-06 years, and 2009. The 2009 drought was not as long or as widespread, but YG heifers still rose 26pc and 40pc at the 6 and 12-month points after it rained, while cows were 25pc and 38pc higher.
"If we see those sort of price rises this year, once we do see a really significant contraction in cattle supply, it is extremely positive for where cattle prices may yet go," Mr Thomas told his Beef 2015 audience.
"If it applies again, it means the Eastern Young Cattle Indicator could go well above 500c/kg."
In all three previous drought examples, it was the females that consistently out-performed males, in price movements, simply because females are needed to rebuild herds, on the back of herd declines. Coincidentally across all three previous drought periods, the A$ was appreciating each time, making exports more challenging.
Apply Ben Thomas's 30pc price rise formula to grassfed heavy steers already making 440c/kg carcase weight in southeast Queensland grids last week, and it takes the figure to a stratospheric 570c/kg.
"Will there be room for a further 30pc increase in cattle prices after the drought breaks? I don't know, but I definitely think there is still considerable room for cattle prices to lift further, under these circumstances," Mr Thomas said. "And those influences are going to remain in place, not only this year, but into 2016 and 2017 as well."
"There are still very few restockers active in the cattle market. When that starts to happen, competing with processors and lotfeeders on some cattle, it paints quite a positive picture for further price rise potential."
Extraordinary times
He said Australian beef producers were currently living in 'extraordinary times', for a number of reasons. Just a few of these points that he highlighted included:
The third quite severe drought episode in just over a decade, making producing beef challenging
The consequent rapidly depleting national cattle herd. There had only been one other time in history when the herd had dropped as steeply and as significantly, back in the 1970s beef slump era.
Record export demand, aided by markets like China and Indonesia entering into trade in a big way, on top of heavy demand out of the established US, Japan and Korea markets.
Big breakthroughs in the trade environment, with FTA's struck with Japan and Korea, reducing tariffs which would only make Australian product more competitive on the international stage.
An A$ which had now fallen 30 pc in value in the past 15 months. In contrast, during previous droughts the A$ had tended to strengthen, making exports more costly.
"It's quite exciting really, when looking at where cattle prices have already come from," Mr Thomas said.
"We've already had the low-point in cattle prices this time, back in January last year when yearling heifers fell to 112c/kg, yearling steers around 150c and cows 84c. Six months after that low point, heifers had risen 21pc, steers 14pc and cows 39pc. Twelve months later, and heifers had risen 77pc, steers 50pc and cows 100pc," he said.
That doubling in the cow price had been heavily influenced by the imported 90 CL market into the US. In previous Australian drought episodes, the US industry was producing near record amounts of beef.
"This time, very tight US beef production now and in coming years, just adds to the positive picture that's unfolding. Add China to the mix, now taking +100,000 tonnes of Australian beef each year, up from just a few thousand tones a few years earlier, and it's another significant driver in the market looking for Australian beef."
What's happened in all this is that Australian cattle prices have de-coupled from the US price (see graph above), meaning that when it comes back to the long-term relationship, it again suggests a significant amount of room exists for Australian cattle prices to lift further, from where they are today.
Prior to the graph's grey line in 2012, 90CL cow price in the US and Australian medium cow prices followed each pretty closely. But after then, cattle prices shot up in the US due to drought-driven herd liquidation and cattle shortage. That has in turn pushed up the imported 90CL beef market.
Because of the sheer number of cattle being slaughtered in the past 18 months in Australia, that's depressed cow prices quite significantly, causing the clearly evident de-coupling in the long-term price relationship illustrated in the graph.
But since the start of this year, there has been a significant uptick in Australian cattle prices, causing the trend lines to again start to approach each other. "But there's more room for that relationship to come back yet, towards the long term average of close to 70c/kg," Mr Thomas said.
He said back in 2003 and 2006 drought events, US beef production was at near-record levels, yet there was a 40pc increase in Australian cattle prices after the drought broke. This time, US beef production in 2015 is forecast to be the lowest it has been in 20 years, and the herd has declined to 50 year lows.
It meant for the next two years at least, the world's biggest beef producer, the US, will have very low production.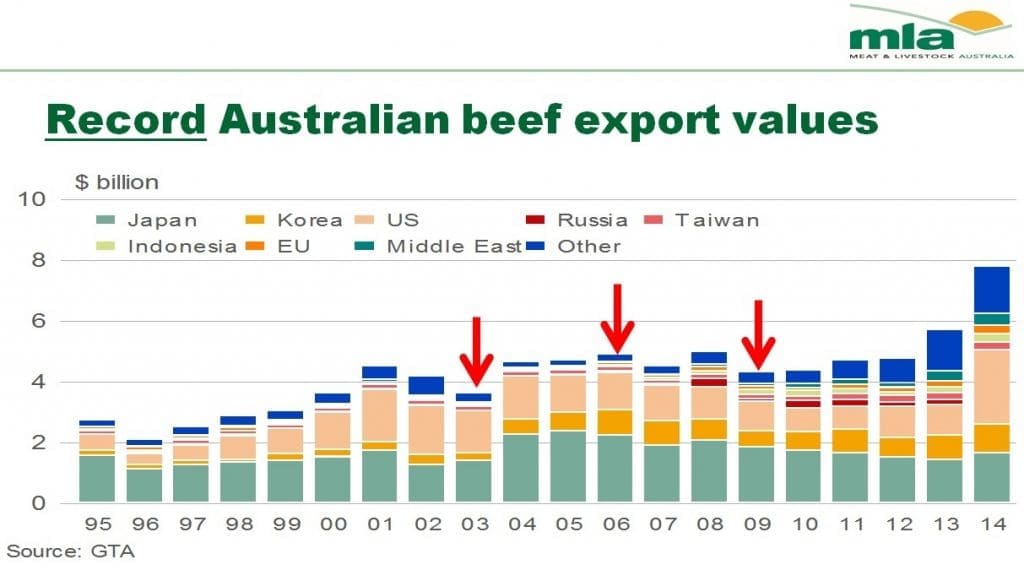 As this graph shows, the value of annual Australian beef exports in the three previous drought events was about A$4 billion, but last year, the value double that, at close to $8 billion, and it was on track for similar performance so far this year.
'That only adds to the positive picture of the potential value in the supply chain at present," Mr Thomas said.
Bigger export focus
With the likes of freer trade into markets like Japan and Korea, and tight US beef production and a lower A$, the Australian beef industry was becoming more and more reliant on international, rather than domestic beef trade, Mr Thomas said.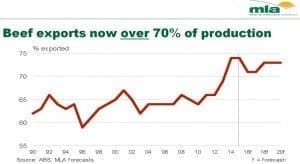 As this graph shows, it now constitutes about 74pc of total beef production, up from a figure in the mid-60s only a few years ago. Domestic consumption has also contributed, falling below 30kg/person/year for the first time.
"The beef industry is becoming more and more reliant on the international trade," Mr Thomas said.
"We think the proportion will remain in the 70-75pc range for the foreseeable future, and may never return to lower levels, especially if domestic consumption declines further."
While the Australian herd typically dropped 4-5pc in size in the three previous droughts marked with a red arrow in this graph, this time the herd has already dropped 6pc, to about 26.5 million head this year.
"We have not seen an Australian herd this depleted since the 1970s beef slump era," Mr Thomas said. "Because of the slow breeding response rate in beef cattle, we don't expect the beef herd to get anywhere near where it sat a couple of years ago until at least 2020. We've gone from a herd at a three-decade high to a herd at a three-decade low in two years."
Following on from that, available cattle supplies for both slaughter and live export will also decline significantly from this year. From 10.5 million head sold into slaughter or live export last year, the combined total will fall to eight million head next year and the year after.
While international meat prices had come off the boil a little in the past couple of months, in a historical context Australia was still close to unprecedented world beef price levels, and low Aussie cattle stocks for some years would help preserve that.
Feedlots role
Mr Thomas said an interesting point to monitor going forward would be use of feedlots.
"We know the number of available slaughter cattle is going to decline, as it has in the US.
"While most slaughter cattle in the US are grainfed, they have been keeping them in the feedlots longer, to add extra carcase weight. That has helped offset the slide in cattle numbers a little.
"We know feedlots in Australia are at the moment virtually at capacity. Will that continue? It remains to be seen, but will depend very much on just how expensive feeder cattle prices become."
"I would not be surprised if feeder prices get to 300c/kg liveweight, but despite that, I'd expect to see feedlots remain at high utilisation levels, at least for the next 12 to 18 months to partially offset reduced slaughter numbers."
While there was a lot of talk about a 500c/kg dressed weight EYCI figure at Beef 2015, when it happens remained a question.
"It's certainly within sight for the first time ever, sitting this week in the 470s," Mr Thomas said.
"If it occurs, it may happen around the second of the two traditional peaks in the cattle price cycle, typically around August/September," he said.
"Seasonally, it's difficult to see more cattle coming onto the market, considering how high rates of turnoff have been. So if I was asked to punt on the milestone being reached, I'd say around August."
Who pays for higher priced cattle?
Beef Central asked Ben Thomas during his briefing where the additional money would come from to finance ever-higher cattle prices later this year. Would it come out of reduced processor margins, or via higher asking-prices for Australian beef on international and domestic markets?
"It's probably going to be a combination of both," he said. "In export markets, meat prices have started to cool-off just a little, which has been offset by the erosion in currency value. Higher cattle prices may flow on to higher export beef prices, to a small degree, but I'd anticipate that more of it will come from processors surrendering some of their current margins," he said.