A senior McDonald's executive has told Beef 2015 that 'Australia must do what's right for Australia' when it comes to explaining its beef sustainability story.
Australia's cattle industry was an early participant in talks co-initiated by McDonald's in 2011 to develop a Global Roundtable for Beef Sustainability.
However Australian beef industry groups voted last year to go their own way and develop Australia's own definition for beef sustainability, largely over concerns about the perceived level of influence the World Wildlife Fund could have over the final definition adopted by the Global Roundtable.
Gary Johnson, Senior Director of Worldwide Supply Chain for McDonald's Corporation, addressed the Beef 2015 symposium in Rockhampton on Monday, where he outlined the company's commitment to developing sustainable supply chains.
Asked if he thought Australia's beef industry had made the right call by going it alone on the sustainability framework, Mr Johnson said Australia had to do what was right for Australia.
The Australian beef industry was very important to McDonald's globally, Mr Johnson said, and the company wanted to collaborate with Australian producers help tell their "compelling" sustainability story.
"I think it is going to be very interesting to see that local framework," Mr Johnson said.
"If there is a gap or two, we will work through that with you, because we want to collaborate with you.
"I would just challenge that as that framework comes out, the challenge would be to make sure that it is credible to the consumer."
Mr Johnson said Australian cattle producers and McDonald's shared a mutual objective to sell more beef and to create more demand for high-quality beef.
That required committing to "total transparency" throughout the supply chain.
Consumers loved the taste of beef, he said, but there was a gap between taste and trust.
Most consumers did not know much about beef, where it came from or how it was raised.
The emergence of digital and mobile technology and social media had led to a new consumer culture that demands transparency.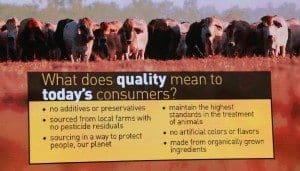 Consumers wanted to be aligned with brands that reflected their own value systems, while they distanced themselves from brands that were at odds with their own values.
Sustainability meant many different things to many different people.
Customers did not walk into McDonald's restaurants and ask for "a sustainable burger". However they expected food "that was sourced right, is transparent, and from a farm that treats animals right".
Serving 70 million consumers a day, McDonald's was in a unique position to both talk to consumers about what they wanted and to communicate the beef industry's sustainability values to consumers.
Consumers wanted to hear stories from real people, and the best people to tell the Australian beef story were Australian beef producers. Mr Johnson presented several examples of existing McDonald's commercials and videos which showcase the sustainability credentials of Australian cattle producers, including Rob Mulligan from Walcha and the Corrigan family from Rennylea Angus stud from Bowna.
He said the sourcing of sustainable ingredients had to be at the heart of McDonald's "wherever we are in the world", reflected by the company's commitment to begin purchasing a portion of its beef from sustainable sources by 2016.
He said the beef supply chain had waited too long to address consumer concerns around beef, and to communicate the value system of "this great industry"
"So let's not miss this opportunity to tell Australia's story, the more we tell stories about the good work we're doing, the more consumers will align themselves with our brand and will buy more of our product and your product."