Latest data from the ground-breaking, industry-funded Cash Cow research project will feature in Meat and Livestock Australia's FutureBeef seminar, being staged as part of the conference program at Beef 2012 in Rockhampton in May.
When it comes to reproductive efficiency in beef cattle, the most commonly stated goal is for a female to calve and rear a calf every 12 months.
Although that goal is difficult to achieve in many northern Australian environments due to variable seasons and equally variable pasture quality, it begs the question "What are realistic targets for optimal reproductive performance in northern herds?"
Data from the $2 million MLA-funded Northern Australian Beef Fertility Project (known colloquially as Cash Cow) has demonstrated wide variation in reproductive performance in herds throughout Queensland, the Northern Territory and the Kimberley region of WA.
Professor Mike McGowan, project leader from the University of Queensland's School of Veterinary Science, said data was collected from two reproductive cycles during the project's study of 60,000 cows from 78 commercial cattle properties, using either controlled or continuous mating.
This data is being used to identify realistic benchmarks for major reproductive traits such as annual pregnancy rates, based on the value achieved by the upper 25 percent of mobs in the study.
Preliminary benchmarks based on the reproductive performance of herds in the 2009–10 breeding season were presented at the Northern Beef Research Update conference held in Darwin last year (see figure 1). Half of the heifer mobs monitored in 2009-10 showed had losses from pregnancy diagnosis to weaning of greater than 10pc.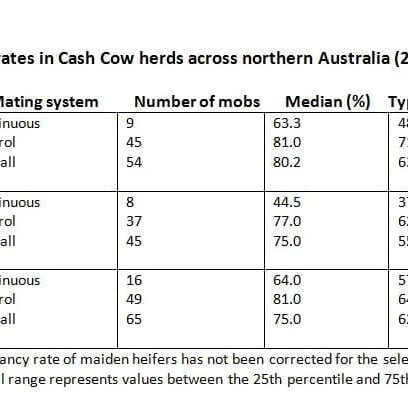 Data from the Cash Cow project is now being analysed to identify the major factors contributing to the substantial variation in northern reproductive performance.
Prof McGowan will discuss these factors, and results from the 2010-11 year matings at MLA's FutureBeef seminar at Beef Australia 2012 in Rockhampton in May.
"Producers can then use current best practice management strategies and technologies to address the factors that contribute most to reproductive outcomes in their enterprises," Prof McGowan said.
If the Cash Cow analysis demonstrated that there was significant unexplained variation in reproductive performance, then this will help determine the needs for future research into factors influencing reproductive performance across the region.
In addition to the latest data from the Cash Cow project, MLA's free FutureBeef seminar being held during Beef 2012 on May 9 will include summaries of MLA's global marketing activities, and latest developments in re-engaging MSA with consumers.
Online registrations for the seminar can be made by clicking here. Telephone registrations can be made on (07) 4927 4111.
To visit Beef Central's new dedicated Beef 2012 event landing page, click here. It is also acvcessible via the 'Beef 2012' reference in the navigation bar at top-of-page, or by clicking on the "All the news about Beef 2012' tag at top right of the home page.