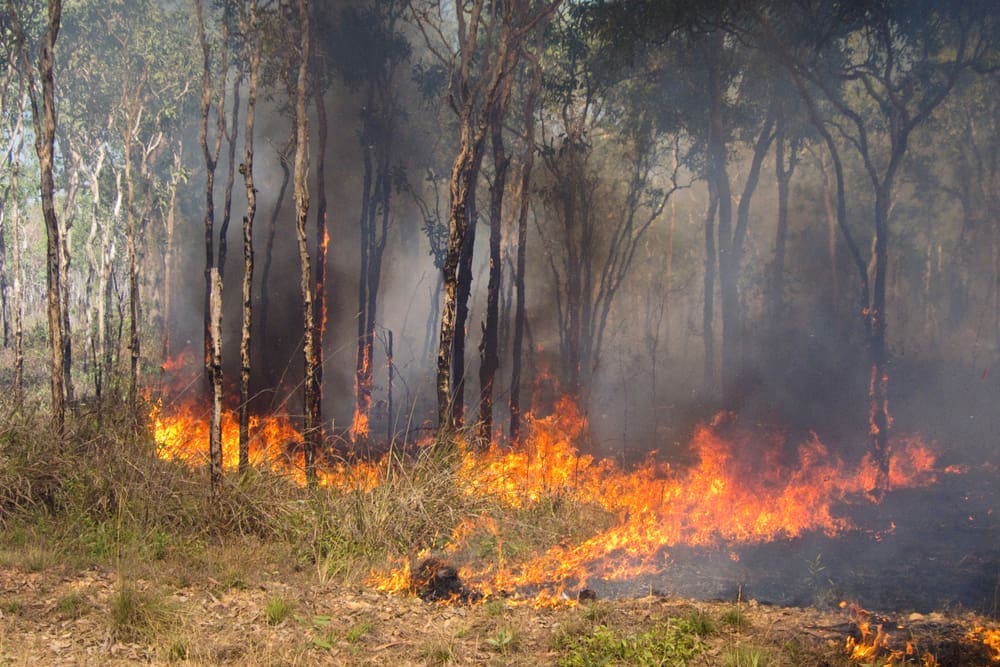 AS THE heat is turned up on climate targets and demand for carbon credits appears to be increasing, a methodology used to cool down fires in the north is becoming increasingly popular.
Starting out on Indigenous land about 10-years-ago, savanna burning has become one of the highest value forms of carbon farming and featured in several property sales towards the end of last year – including the $30m purchase of Ban Ban Springs in the Northern Territory and the $12m sale of Watson River in Cape York.
The methodology is based around lighting smaller fires earlier in the dry season to prevent large bushfires later in the year. Australian Carbon Credit Units are awarded for either avoided emissions or storing carbon in the dead organic matter it creates.
Rawdon Briggs from Colliers Agribusiness has been involved in five sales of mixed enterprise beef and savanna burning properties. He said many properties in the north were attracting interest from companies looking at savanna burning or multiple environmental options.
"People who are well prepared for carbon buyers are attracting interest. Those who are putting their finger in the air and hoping are not going to sell to carbon buyers," Mr Briggs said.
"I would advise landholders to engage professional carbon consultancy firms to help to baseline their property's emissions and abatement potential – then ground-truthing that baseline. It can be quite complicated and things have changed a bit since the Chubb-review."
Mr Briggs has been appointed to the sale of the well-known Beetaloo Station in the north-western end of the Barkly Tablelands.
The property, which has been put on the market by Australian billionaire Brett Blundy and partners Jane and Scotty Armstrong, has been tipped to make more than $300m, including more than 72,000 head. Mr Briggs said it was primarily a low cost of production beef enterprise and it has been attracting strong carbon interest.
"There is definitely interest in savanna burning and other methodologies on Beetaloo. But I think there is more potential to generate carbon credits from reducing herd emissions given the herd control the station provides," he said.
"Savanna burning is more viable in that 850mm (33 inch)-plus rainfall band, in North Australia – particularly in extensive areas with limited development and past years of fuel load that has been burnt in late dry season events. However, savanna burning becomes a serious option on places like Beetaloo when the integrated farm method is developed."
The integrated farm methodology is expected to come online in the middle of this year and will allow landholders to use multiple methodologies in one project – which they are currently unable to do. The aim is to reduce auditing costs and increase scale.
Why savanna burning credits demand a premium
ACCUs derived from savanna burning have been demanding a clear premium in the market place. (Read more on how ACCUs are valued here)
Market Advisory Group general manager Cuong Tran said engaging with traditional owners was the way to extract the most value out of savanna burning ACCUs.
"If graziers can demonstrate that they have had meaningful engagement with traditional owners and can provide the governance structure to support that, than they should be in the frame to get a premium for their work," Mr Tran said.
"But if they have not, people are not going to pay as much for it. It's normally about getting first nations people to be part of the implementation and evaluation process."
The uptake of new savanna burning projects has slowed in the past year, with only one project signed up to the Emissions Reduction Fund register in 2022. Mr Tran echoed the sentiment of Mr Briggs and was expecting more savanna burning projects with development of the integrated farm method.
"There is a lot of savanna burning projects registered already, especially in the high rainfall areas like Cape York and the top end of the Northern Territory," he said.
"But there are still a lot of areas that could be put into savanna burning. It also part of the integrated farm method, which should make it more of an option in the lower rainfall areas."
Producer recommends savanna burning
One of the early adopters of savanna burning from the grazing industry has been the Tipperary Group of Stations in the top end of the Northern Territory. Its project was signed up in 2013 and has earned 106,151 ACCUs, according to the ERF register.
Manager David Connolly said the project had multiple benefits to the operation.
"By doing that cool burning earlier in the year you reduce the fuel load and reduce the burden of big fires that can become uncontrollable," Mr Connolly said.
"It becomes more of a managed process, which is better than having a fire in late October or November when the country is really dry and like a tinder – in that situation, you get a lightning strike and you can have a big fire to manage."
Mr Connolly said a savanna project can become a good earner if it is set up properly.
"You are still battling mother nature, we had a really good early burn last year, did all the management processed right and we still had lightning fires late in the year. But you can't control that," he said.
"With ACCUs being valued at more than $30 it can be a great little earner. I would urge any eligible landholders to do right by themselves and right by the environment and get involved in the program."
Changes in fire scars
University of Queensland researcher Stephen Murphy researcher Stephen Murphy has been researching the role of fire in Northern Australian ecosystems for years and has become an expert in satellite fire scar mapping. He said the savanna burning projects have resulted in overall decline in large, high intensity fires in the north.
"We are seeing a more patchy and early dry season regime, where you are seeing a lot more unburnt left in the landscape," Dr Murphy said.
"It is a change from these massive events that make every part of the landscape look the same, which is burnt, then all the vegetation grows back at once."
Dr Murphy said some of his colleagues have been looking to start savanna burning programs in other tropical parts of the world.
"Many countries around the world are knocking on our door to try and replicate it," he said.
"It seems to be most advanced in Africa, countries like Zambia and Botswana. But also countries like Timor-Leste and some South American countries are also interested."