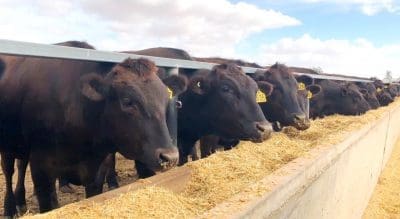 A NEW study has put the eating quality traits of beef, fed by Bovaer, to the test – looking at its impacts on juiciness and flavour.
While products like Bovaer have been proven to reduce the methane output of ruminant animals, early adopters have been looking to answer many other questions about the products, with eating quality high on the list.
A 2021 Meat & Livestock Australia funded project found the addition of Bovaer reduced methane production by up to 90 percent with no impact on daily gain and feed conversion ratios. A further study by the University of New England in 2022 used Bovaer in three commercial feedlot diets and found a reduction of between 50-95pc in methane production, predictably dependant on diet. In 2022 Bovaer is being commercially adopted in Australia by several large beef production businesses.
The most recent trial – The effect of Bovaer on consumer perception and eating quality of beef – conducted by the School of Environmental and Rural Science at the University of New England, assessed meat quality of Bovear-fed beef.
The study was led by Dr Peter McGilchrist, Associate Professor for the School of Environmental and Rural Science at UNE and involved 48 commercial steers. Half were fed 1g of Bovaer in a typical daily feedlot diet for 84 days. The control group was fed the same diet, without Bovaer.
The study measured Meat Standards Australia (MSA) parameters such as meat colour, fat colour, shear force, AUSMEAT marbling score, MSA marble score, and pH levels. It found no difference in these parameters between cattle fed Bovaer compared to control animals.
In addition to meat quality, it also involved MSA consumer panel tests on rump and striploin steaks aged for 14 and 35 days. Results showed consumers experienced no difference in tenderness, flavour or juiciness of beef fed Bovaer.
Meat was tested by 480 untrained Australian consumers who were asked to score tenderness, juiciness, flavour and the overall eating experience. Meat that came from cattle supplemented with Bovear was found to have the same eating experience, with no difference in perception of meat quality.
Dr Peter McGilchrist said "This is an exciting finding for the Australian beef industry – the ability to reduce methane output from cattle without having an impact on the eating quality. We utilised the MSA protocol which is a robust method which showed consumers didn't taste or experience any difference between the treatment groups."
Mark van Nieuwland, VP Bovaer said "The potential to reduce methane emissions is exciting, but we know this needs to be backed up by a positive consumer experience. Ultimately the consumer decides if an innovation like this is successful or not. This study shows meat can be lower in emissions while being high quality."
Source: DSM