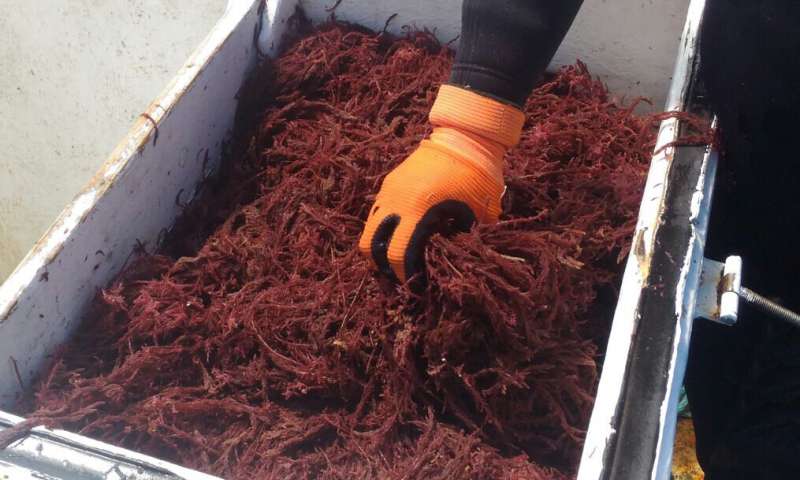 PRESSURE has this week ramped up on the development of methane reducing feed additives as the Federal Government pledges to reduce its methane emissions by 30 percent in the next decade.
The non-binding pledge is for an "absolute reduction" in emissions, meaning methane emissions can not be offset. The Federal Government is insisting that the livestock industry will not face any taxes or herd reducing measures and has described it as complimentary to the industry's plan to become carbon neutral by 2030.
But the reliance on seaweed feed additives has been clear, with the Federal Government committing $8 million to support the commercialisation of Asparagopsis and $5 million to develop technologies to deliver low emission feed supplements to grazing animals.
With the 2030 deadline a little over seven years away, University of Melbourne professor Richard Eckard said significantly more funding was needed if there was to be widespread use of the supplement in grazing systems. He said the government investment should be more like $50 million.
"Half the cattle in Australia don't see a human in 12 months," he said.
"The notion that seaweed is going to solve the problem, that doesn't help the producer in Longreach or up in the Kimberley. There is a big gap between theory and reality – the theory is that we can reduce methane by 80pc, the reality is that we do not have the technology for grazing industry to respond tomorrow."
Dr Eckard said the size of the task at hand could not be understated.
"The rumen took 50 million years of evolution to get to where it is, and we decided 20-years-ago that this was a problem and  we were going to change it," he said.
"Now, we are saying that we are going to change 50 million years of evolution in less than eight years."
Limited impact with feedlots
Feedlots are emerging as the most eligible candidate for Asparagopsis and 3 NOP with commercial trials already underway. But Dr Eckard said widespread use in feedlots would not be enough to achieve the 30pc the reduction.
"If you can imagine a bar chart of where methane comes from, the biggest bar is the beef industry, the second biggest is the sheep industry, the third biggest is dairy and feedlots don't even show up," he said.
"Cattle only go through a feedlot for a short part of their life, so even if you halve that it won't go anywhere near the 30pc reduction."
Potential in dairy
The dairy industry has been one of the biggest opponents of the pledge, with Australian Dairy Farmers saying it is too early to bank on the development on seaweed. But Dr Eckard said it had the potential for using the feed additives
"Dairy accounts for about a third of Australia's livestock emissions and farmers have the opportunity to feed cattle twice a day when they come in for milking," he said.
"The average dairy farmer could knock out half their methane emissions tomorrow if the incentive was there. They could feed 3 NOP or seaweed they could cut half their emissions tomorrow, they could take their nitrogen emissions out by 50pc using coated fertilizer."
But Dr Eckard said cutting dairy emissions was not the silver bullet.
"Doing some rough calculations, you would need an almost 100pc reduction in dairy emissions to offset the emissions from extensive grazing," he said.
Early intervention shows most promise
Dr Eckard said there was work underway to reduce methane emissions in extensive grazing systems.
"Early life program has massive programming has massive potential and it just needs a good term of funding," he said.
"That's basically the same notion that rumen behaviour is a product of its upbringing. There was some great work done that took one of these methane inhibitors and feeding them to cows and calves through the weaning phase – the calves remained 20pc less methane from then.
"Whatever the calves inherit from their parents at the time of birth, through to weaning seams to be the methane they produce for the rest of their lives.
"This is where the research needs to land because if you have cattle in the Kimberley you only have a chance for one intervention."
Agriculture minister Murray Watt was contacted for comment.
Beef Central will have more analysis on the cost of using seaweed in feedlots in a coming story