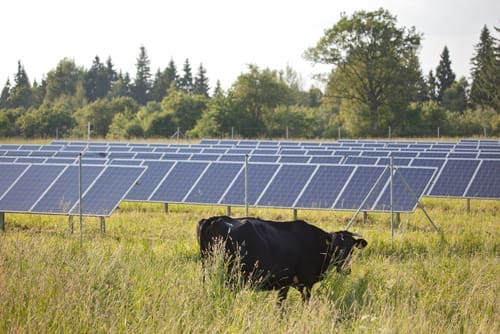 RENEWABLE energy has received a big political backing in recent months, with the Federal Government hoping to dramatically increase its share of the grid and members of the crossbench keen to see more of it.
Big projects are on the menu, with landowners told to expect more developers knocking on the door and making proposals to build big wind and solar farms.
With renewable energy projects comes complex contracts and what can be protracted negotiations. Beef Central spoke with specialist property and agribusiness lawyer Sam Richardson, from Cowell Clarke Commercial Lawyers, to see what landowners should expect from the renewables industry.
1. Developers write the contracts
With renewable energy developments, usually the energy developer or their lawyers prepare the formal agreements. Mr Richardson said they were often prepared on terms very favourable to the energy developer.
"In my years of dealing with renewable energy developments, when acting for landowners and farmers, I have never prepared the initial agreement" he said.
"I will review the documents. Naturally the first draft is usually very favourable to the energy developer."
Mr Richardson said the long-term nature of the contracts made it important for landowners and their advisers to examine them carefully before signing.
"We have had situations where some landowners have come to us after signing formal documents and not been aware of what they have signed," he said.
"Sometimes they may have interpreted the contract in a certain way or relied on verbal communications– but then on review of the document it becomes apparent that the signed documents are not consistent with the landowners understanding or expectations.
"It is essential for landowners and farmers to obtain legal advice before signing any documents with energy developers."
2. There are opportunities
While the contracts can be onerous, Mr Richardson said there were good opportunities for landowners and farmers to host renewable energy projects.
"Our energy space is changing. There will clearly be more renewables, and landowners have a real role to play in the renewable energy development process," he said.
"I would advocate that landowners and farmers do engage with renewable energy developers. There are good opportunities, just be wary too."
Mr Richardson said there were ways of hosting renewable energy projects and continuing agricultural production at the same time.
"Most of the time agreements are reached where the landowner or farmer can continue agricultural activities in conjunction with the solar or wind farms," he said.
"Quite often the parties will look to put panels on a paddock that is not getting the same return as other paddocks – it allows landowners to diversify their income stream with increased certainty, and in many cases, with a nominal impact on core agricultural activities.
"There is the ability to ensure you can integrate grazing and farming around the turbines or panels, although there will often be exclusion zones where agricultural activities are prohibited, such as around a substation."
3. When should you be paid?
Mr Richardson said the timing of lease and licence payments was often up for discussion when it came to renewable energy projects and it was an issue for landowners to look out for.
"Often the energy developer will say 'payments will only start when we start getting a return'," he said.
"But it could take years to construct the project and for energy to start feeding into the grid. The landowner's position might be to demand payment as soon as they hand over the land, because really it is up to the energy developer to carry out the project and the landowner should not be out of pocket if there are delays in the project getting up and running.
"Often the parties will reach a middle ground, but it is always a matter that can be subject to negotiation."
4. Who really runs the project?
With growing demand for renewable energy, Mr Richardson said there was a tendency for energy developers to progress projects and then seek to sell them for a profit.
"We have noticed a lot of energy developers will try to sell their projects off pretty soon after developing them, or sometimes once relevant approvals are in place," he said.
"A lot of energy developers will want to reserve the right to assign their interests in the formal agreements. I tend to advise landowners and farmers to be careful of this. There is a risk the incoming party might not be who you want to deal with.
"It is your land so it's important that you know who you are dealing with and how the arrangements will look in the future. With long-term agreements such as these – there is often a lot at stake."
5. Developers are changing their approach
Mr Richardson said energy developers have changed their tactics over the years, with more targeted approaches to landowners.
"They used to have a real scattergun approach and try to lock in exclusivity agreements with as many landowners and farmers as possible to avoid other developers getting in – then after that, work out what they are actually going to do," he said.
"Now we are seeing energy developers doing more due diligence before they single-out land and approach landowners. They are assessing a range of issues early on – if the land suits what they are trying to do, how many landowners they are likely to have to deal with, how close the land is to transmission lines and other matters before they make an approach.
"The market has really matured, there is more data and information now, and the energy developers know what they want more so than they did five-years-ago."