AS THE Federal Government awaits the findings of a review into its carbon crediting framework, two large corporate cattle companies say current regulations could be penalising early adopters of emissions reduction technology.
North Australia Pastoral Company (NAPCo) and the Australian Agricultural Company (AA Co) have been running trials to develop methane reducing feed additives for cattle production – with AA Co trialling seaweed asparagopsis and NAPCo using Bovaer or 3 NOP.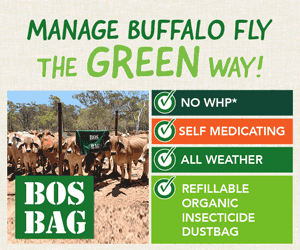 But in separate submissions to the Chubb-review the companies have raised concerns that their trial work may limit their ability to earn credits for using the products.
The main concern relates to a principal known as "additionality", which means companies must be making additional reductions to business as usual – like switching to cell grazing to build soil carbon.
Applications are into the Clean Energy Regulator for Bovaer and asparagopsis to be able to earn Australian Carbon Credit Units (ACCUs), when applied in cattle operations.
But NAPCo says with trials of Bovaer underway it could miss out on ACCUs because there will be no change of practice when it can start a carbon project.
"This will significantly reduce enteric methane emissions, which represent the majority of the livestock industry's carbon footprint. Applied across our industry, this would make a material contribution toward Australia meeting international commitments," the submission says.
"Application of the current eligibility requirements could be interpreted as limiting the opportunity for early movers to fully participate in new ERF feed additive methodologies. This risks commercial adoption of the technology and consequently, an opportunity for the livestock industry to make a significant contribution to reducing carbon emissions.
"International voluntary carbon markets (such as VERRA) currently offer the ability to generate credits from feeding methane mitigating additives. The "newness" requirement is exempted for supplementary feeding in some markets and a retrospective period of 2 years is applied in others. Both are approaches that should be given consideration for the Australian context."
A risk we aren't willing to take
Similar comments were made by AA Co, who are looking to take early asparagopsis trials into a commercial feedlot environment.
"In this instance, additionality penalises early adopters of technology and organisations who are willing to do and then scale up research, which often comes at significant cost to the organisation," the submissions says.
"Organisations who wait while others do the research and testing benefit both through the use of the technology and earning ACCUs."
The AA Co submission says the company has had mixed advice on additionality and how it may impact the company's trials. It says the ability to generate ACCUs is integral to using the product.
"We have been informed that it may be possible to run a trial in our feedlot without being penalised by additionality, however we've also been informed that there is the risk that the regulator will deem the activities to be business as usual, thus making us ineligible to earn ACCUs both now and in the future. And that's a risk we aren't willing to take," the submission says.
"It currently costs approximately $2 per day to feed asparagopsis to cattle. It is hoped that once it is able to be produced at commercial quantities, the cost will come down to around $1.
"Even at these commercial rates, and once proven and able to be used in both a feedlot and extensive rangelands environment, the cost of feeding AACo's entire herd is approximately $382,000 per day, or almost $136,000,000 per year.
"As such it is not commercially viable for AACo to use the technology at scale, without the provision of Australian Carbon Credit Units to help offset those costs.
"AACo is aware of other large pastoral companies who are unwilling to become involved in research because of the risks associated with additionality.
"This clunky process slows down the development and adoption of technology and puts at risk the ability of both the industry and the government to reduce its emissions profile."
Click here for more on the Independent Review into the ACCU framework, which is due to finish before the end of the year,