THIS year's launch of Beef Central's beef industry board game, Cattle Baron, has unearthed a number of earlier pioneering industry 'board game' ideas, mostly used for education and training purposes.
Several readers have brought to our attention a couple of early cattle industry-based game concepts, which we thought other readers might find interesting. Some may even remember them first-hand.
While both vary substantially from Cattle Baron, they still use the basic 'monopoly' principle of players working their way around squares on a board after rolling dice, to achieve various objectives.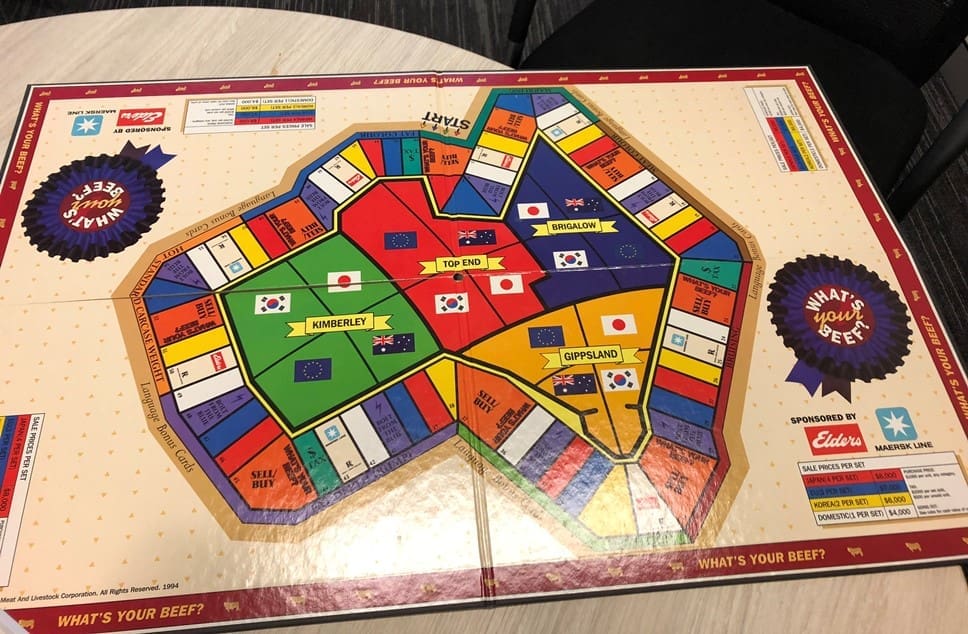 What's Your Beef?
In the mid-1990s, national red meat industry language body AusMeat devised and developed a board game concept, pictured above, called "What's Your Beef?"
Its primary purpose to educate producers about the new AusMeat Chiller Assessment system, introduced a year or two earlier.
A second function was to help producers' define their most appropriate target market for cattle turnoff. This was an important activity at the time, as both Japan and South Korea were recently liberalised markets, where specifications for Australian imported beef were rapidly changing.
The board-game concept came under the guidance of then AusMeat chief executive, Ian King. It is unknown who was responsible for the game's development.
"To become a successful beef producer, you need more than luck – you need feedback," the game's instructions say. "Choosing the best way to sell your cattle, and using the feedback you get by selling over-the-hooks, contributes to your progress."
The game provided four options for target markets – Japan, Korea (both recently liberalised at the time), the EU market and domestic.
It is unknown how many copies of "What's Your Beef?" were printed, but the copy illustrated in the photos published here, survives in good order to this day.
'Cattle Boss' played important indigenous training role
Another training and education-oriented beef board game that's come to our attention is a product called Cattle Boss, described as a 'business education simulation', in a board-game form.
It has been successfully used in training roles, mostly in indigenous communities running cattle, for more than 40 years.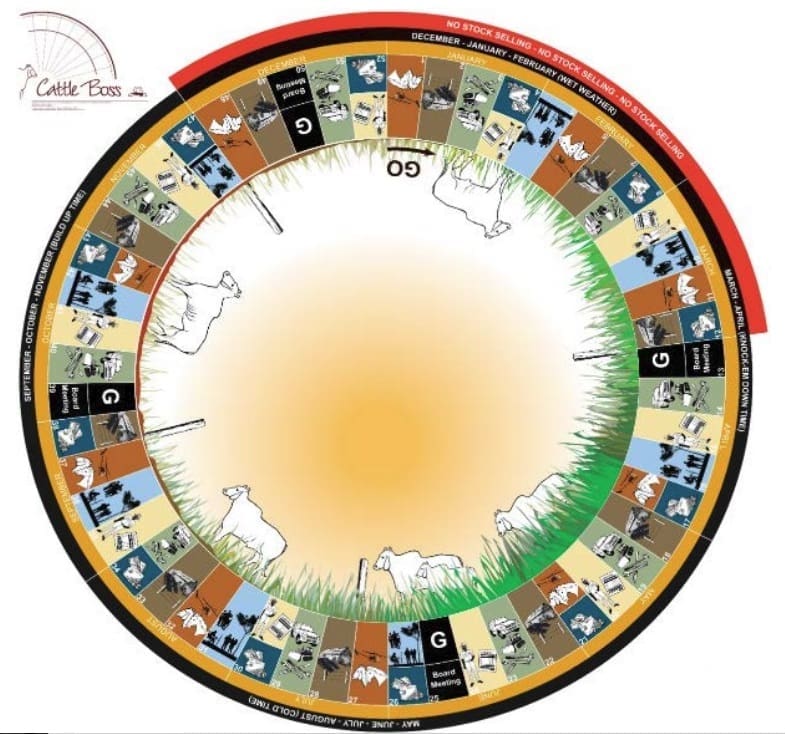 The concept was originally developed at the University of New England in 1977 by PhD students Stuart Phillpott and Ian Evans, and was awarded the UNE Rural Banks of NSW Prize for Rural Extension in the same year.
Its original purpose was to address the financial and operational management needs of pastoral industry trainees in the indigenous-operated Mimili cattle station (then known as Everard Park) in Central Australia. It was later used in numerous other indigenous-owned cattle enterprises.
Dr Phillpott told Beef Central that the 'visual' approach of using a board game simulation had proved to be a powerful learning tool within indigenous communities.
The original idea had come to him around 1974 when attempting to explain the need for better financial management to Mimili indigenous community members while sitting around a campfire, "scratching out some pictures in the sand with a stick."
"A lot of the agricultural projects in indigenous communities at the time had failure-factors in them, because they just did not have enough financial management knowledge," he recalled. "At the time, the concept of a cash economy had only been on some of these communities for a few years."
Many of the 'events and outcomes' incorporated into Cattle Boss's game-play were based on stories derived from within the Mimili cattle station's own operations.
Others, including Dr Phillpott's colleague at XBES, David Carroll, contributed to its refinement over the years. As can be seen in the board image,  above, the simulation included references to pasture condition and cattle body condition throughout the yearly cycle.
In 2015, the Indigenous Land Corporation and the University of NSW undertook a joint project to revise and redevelop the Cattle Boss business simulation, and developed an electronic version, based on Excel, that could be played on a laptop or desktop computer.
The project was completed last year following trials on eight indigenous cattle properties, with almost 120 participants. The program has also been used by the RCS group, in its Grazing for Profit courses run for indigenous communities.
The current version of the Cattle Boss business education simulation, taught over several sessions, includes sections on governance, rangeland management, financial management and reporting and herd management.
The game continues to serve a training and education role to this day.
Second print for Cattle Baron game
Beef Central's own board game, Cattle Baron, was launched in May during Beef Australia 2018 in Rockhampton. Click here to view our original launch story.
The first edition of the Cattle Baron board game all but sold out in Rockhampton (limited quantities remain for urgent sales), but a second print-run has been ordered, and will be available in plenty of time for the Christmas gift market. Beef Central will advise readers in plenty of time to place orders.
Click this link to access a short video about how to play the game.