PHEW! What a week! Five full days was barely enough.
Now that we're all back home and have had a chance to digest the wall of information gathered over the week, here are Beef Central's picks of ten defining features of Beef 2018, in no particular order:
Ag technology arrives, big-time
The arrival of ag technology was arguably the defining characteristic of Beef 2018 in Rockhampton.
The three-year cycle between this year's event and that held in 2015 illustrated just how far ag tech has come, in a very short space of time. Virtually every industry seminar held during the week (46, by Beef Central's calculation) made mention of ag tech in some way, and a large proportion of the hundreds of trade exhibits featured ag tech, in its myriad forms. Some producers (see today's separate story) came to the event specifically for the ag tech offering. There's clearly a hunger for access to information about technologies that can drive efficiency, productivity and integrity on-farm that did not exist to the same extent three years ago.
From the earliest and now familiar forms of ag tech like farm management and accounting software, to remote monitoring systems, drones, objective carcase assessment technology, tools to drive genomic selection, virtual fencing, augmented reality and traceability and individual animal monitoring systems, ag tech was everywhere to be seen. And among show patrons there was a thirst to learn more about it, and how it might be adopted within each producer's own management environment.
Are we seeing a defining moment in the history of the Australian beef industry? It's scary to think just how far this ag tech movement might travel in another three years.
Where is agriculture's national advertising campaign?
Over five full days Beef Central participated in many forums, sat in on numerous conference sessions and chatted with dozens of individual producers. A common thread was evident throughout: the extent to which many producers feel exasperated that animal activists and environmental activists are running rings around agriculture in public communication and social media, while agriculture, despite having a powerful and positive story to tell, doesn't appear to be proactively telling it. 'Where are the television advertisements or bill boards or social media campaigns telling agriculture's story' was a commonly expressed refrain. The last time we saw something along these lines was AgForce's 'Every family needs a farmer' campaign, something like a decade ago. At Beef 2018 AgForce harnessed people power by encouraging producers in their thousands to wear green to symbolise their commitment to responsible environmental management when Anastasia Palaszczuk visited Beef 2018. But who is speaking up for Australian cattle producers at a national level, and who should be taking the lead on that? From private discussions Beef Central had with some industry leaders, the word in reply was that there are indeed plans afoot – "watch this space" was the message.
Beef sustainability – the debate has matured
One way in which the red meat industry has stepped onto the front foot to get ahead of activist critics has been through the Red Meat Advisory Council's development of the Australian Framework for Sustainable Beef, which allows the industry to draw on science and measurement to underpin the industry's sustainability claims to consumers and the voting public. How far the sustainability debate has come was obvious by the crowded, but calm and relaxed nature, of the forum at which the Australian Framework for Beef Sustainability launched its first report at Beef 2018, a stark contrast to the much more emotively charged sustainability event held in the same room at Beef 2012 six years earlier, when producers expressed fear the industry was surrendering control to environmental groups. Several ASBF speakers made the point that the framework provides the best of both worlds – it allows the industry to take the lead in demonstrating its commitment to sustainable beef production without losing control to agenda-driven groups. In fact Australia was described as a leader in the global beef sustainability "arms race" by industry luminaries such as Nicole Hoffman-Johnson, the chair of the Global Roundtable for Sustainable Beef, and Andrew Brazier from McDonald's, largely because Australia's approach had been "industry-led" from the outset.
Chinese takeaway
While there was a strong attendance of international visitors from across the world at last week's event, it was clearly evident that Chinese visitor numbers were well down on 2015.
There's clear reasons for that. In 2015, China was just beginning to open up as a significant new market for Australian beef exports. There was an avalanche of new players looking to, or thinking about doing some beef business out of Australia, or investment business in it. Consequently the atmosphere at Beef 2015 was more like a 'goldrush frenzy', as importers and exporters were still just beginning to establish relationships, and sort out who was a reliable potential trade contact, and who was a tire-kicker. Beyond meat trade, there was also a heavy presence three years ago from potential Chinese 'investors' in meat processing plants, feedlots and cattle production infrastructure. Many of those 'investments' failed to materialise, however.
Three years on, and meat trade relationships between the two countries are now well entrenched, and hence the Chinese presence this year was less obvious, and more subdued.
Beef 2018 told Beef Central this morning that total overseas registrants for this year's 'Handshakes' program reached 1200, from at least 43 different countries – about 100 more than in 2015. But within that tally, the Chinese contingent fell to just 135 – a stark contrast to the estimated 400 Chinese delegates seen in 2015. Other large groups came from Indonesia, South American countries, New Caledonia and New Zealand, with sizable delegations also from Canada, US, and our Asian and Pacific neighbours.
Patience for poor operators has run out
With all of this talk of sustainability, a previously unseen level of resolve to call-out the bad operators was hard to miss at Beef 2018. In several sessions speakers or commentators from the floor called on others in the industry not to tolerate those who flouted acceptable standards and whose behaviour threatens to undermine the industry's standing with its consumers and the voting public. Asked at a forum whether the industry can claim to be 'sustainable', given the presence of some who choose not to keep up with minimum standards, KLR Marketing co principal Rod Knight didn't mince his words: "As an industy we can't defend the indefensible… As an industry I think we have to grow up a bit and say we do have some operators who aren't doing all that good a job. Once we do that we will get some credibility, but we won't have credibility with anyone if we keep defending the people who are doing the wrong thing." Super Butcher managing director Susan McDonald echoed the sentiment during a sustainability forum the following day: "As an industry we have to be accountable to each other. If you see somebody acting in a way you know is outside the framework of what you think is acceptable, you need to go and talk to your neighbour and say, I am not sure that is what we would like to see on the front page of the paper. We have a responsibility to all step up and be part of a bigger industry rather than act as individuals."
Fake meat not part of Macca's menu plans
The emergence of meat that is not real meat, or at least not meat produced in the conventional, natural sense, has been attracting more attention since two of the biggest meat processors in the US, Tyson Foods and Cargill, invested in alternative meat start-ups last year.
At Beef 2018 a Victorian cattle producer asked McDonald's Andrew Brazier whether the burger giant and global beef champion has plans to introduce synthetic meat into its offering. His reply was that it was 'not on our radar'. "Beef is who we are. It is a legacy product for us, so that is never going to change." He said McDonald's was right behind the Australian beef industry's sustainability framework, because the company wanted to be able to continue to promote beef, and because it understood the importance of protecting the profitability of farmers. "A critical component of our supply chain is profitable farmers. If a farmer is not profitable and they're not producing cattle, then the processors aren't processing beef and we're not buying. Our stake in the ground is firmly behind movements like this (beef sustainability) because we believe in beef and we believe in the beef industry."
Food, glorious food
Has red meat in all its glorious forms ever been better showcased to a mass audience than during Beef 2018 last week?
From five-star white tablecloth fine-dining to a humble burger or steak sandwich lunch, the food on offer was consistently good, creative and reasonably priced. Wind back the clock to Beef Expos held in 1988 and 1991, and it shows how far the event's food service has come. Former AMIC chairman Terry Nolan argues that the inconsistent (that's code for tough) steaks served at early Expo events was one of the key catalysts that led to the formation of Meat Standards Australia grading. Did one patron have a tough steak in Rockhampton last week?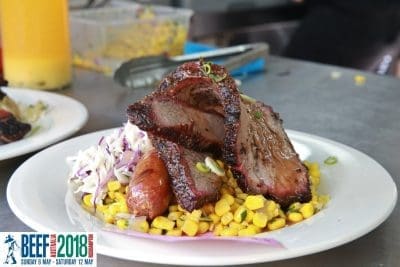 One of the big hits this year was the arrival of Texas 'low-and slow' barbecue, with the alluring scent of smokehouses wafting around the grounds. Australia has embraced Texas barbecue big-time in the past couple of years (see earlier story), and the numerous Beef 2018 sites selling slow-cooked brisket, Brahman humps, ribs and other items did a roaring trade.
Logistics has helped along the way. Pop-up commercial kitchens, based on self-contained 40-foot containers, meant chefs had good equipment and infrastructure to work in. Peter Greenham Jr's Cape Grim grassfed burger stand used one of these portable kitchens, attracting thousands of show patrons. He told Beef Central that the site had turned over close to two tonnes of minced beef patties for the week. Celebrity chefs from around the world inspired and educated show-goers in their demonstrations, using creative techniques and exploring new ways with secondary cuts. Items like beef bacon, cheek meat and intercostals popped up in unexpected places. The miracle of instant air-conditioning made sit-down restaurants and seminars extremely comfortable, despite the hot weather.
Biggest downside in the food department? Lunchtime queues sometimes ran to an hour during the busiest days of the event.
Sell-outs were common among concession-holders, later in the day before new supplies arrived. At some sites, all that was left was the unloved vegetarian option. You'd have to be desperate.
South America gunning for Australian markets
One cattle producer dryly observed to Beef Central during a vist to our stand: "'they've been telling us South American beef is going to take our markets for 50 years. Why should we be any more concerned now?" A fair question. But there are clearly many who think that with all the major South American nations in herd-expansion mode and producing more beef than their own populations can eat, Australia's markets will come under serious pressure from Brazilian, Argentinean, Uruguayan and Paraguayan beef.
All are aggressively working to win greater access to key markets Australia supplies, some have full FMD freedom and low-risk BSE status, and Argentina and Urugauy also now have electronic identification and traceability.
Another example of the trend: Many readers may not realise that in the past year Turkey has become a bigger market for live cattle than Indonesia. It used to be Australia's second largest export market for cattle. However, it is now drawing virtually all of the cattle it needs from South America.
Readers may also be surprised to learn this: according to exporter Wellard's calculations, high Australian cattle prices recently meant Indonesia came within a whisker of being able to import cattle more economically from Brazil than from nearby Australia.  "Had it gone up another 10-20c, we would have had Brazilian cattle coming in, or Uruguayan cattle or American cattle or cattle from Canada and Mexico," Wellard executive director operations Fred Troncone said. "'If you start letting those cattle come in then effectively you can start to lose those markets, it wouldn't be a pretty sight."
Corporate identity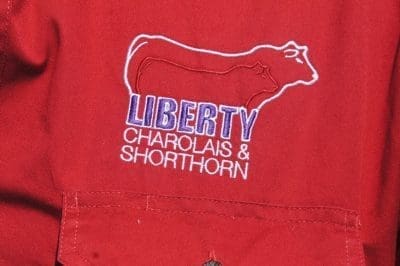 Has there ever been an Australian beef industry event where there was such an abundance of corporate identity? In some of the seminar audiences, Beef Central estimates that 80 percent of the people in the room wore a shirt bearing an embroidered company or business logo. That ranged from private commercial cattle enterprises and studs to pastoral companies, government departments, lending institutions, goods and service providers, industry service delivery companies, peak industry councils and others. Beef Central joined the trend with our first company shirts bearing our logo. The bush's go-to work and business shirt manufacturer and retailer, RB Sellars, must have made a killing, especially when Wednesday's 'wear a green shirt' vegetation management protest was thrown into the equation.
Playing the game: Cattle Baron a phenomenal success
Beef Central's cattle industry board game, Cattle Baron, was one of the more novel items on sale at Beef 2018 and certainly proved popular, all but selling out within five days of launch.
There's still a few copies left for online sales, but the second print run is being expedited this week to keep up with demand.
Patrons frequently commented on the number of chocolate Cattle Baron carry-bags that were evident on peoples' shoulders around the Rockhampton showgrounds each day last week. "Best board game ever!" one of last week's first customers, prominent export meat trader Brendan Tatt said. "My first High Steaks card was 'Miss a turn because your kids left a gate open and the cattle got out' … how ironic!" Christmas time is seen as the next peak sales period for the board game, and we'll make sure there is plenty of stock available for online sale via this website in coming months. Cattle Baron is also proving popular as a novel corporate gift. Large companies are buying dozens of games at a time as gifts for clients, customers, staff and other contacts. Quantities of the game are already on their way home to the United States, Canada, New Zealand, South Africa and China after sales to Beef 2018 delegates from across the world last week.