WITH claims of sustainability inevitably comes the need for measurement to validate and demonstrate those claims, James Bentley, the manager of Natural Value of NAB, told an AgForce Forum at Beef 2018.
"The market value of Australia's clean and green reputation is well recognised, but as your reputation grows, you need to be able to validate," Mr Bentley said.
"The more you depend on your reputation, the more risk that perhaps you will be held to account.
"So how we measure performance and how we drive accountability to sit behind our reputation can be seen as insurance for the industry."
Mr Bentley acknowledged that explaining exactly what sustainable management is to an "increasingly discerning but also increasingly disconnected urban market" was not straight forward.
Recent inflammatory headlines in mainstream media about rates of land clearing in Queensland that failed to allocate the space to explain the "intricacies of a very complex debate" highlighted the nature of the challenge agriculture faces.
Investors are screening business for a social purpose
To those who ask why agriculture needs to demonstrate its sustainability credentials to the wider public, Mr Bentley said it was clear that investors were now wanting more information about potential risks and were increasingly "screening businesses for a social purpose".
In one example, Larry Fink, the CEO of the world's single largest asset manager BlackRock, sent a letter to the CEOs of public companies in January outlining his expectation that they start accounting for their effect on society.
Mr Fink said it was imperative that businesses serve "both public and private interests". To prosper over time, every company must not only be profitable but also be able to demonstrate how it makes a positive contribution to society.
Businesses that lacked a social purpose ultimately lost their social license to operate, succumbed to short term profit drivers and sacrificed investments in innovation, capital, employee development, and exposed themselves to activist campaigns.
'your business might not be part of BlackRock's $6.3 trillion portfolio, however, chances are, your supply chain is'
"Now your business might not be part of BlackRock's $6.3 trillion portfolio, however, chances are, your supply chain is," Mr Bentley said.
Mr Bentley said that to grow to the magic $100 billion target it is has identified, Australian agriculture need to attract investment.
Investors are now asking more and more questions around climate risk, water scarcity and environmental degradation.
"So, imagine your business is pitching for investment capital.
"How might you communicate to them that you are a responsible manager, that your environmental risks have been well managed, or that the last 10 years profits that you achieved were not the result of over grazing for instance, such that future returns might be compromised."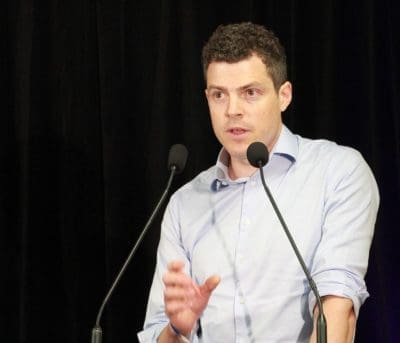 Mr Bentley said NAB had seen "exponential growth" in demand from investors for green financial products, such as green bonds. These products reflected an interest in not just being ethical but also the demand for greater transparency.
Lab grown meat is being promoted as a solution to the challenges of sustainable land management. Larry Fink's letter to shareholders noted that, although misguided, the danger of an activist message is that their simplicity can be compelling.
"Indeed for everyone here the idea that lab grown meat might impact sustainable land management is preposterous," Mr Bentley said.
"But they are selling their vision – it is an as yet completely unobtained vision – using clear metrics around waste, energy, avoiding deforestation, etc
"Now we know here that quality beef from sustainably managed land has a vastly superior story to sell. But to compete it requires metrics and it requires industry collaboration."
Incorporating natural capital into credit assessment
Mr Bentley said the AgForce led Grazing BMP was driving better management outcomes, and the challenge in future was to build a business case with financial metrics for improvements to natural capital.
"Our aim and our ambition here is that we want to elevate natural capital intro our credit assessment process explicitly and that means two things for land holders.
"One we want be able to put a dollar value and recognise investments in natural capital on the land so that we're making an investment that is recognised as an investment, not an expense.
"And secondly we want to be able to reward those who can demonstrate they have invested in their natural capital, and that they are lower risk and we want that to flow through to their pricing."
Sustainability framework 'heading in right direction'
Asked if the Australian Framework for Beef Sustainability provides the type of measurement required, Mr Bentley said it was moving toward where it needed to be.
"The foundations of it are there, it is heading in the right direction," he said.
"They are still from my understanding grappling with this challenge of what is it that we measure and how do we actually demonstrate that in a scientific way.
"My understanding is they are working with an expert panel to throw some ideas around what that might look like, but it will be a long-term journey.
"I do think it is heading in the right direction. The trick will be to link those metrics into the financial system to really understand the interlinkages in the supply chain."