CONSOLIDATED Pastoral Co boss Troy Setter remained tight-lipped about the company's future ownership prospects, but spoke in animated terms about the future potential for the business during a wide-ranging discussion staged as part of Beef 2018 in Rockhampton.
Speculation continues to swirl about possible buyers for the CPC business, and prospects for a Stanbroke style 'bust-up' of the assets, in the event of a sale being completed by owner, Terra Firma later this year.
In 2003, the successful Stanbroke pastoral bidder, the so-called Nebo group, benefitted handsomely by breaking-up and selling the pastoral assets as individual holdings, going against the widely-held belief that the 'old Stanbroke' would be preserved indefinitely in its original form.
CPC chief executive Troy Setter spoke at length about his company during an industry breakfast hosted by agri-solicitors, McCullough Robertson during the Rocky Beef Expo. Interviewer was ABC's Craig Zonka.
Bound by commercial and regulatory responsibilities, he would not speculate on potential buyers, but said CPC had "done everything it could to give Australian interests a 'fair go' in the sale process."
He would not confirm or deny whether there were any domestic players in the mix as part of the sale process.
First-round offers for the CPC business are expected to be completed shortly, with a smaller group of bidders to be then short-listed and provided with additional information. Price expectations are either side of $1 billion, with a valuation carried out at the end of March valuing the business at $925 million.
When asked why Terra Firma had chosen now to see the CPC assets, Mr Setter said it was probably something of a 'reluctant' seller, because the business sat within a Terra Firma-managed fund in which investors placed money back in 2008, for Terra Firma to invest in across the world, which they knew would be 'asset-heavy.'
"We sit within a $6 billion equity fund that also includes assets like nursing homes, retail, windfarms, aircraft leasing and various other assets," Mr Setter explained.
"That fund is a 10-12 year fund, and it's now coming to the back end of that period. As manager of the fund, Terra Firma has a responsibility to return funds back to shareholders in that timeframe."
Mr Setter said when talking to potential investors about the CPC assets and business, he had found it important to find out "what they are interested in, and what they're worried about," in terms of evaluating the investment.
"It's about addressing both of those. For people and entities who are used to investing in high-rise buildings, which are easy to manage, it's a different world when talking about agriculture, cows, and global beef supply and demand. While it's exciting for some, the challenge we face in the beef industry is volatility in price, cash returns and capital growth. That can be a challenge for some people to understand, and fit into their particular investment bucket."
"But agriculture is very uncorrelated; it's very differential. Looking at northern Australian land values as an investment over the past 20 years, they have out-performed any major share index around the world. Capital growth and cash returns over ten and twenty years, have beaten the ASX, and pretty much all of the share indexes worldwide, if you had done a similar long term investment strategy elsewhere."
"Smart investors are excited by that."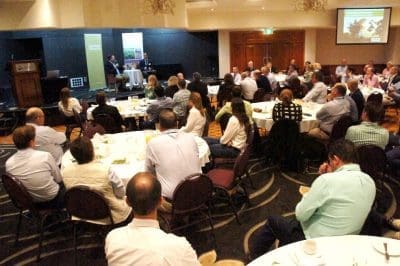 Mr Setter said there was a tendency, however, for investors to judge agricultural investments by 'one-off, or small mistakes' that had occurred, such as the collapse of an MIS scheme (an apparent reference to Great Southern's disastrous venture into beef), or a business that had gone wrong or something that had not worked well.
"We all get tarred with that, very quickly, unfortunately," he said.
He told the Beef 2018 audience he had came into the role as CEO of CPC in 2014 with 'eyes wide open,' knowing that Terra Firma would exit the business one day, and it would be around about this time.
"We started putting information into a data room in preparation for a sale process back in 2015. But we also had very clear direction from our shareholders to get on and run the business as if it was not for sale."
He said the company and management had been as open and transparent as it could with staff and other stakeholders about the process.
"At our management team meeting in February, we looked at the sale video, parts of the Information Memorandum, and laid out what the structure of the sale process looks like. They are all part of the sale – yes, CPC is about land and cattle, but it's also about good people. Businesses in general – but particularly agriculture – is all about people, people who are good at their job and execute on what needs to be done."
Productivity, efficiency focus
Mr Setter said at an operational level, the company's focus over the past three or four years had been on more calves, more kilos of beef and less mortality.
"There's been a big focus on being cash-flow positive – without cutting operational expenditure out," he said.
"It's about getting more cash in the front door by being more productive, as well as investing in the team, and investing in our land. We've probably added 35,000 head of cattle to the enterprise in the past three years, through increased carrying capacity, primarily through waters and fencing."
"Particularly in the Northern Territory operations, we (along with most other operators), have grass that has never before been grazed by cattle, because of remoteness from water. It's about putting down watering more points in more locations, adding fencing, and prioritising that across our 16 stations. It's important to look for the best capital return, as well as the best cash return."
Investment in genetics for market flexibility
CPC has also invested heavily in genetics, putting more tropical composites and Angus into its northern breeding herds, and more recently, Wagyu.
The company now has Brangus bulls based at Manbulloo, near Katherine, purebred Angus bulls in the Northern Territory and at the Allawah bull breeding centre in Central Queensland to introduce to CPC's Brahman stud, aiming for 25-50 percent British content in the cow base. That move is designed to deliver a lot more fertility, more productivity, and most importantly, a lot more market flexibility into the herd.
"We could use British or Wagyu bulls back over those cows, or Brahman bulls, depending on where we want to market the progeny. I'm a big fan of Brahman cattle, but as an industry, we have probably gone a little too far with pure Brahman cattle in northern Australia. The original Shorthorn and Brahman was an unbelievably great cross, but we think we need to re-inject some British content to provide more balance.
"For me it is all about market flexibility, whether that be grass performance or feedlot performance. For CPC, our priority market first is feeder cattle, and our second priority market is cull cows. We don't do grassfed bullocks any more; we stopped our organic program; and got a lot more focussed on our Indonesian feedlot program and our Queensland feedlot targets.
More recently the company has also used a lot of Wagyu herd bulls, primarily for fertility reasons, but also to lift meat quality.
"Wagyu bulls are like teenage boys at schoolies on Viagra. They just don't stop. Secondary to that, if they improve eating quality, that's great.
"We have some joint venture programs in Indonesia, and having higher performing cattle and getting carcase yield up is a really important long-term objective."
Indonesian focus
Given the current difficulties experienced in the Indonesian live export market, Mr Setter was asked whether CPC had 'too many eggs in one basket' with its focus on Australia's near neighbour.
"We have two joint venture feedlots in Indonesia. We've invested further in that, taking a controlling interest, but in terms of management control, our partners Greg Pankhurst and Dicki Adiwoso are absolutely integral in that. We had too many business units in the structure earlier in terms of trading with each other. The Indonesian business has always been a stand-alone company, but there was trading, and feeding businesses in between."
We have two absolutely magnificent feedlot assets in Indonesia, but its like all businesses – the focus is on the little things, and doing them right, time after time, But 370c/kg feeder cattle in Darwin last year, by the time they were trucked and shipped to Indonesia were pretty expensive. There was no fun feeding or trading them at times, but we have loyal customers who have been with us for a long time."
"But Indonesia remains really important to us – about 45pc of our revenue this financial year will come from Indonesia. It adds real value, and real cash to the business, but there is a fair bit of flexibility in being able to shift cattle into Queensland, the three northern abattoirs (Townsville, Darwin and the Yeeda plant near Broome), if we need to. So we are not just live export focused in the north."
Mr Setter said CPC had also been working with two exporters around more strategic alliances with a vertically integrated lotfeeding business in Vietnam – a closed-loop supply chain with modern feedlots and abattoirs.
"We don't plan to make any principle investment on-ground in Vietnam, but we will work strategically with those operators in parallel. We're talking pricing now for December-January," he said.
"But the Indonesian feedlot business has been quite profitable for us over the past 12 months. There are some headwinds with Indian buffalo meat in the market, higher labour prices, reduced fuel subsidies, and higher commodity prices.
"But we also know that while those labour cost issues cause us some short-term pain, when citizens go from $5 to $10 or $15 a day income, their meat consumption sky-rockets. For people that might eat beef once a month, inclome going from $5 to $15 means a lot, when there are 280 million people, and potential 500 million by 2050.
"But Indonesia is still a young democracy, with growing pains, as they reform the tax system and other aspects of government. You have to understand Indonesia, but for us, having good partners in the market really adds value."
Mr Setter said the truth was, all of northern Australian beef was exposed to Indonesia – regardless of whether a stakeholder had an in-country feedlot investment or not.
"It drives the value of land, of cattle and of investment in northern Australia," he said.
"The performance of Indonesia, and countries like China and the US for boxed beef, and what their polices do, ultimately has a lot of flow-back to us."
China experience
Elsewhere in Asia, Mr Setter said CPC for a period had a branded beef business in the emerging market of China.
"It was a great business, making good money on the meat trading side. The trouble was the partner we chose just was not 'ethically and morally-aligned' with the CPC/Terra Firma team," he said.
"So we closed an otherwise profitable business due to lack of ethical alignment. We've since looked at re-entering the Chinese market several times, whether that be through branded beef or joint venturing with people in a feedlot. But at this stage we've chosen not to, because the market is maturing really rapidly – there's less traders, and more strategic branding and better supply chains."
"For meat trading and meat supply, the future is looking brighter in China. In 2016 Chinese meat consumption (all species) was in the low 70 million tonnes a year, with projections to go to 80MT by 2020.
"Global beef trade is currently around 5-6MT, so just the growth in China is equivalent to all the beef that the world ships each year. It's not going to be that simple, because a lot of that trade into China is in low quality, low-value Indian and Brazilian beef. But it's a huge macro, that we all need to be aware of."
Mr Setter said CPC had also looked at live export into China.
"I've gone and looked at some absolutely magnificent facilities –both feedlots and processing plants – in China, built for the long-term. We've spoken to several parties about strategic joint ventures, rather than equity JVs. But we probably would not build a feedlot in China, because of timing and the local land-rules, and the investment needed in time is not right for us.
"But we think there will be good numbers of live cattle going to China when the feed price is right in China, and the cattle price is right in Australia. Live cattle also give fresh offal to the Chinese market, and it's really hard to take fresh offal from Australia in a box.