15 years ago Ireland's beef cattle industry came together and made a decision that is now credited with having improved Irish cattle farmer profitability by $100 per head.
Despite plenty of controversy, debate and fear about what lay ahead, more than 30 entities in the Irish beef cattle industry agreed to give up the genetic data they individually owned and controlled, and to share it in a collective central database for the benefit of farmers and the wider industry.
The result 15 years later has been dramatic gains in genetics and productivity across Ireland's beef herd, measured by a 70 Euro per head (A$100) improvement in profitability for Irish producers over that time: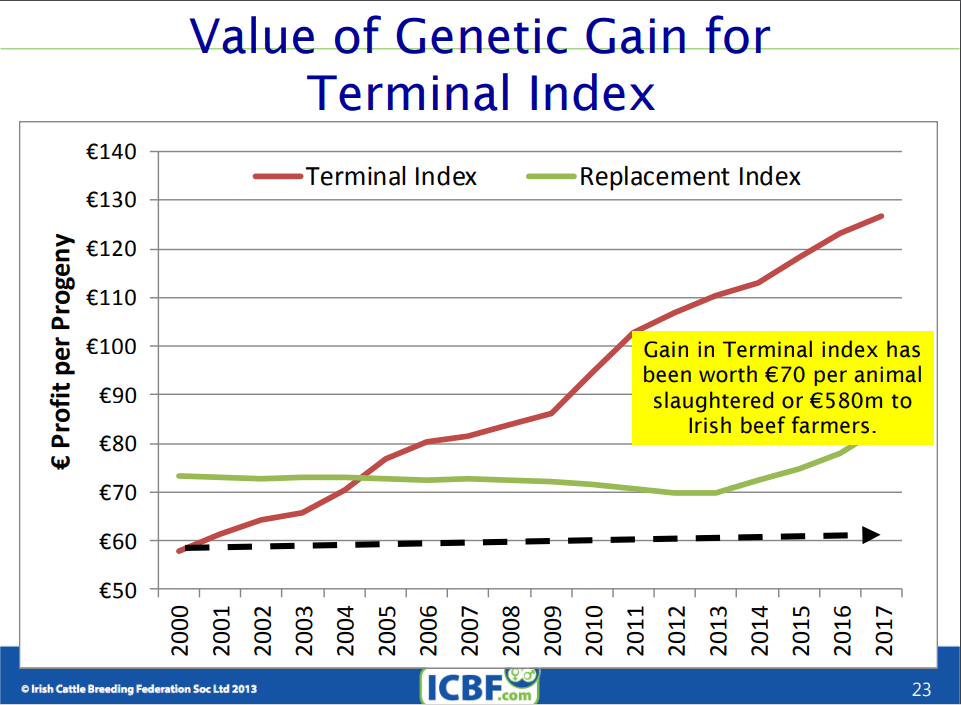 Australia, which like Ireland exports more than 70 percent of its beef production, is having a similar debate over data ownership and how it should be shared today.
At Beef 2018 in Rockhampton, one Irish beef industry leader had a simple and clear message for Australia's beef cattle industry:  just get on with developing a central database, because the benefits will far outweigh the negatives.
Dr Andrew Cromie, the technical director of the Irish Cattle Breeding Federation (ICBF) and chairman of ICAR-Interbeef, said the investment and commitment Meat & Livestock Australia was making into genetics and genomics in Australia's beef industry was "absolutely top class".
"Their strategy around a common data platform makes complete sense," he told Beef Central after addressing a genetics forum at Beef 2018.
"Then you overlay projects into the common data platform and you build from there.
"The opportunity now is how quickly do you want to make that move.
"That is what the Australian beef industry has to really get its head around, because it is going to happen"
Dr Cromie said everybody in the industry needed to come to the table to discuss how quickly the industry wants to move.
"It is the current people who have the data, so whether that is a meat processing industry or whether it is the herdbooks, the stud breeders, the commercial farmers that have this sort of data, that they can come together and help create the system that is going to deliver more accurate services more quickly, that is the key."
Irish industry cooperation motivated by improving farmer profitability
Asked how Ireland had managed to get 30 different organisations to agree to share their data, Dr Cromie said it came down to a few issues, but most importantly it was driven by the need to improve farmer profitability.
"There has to be an understanding or appreciation that by sharing, a rising tide lifts all boats and everybody benefits," he said.
'All of the reasons not to engage haven't actually materialised'
"As individuals we have to give up something but there is a greater overall outcome and as a consequence of that we have seen the growth of productivity of cattle herd, our breeders are selling more bulls, and all of the reasons not to engage haven't actually materialised."
'Fear factor' evident in Australia
Dr Cromie said there appeared to be a 'fear factor' among some sectors in Australia such as breed societies and bull breeders about how sharing data could affect them commercially.
"There is that fear, 'we're doing okay at the moment, we don't want change that'," he said.
"But you have to look at the technology as an opportunity – surely more information, whether it is coming from commercial cow herds or feedlot type herds, in terms of finishing systems that are feeding back in to give more accurate genetic and then genomic evaluations, has to be beneficial to the breeder in the long term, because it helps them to identify the really good cows, or the good bulls that they have access to that are going to drive profitability in the future.
"That is the real challenge, to get these guys to have the confidence to come to the table."
Ireland's simple principle to solve data ownership issue
To make it work Ireland applied a "very simple principle": the person that owns the animal owns the data.
"Effectively the data moves with the animal," Dr Cromie said. "It is a very simple principle but it is one that has worked very, very well over the past 15 years."
"This approach avoids duplication, but yet ensures that at any point in time, the owner of the animal (i.e. the farmer) can decide as to whom he wants to share that data with for the provision of services on his farm. This could be a herdbook, a farm consultant, a meat processor, an AI company or whomever."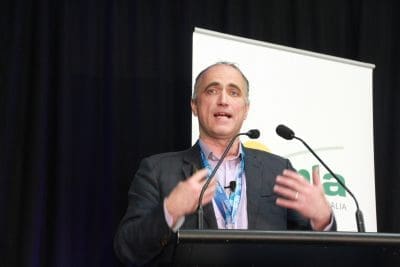 Dr Cromie said the reality was that if Australian breeders and breed societies did not move soon new technology such as DNA and genomics may overtake them.
"With a genotype you can create a pedigree and this is what a herd book's traditional role has been, storing the pedigree.
"The best outcome for the Australian beef industry is for everyone to be involved at the very start.
"What we have seen in Ireland is we have used genomics, we have used the commercial cattle data, we have used the beef herd book pedigree data all together in one system, and that allows you then to more quickly to identify the really good bulls within a breed to drive genetic gain for that breed."
"I would hope that all stakeholders in Australia take up this opportunity, as no single individual entity will be able to achieve the same outcomes for Australian beef farmers and wider beef industry as a collective effort."
Stand-alone management entity important to Ireland's success
Dr Cromie said creating a new stand-alone entity (ICBF) to manage the central data platform had also been key to its success in Ireland, and recommended that Australia should consider taking a similar approach.
"Similar benefits have also been seen in dairy breeding in Australia with the establishment of DataGene a number of years ago.
"It's not a pre-requisite for success, but it certainly helps when it comes to making tough decisions around data ownership, data access and future services such as National breeding indexes.
"Australia has a great opportunity in beef cattle breeding, but there is fragmentation across the industry.
"If you want to move fast on key profit traits for the future, such as carcass weight, feed efficiency and maternal attributes and if you want to get the best science from the best scientists, then you need to get them the data.
"Get them the data across all of the breeds and get your industry really moving positively in that direction. That would be my simple advice."