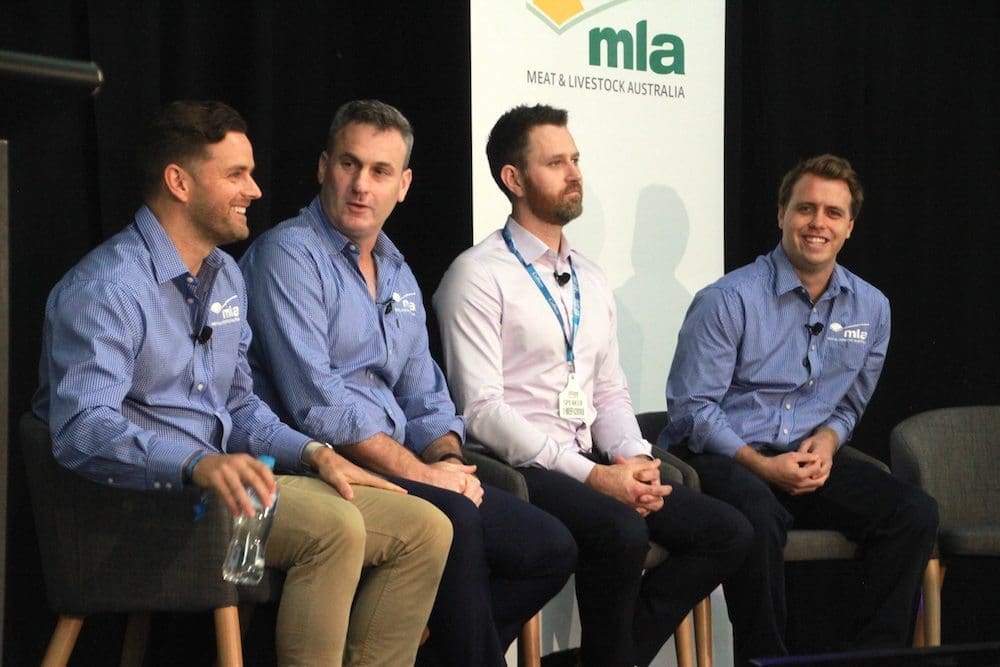 Panellists during MLA's Global Market Strategy were MLA True Aussie Brand manager Jacob Baldock; MLA General Manager, International Business Michael Finucan; Kantar Millward Brown Australia's Jarrod Payne and MLA Manager Market Intelligence Scott Tolmie.
Clarification: An earlier version of this article stated that "before 2016, there was not a single year where every major beef supplying nation grew at the same time". That statement by MLA's Scott Tolmie referred to the period from 2010 to 2016, and the below article has now been updated to include that specific time frame. 
GLOBAL beef supply is entering a unique phase of intensifying competition, Meat & Livestock Australia's global markets forum at Beef 2018 was told on Wednesday.
Like four football teams hitting form at the same time of the season, the world's four largest beef exporting nations – the US, Brazil, India and Australia – are all expanding production at the same time, MLA Manager Market Intelligence Scott Tolmie said.
From 2010 to 2016, there was not a single year where every major beef supplying nation grew at the same time, he said.
"We're entering quite a unique point in time," Mr Tolmie said.
"What we're going to find is everyone is going to be clamouring for the same competition in the same markets as we move forward."
As world trade flows evolve, Australia's beef producing competitors are increasingly pushing into the same key markets Australia supplies, such as the US into Japan and Korea and South American producers into China, Hong Kong and the Middle East.
"Where they're growing are places where we have a key market presence, and where they're declining are locations where we have quite a limited presence," Mr Tolmie said.
"So as these countries are evolving their production and looking for markets for growth, we're finding more and more direct competition with Australia."
However this concurrent supply growth is also occurring at a time of continued forecast growth in world beef demand.
In the past 30 years global demand for beef has increased by 25 percent.
In fact, only seven of the past 28 years have been record years for global beef demand, Mr Tolmie said.
All the world's major forecasting institutions are predicting between 1-2pc growth in beef demand, driven by global population growth and increasing household wealth, particularly in developing countries, which in turn drives protein demand increases.
"We are well placed in the world, but the competition is changing, and as production increases we're going to find this intensifies," Mr Tolmie said.
At the same time there was also a lot of space and opportunity for Australia to push into competitor's share of key markets.
Asian markets account for 49 percent of world beef imports, followed by North America (17pc); Europe (11pc) and Africa (10pc), with other regions collectively accounting for 13pc.
Australia currently holds about 50pc of the Japanese beef import market, 40pc of the South Korean market, 10pc of the remaining Asian markets, 20pc of North American beef imports.
Mr Tolmie said Australia's beef industry had to continue to work to understand its consumers to ensure it remained competitive and relevant in key markets, and to tap into the right areas of growth.
While Mr Tolmie's presentation concentrated on the four largest beef suppliers, the forum also herd that other South Amercian countries including Uruguay, Paraguay and Argentina also now working actively to build their beef exports.