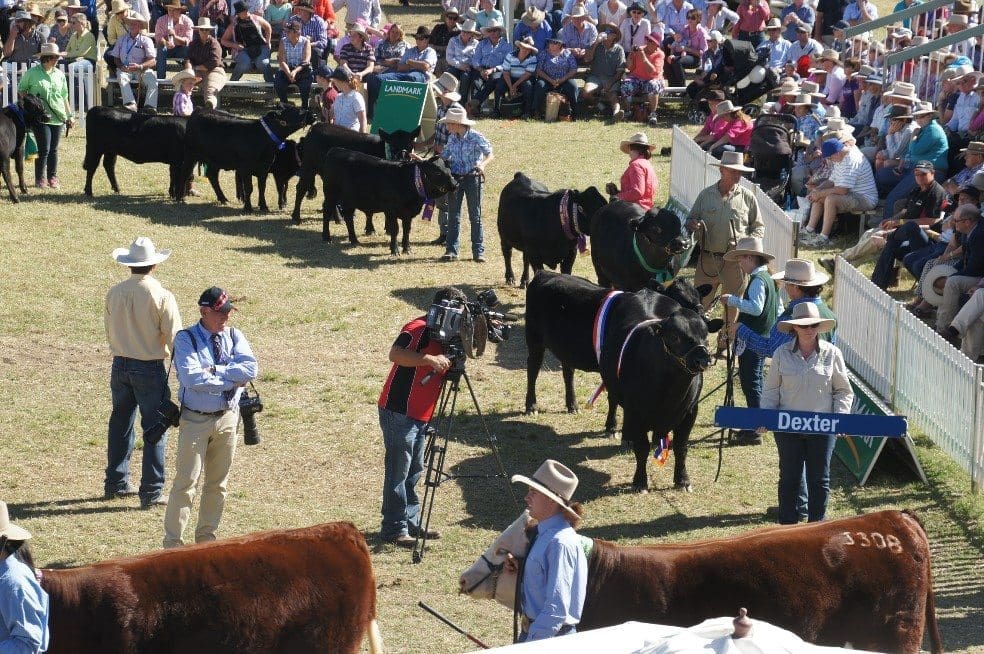 STUD cattle breeders intending to exhibit at Beef Australia 2018 in May have less than a fortnight left to complete nominations.
Entries for the three-day Landmark Stud Cattle Competition at this year's event will close on Friday 2 February, and if early nominations are any indication, final numbers will once again provide for a healthy and closely-contested event.
At the last event in 2015, around 1490 head of stud cattle representing a record 32 breeds were judged over the week, making it one of the largest stud beef exhibitions ever staged in Australia.
During the champion of champions judging at the culmination of the stud beef exhibition, the Brahman exhibit, 30-month old Raglan Victory 1735 was judged Supreme Interbreed Bull for his owners, Andrew and Roxanne Olive of the Raglan Stud, Raglan, while the supreme female title went to Glen Waldron and Kim Groner's Elite Charolais stud at Meandarra for their senior and grand champion Estella 32 and her impressive heifer calf, Elite Estella.
"All the industry indicators, including recent record stud sales and successes, point to Beef Australia 2018 being one of the biggest and best stud shows since the event began 30 years ago," Andrew Olive said.
Judging this year will take place across three days, from Tuesday to Thursday, May 8-10.
The program for this year's cattle competitions has been adjusted slightly with the Queensland Agricultural Training Colleges' Young Paraders Competition and the Charbray Society School's Team Judging Competition brought forward to the first full day of Beef 2018, on Monday 7 May.
Beef Australia stud cattle coordinator Bonni Geddes believes the introduction of People's Day this year will increase the number of stud cattle spectators. "As the Monday is a public holiday this year, a wide range of visitors will be in attendance to watch these up-and-coming young cattle people first-hand in a competitive environment," Ms Geddes said.
Junior competitors will feature again on Tuesday in the Ray White Rural Junior Led Steer competition, and will finalise the cattle program with the RB Sellars Junior Judges competition on Friday 11 May.
For information on the Landmark Stud Cattle Competition contact Bonni Geddes on bonni@beefaustralia.com.au or visit the Beef Australia website