WITH equal numbers of men and women entering the beef industry, it's exciting to see companies implementing flexible practices to help ensure this ratio continues into senior management.
That's the view of Dalene Wray, who has marked tomorrow's International Women's Day (8 March) with a call for both women and employers to challenge their thinking about parental leave and returning to work, to continue building a more vibrant and inclusive beef industry at all levels.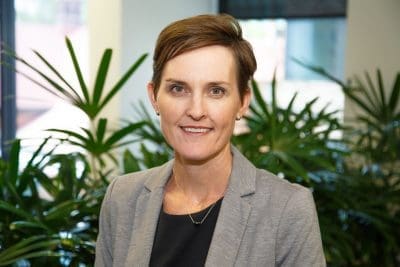 The managing director of Queensland beef exporter OBE Organic is a fifth generation Queensland beef producer who has moved up the ranks while bringing up a family.
She will be the guest speaker at the National Australia Bank Agribusiness Ladies Luncheon at Beef Australia in Rockhampton on May 11.
"There's an enormous pool of talent in the industry, and supporting parents will help ensure we fully capture the benefits of having both male and female perspectives in the boardroom," Ms Wray said.
"Women are just as involved as their brothers and fathers in many cases, and along the supply chain they are well represented up to middle management. However, at higher leadership levels, 90 percent are men.
"We need both men and women to help drive change in the beef industry, and to talk about why gender equality at every level will be a good thing for the industry and families," she said.
"If I needed to take my baby to a sales or committee meeting, I did. More often than not, people didn't mind"
Ms Wray lives her views on the subject, having had a family while leading OBE Organic and now providing a flexible workplace for women returning to work in her own business.
"I took my children as babies all around the world – I was very fortunate to have family support but if I needed to take my baby to a sales or committee meeting, I did. More often than not, people didn't mind.
"Parents – mothers and fathers – need to be able to participate in the workplace and we as employers need to be flexible to keep them in the workforce, especially when they first return to work after parental leave. It's the practical things – being able to bring a child to a meeting if that's what works and needs to be done, proper facilities to dial in to meetings or sometimes changing meeting times or travel to fit in with a part-time parent.
"I would rather one of my employees participate in a meeting with her young baby, than miss out simply because the time didn't suit her or there was no quiet space to breastfeed."
Ms Wray says technology was also playing a role, enabling women and men to develop leadership skills and overcome the challenges of living in a remote location.
"These days, you can be a board member from a property in Central Queensland, using email and video conferencing to participate in discussions. There are webinars, online learning, and other opportunities provided by good technology."
The beef industry was driven by small and medium businesses (SMEs), and parental leave can present challenges. Ms Wray says part of the solution is for women to be proactive about their plan to return to work.
"Employees taking extended leave can be difficult, especially if the business is moving rapidly, and parents – often women – can return to work to find their roles have changed. While this can put them behind their peers, with support they can continue to grow into leadership roles," she said.
"To those parents, I say, don't feel guilty – ask for help, favours and advice. Talk to others who have lived through the same experience on how they handled it.
"Have a strategy for returning to work and look for win-win solutions for your employer. This may even mean keeping in touch with the business or contributing while you are on leave.
"And don't forget to own the conversation and ask others to accommodate you if you need it – more often than not, people are happy to change a meeting time or location if you can offer a solution."
NAB's head of diversity & inclusion, Kristy Macfarlane, said women already made up more than half of NAB's workforce.
"We are making great progress towards getting more women into senior roles. We have committed to ensuring women represent 40-60 percent of every level of our workforce by 2020, and we have a roadmap to get there," she said.
Background to Dalene's Beef 2018 Ladies Lunch speaking engagement:
Dalene Wray, Managing Director of OBE Beef Pty Ltd, is a business leader driving change, innovation and digital adoption in the Australian beef industry. She also works tirelessly in her business to drive a number of important innovations to improve the sustainability of beef supply chains.
Some of these include:
Partnering with GrazingBMP to improve farmer profitability and productivity
Webinars to improve farm safety
Initiating a Reconciliation Action Plan
Introducing a program to measure the extent and cost of disease and parasites in cattle using carcase data
Hosting forums for outback producers to encourage them to adopt technology, and
Advocating for improved bush broadband connectivity.
Dalene is an active user of social media, sharing her ideas and views.
Back in Australia she continues to wear her many hats, investing her time as a Member of the Telstra QLD Regional Advisory Committee, an Industry Advisory Group Member for the Australian Government Farm Cooperative Project, a Member of the DFAT Council for Australian Arab Relations, and other industry groups.
Tickets for the National Australia Bank Agribusiness Ladies Luncheon at Beef Australia in Rockhampton on May 11 go on sale on March 19, via the Beef Australia website.

Source: NAB